Choose from 20+ Assessment Trackers that you can print for free, to help you make plans for upcoming lessons in the days and weeks ahead.
Are you looking for a printable assessment tracker for your student planner or school binder? We have a great collection of useful and cute printables to help you keep a track of your assessment data!
Our assessment trackers are perfect for students in high school, college, or university.
You will find so many different styles and variations of assessment trackers, perfect for suiting your style! Choose from simple designs for a minimalistic look, bright and colorful templates, bold patterns, and even dark and witchy styles.
I love these assessment trackers and believe the style and simplicity are what make these templates popular and easy to use.
Each assessment tracker has space to note the topic or class, along with the date it is due and any other notes. You could even log the grade you received in the notes section afterward.
Assessment Trackers
These assessment tracker templates are a great tool for students of all ages and levels and can really benefit them. A student can see at a glance what assessments they have for what lesson or class, and when they are due. They can even note any feedback they might have received from their teacher allowing learners to better themselves and work on their pupil attainment.
Teachers can give these out to their pupils to help them track their own assessments and take responsibility for their assessments and deadlines and I strongly recommend this.
Please feel free to use these assessment trackers in the classroom.
Some pupils may prefer to use an assessment tracker digitally using software such as google sheets, spreadsheets, or excel to track their assessment data. However, I find using a printable data tracker like this assessment tracker template is much easier if you like to check your data on the go or in school. Besides, I simply love having this as part of a student planner.
Also, you will get into less trouble checking your planner in class rather than checking your phone!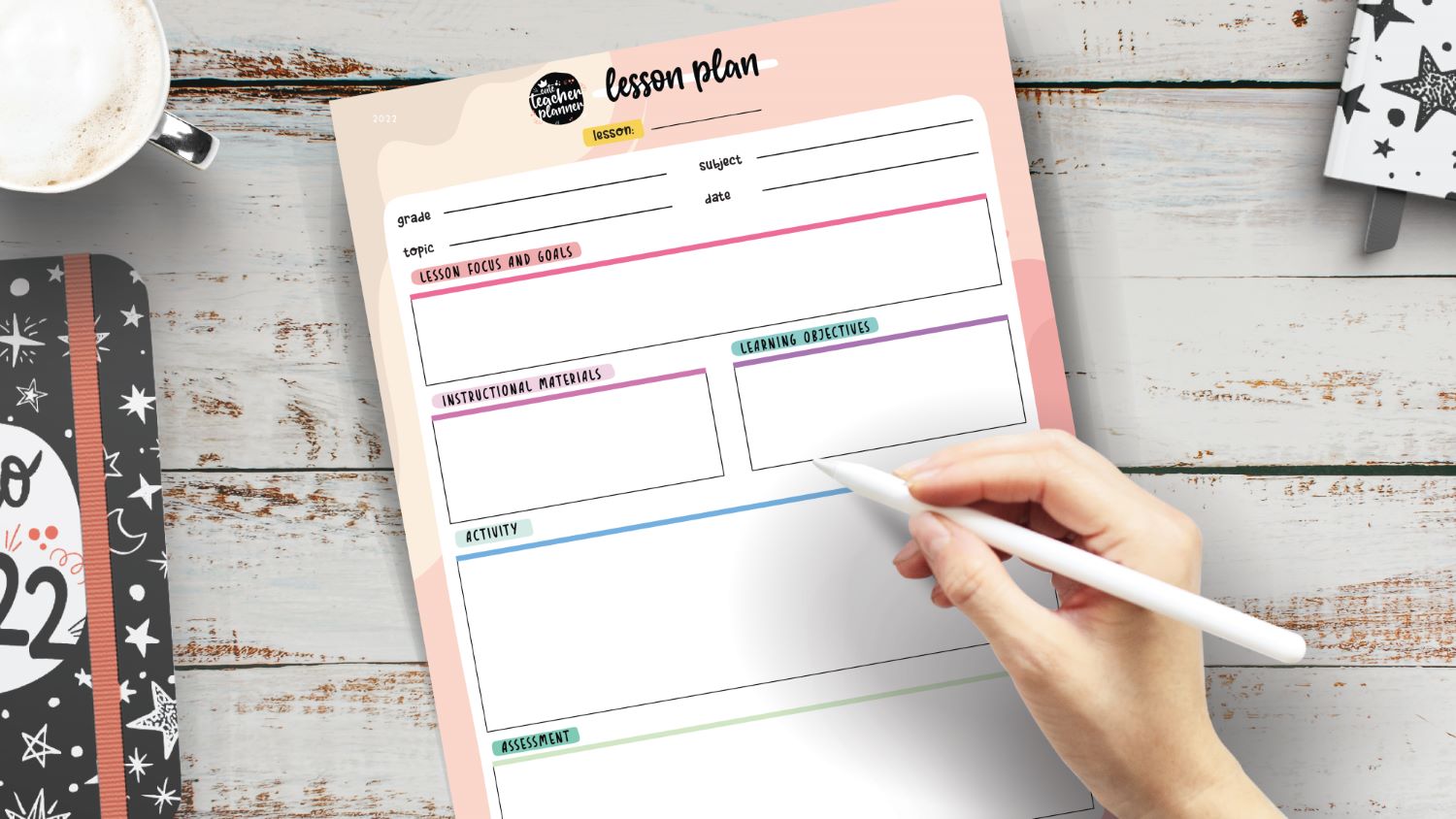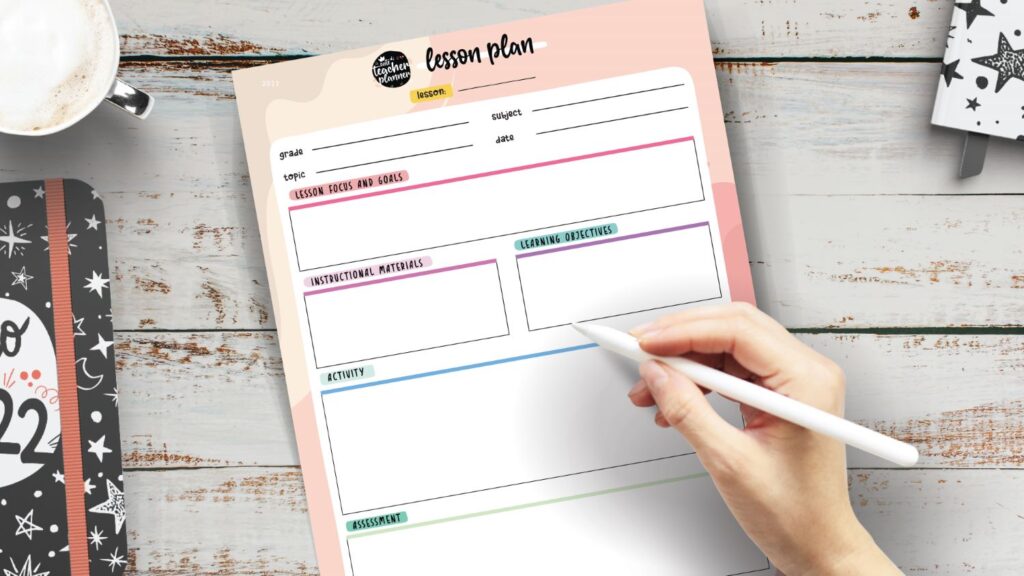 Looking for more free resources?
We have an amazing collection of printable teacher resources for you to use:
Class List Template
Class Roster
Grades Tracker
Parent Contact
Parent Teacher Conference Schedule
You'll also like…
Looking for a teacher planner for the new term? Then look no further!
We've created this 64-page teacher planner, that's full of useful pages to help you make the most of your year.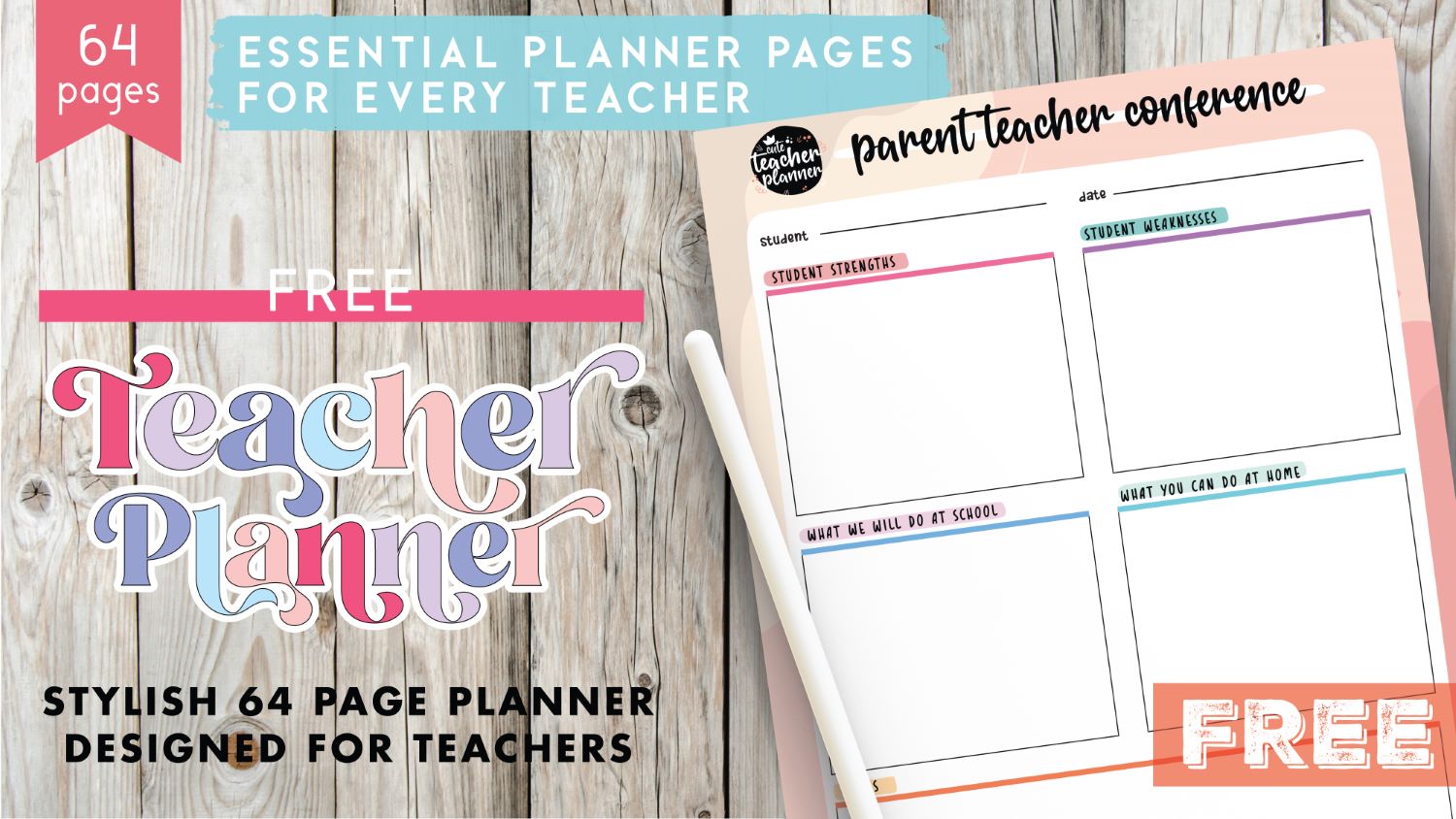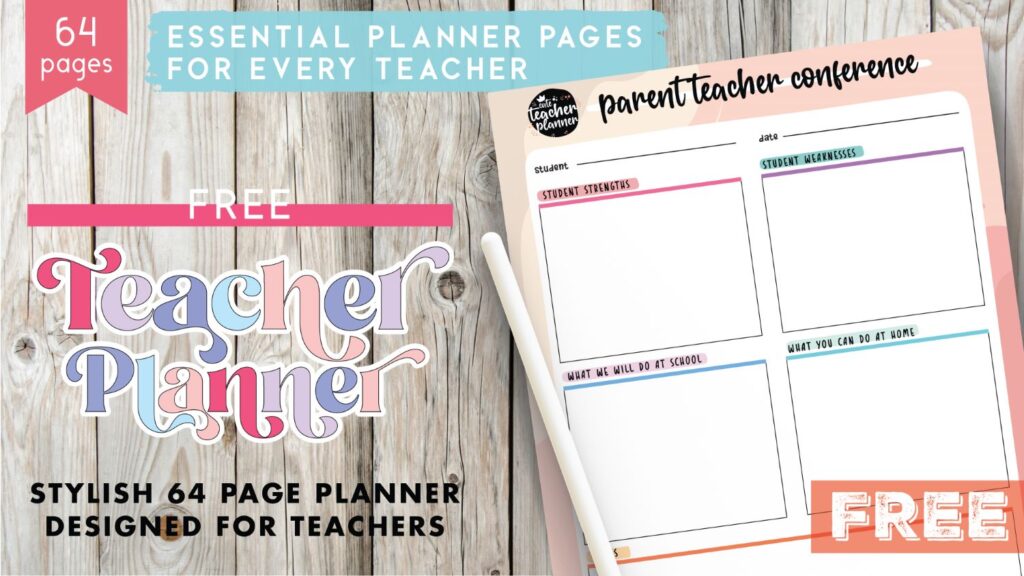 You'll find useful pages such as lesson plan templates, class schedules, assignment trackers, behavior logs, class inventory, class projects, and much more.
You'll also find more familiar planner pages to help you with your day to days, such as daily and weekly planners, to-do lists, and many other pages to help you stay organized.
Best of all, it's totally free! Simply print, or import into your favorite digital planner app, and make the most of the school year ahead!
We think it is one of the best teacher planners available, so give it a try and see for yourself!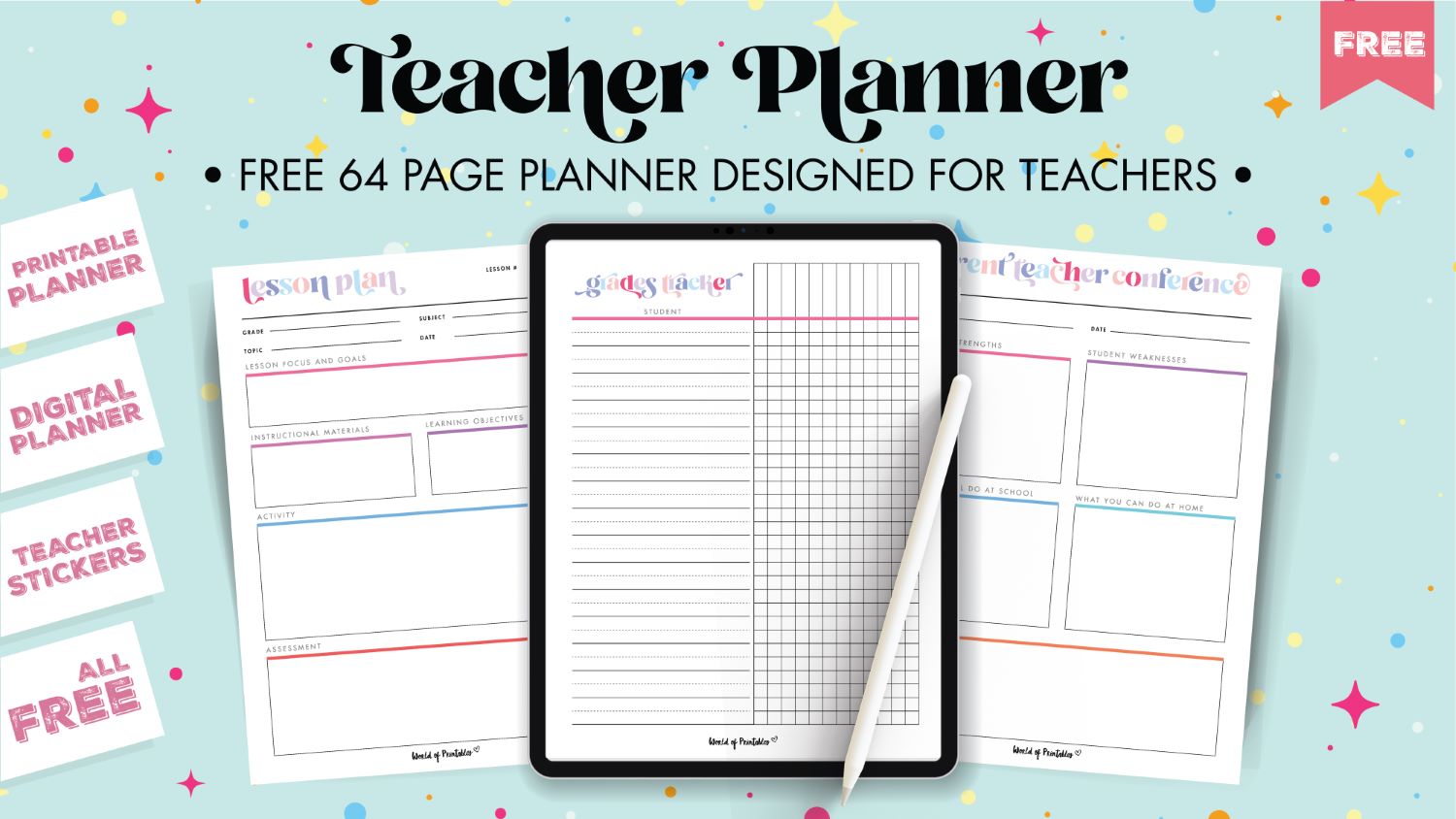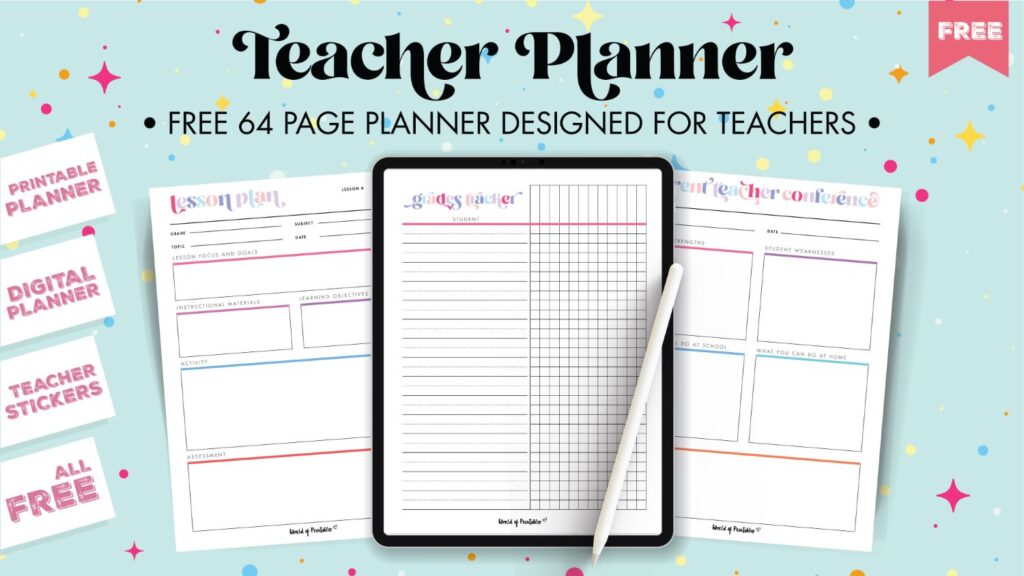 More awesome planners for you to enjoy
Every week we create a cute set of printables, planners, and digital freebies to help you make the most of the things that matter. Our creations are loved by many and are free for you to enjoy.
If you love these lesson plan templates and would like more awesome planners, then check out our latest creations that you can use right now for free.
We think you'll love these:
Make the most of your new lesson plan templates!
I really hope you use and enjoy our free teacher planner. Be sure to recommend it to your friends! Follow us on Instagram or Pinterest as it's a great way to show your support and to keep updated with all of our latest freebies.
Follow World of Printables on Pinterest
COPYRIGHT
Our creations are for personal use only and are the copyright of World of Printables. You cannot redistribute, reproduce, or resell, although you can link back to our website.