Use this free printable financial goals template to plan the financial targets that you want to reach and begin working towards achieving them.
Money is such an important factor in the majority of people's lives and so many people have dreams and goals they want to achieve when it comes to money.
These dreams could be reaching a money target, becoming financially stable, stopping living paycheck to paycheck, or even retiring early. All of these financial goals start with taking the first step.
The financial goals template is a perfect way of planning your financial goals and making actionable steps to completing them.
It's perfect for those who want to make changes with their finances and strive towards their goals of living a more financially stable life.
The financial goals printable will help you understand your goals and work towards them by breaking them down. You can print this out and use it on its own or even put it in your favorite planner.
How To Use The Financial Goals Template
You can use this printout whenever you are ready to start planning ahead with your money.
That could be at the start of the new year, the start of a new tax year, or whenever the desire hits. You might have a moment where you think "I'm ready to strive for something more financially".
The financial goals template comes in four styles – botanical, classic, cursive, and soft and they all look beautiful.
The goals tracker offers space for planning two goals including their deadline and the actionable steps you are going to take to achieve your goal.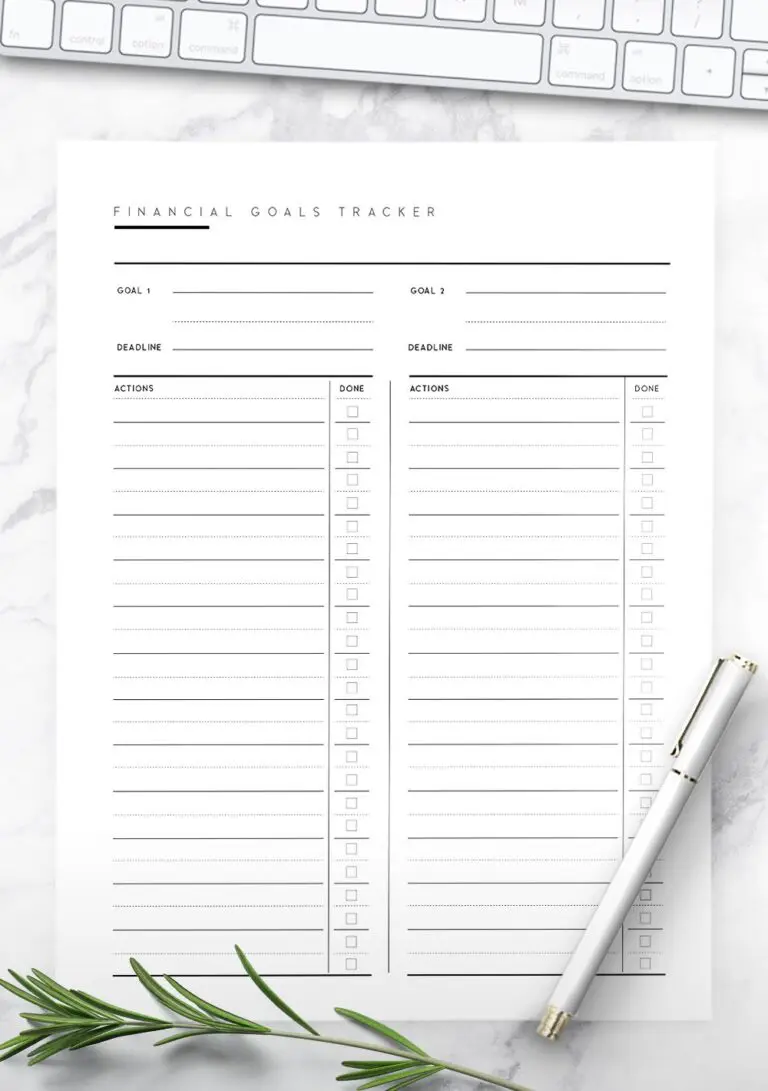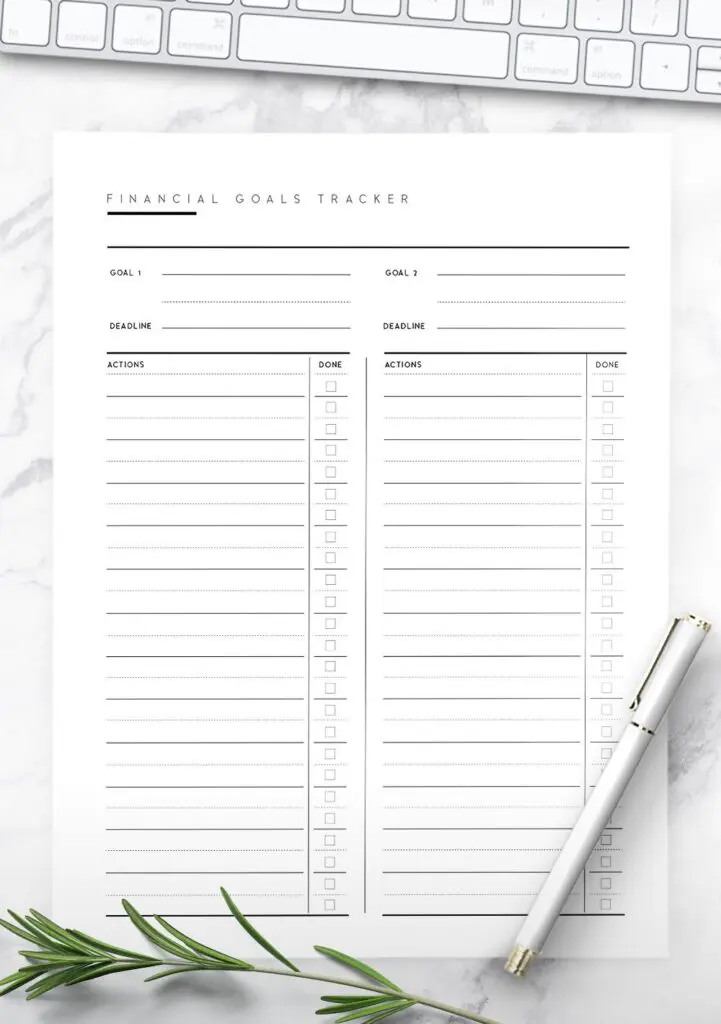 Seeing your goal written down makes it more real. Getting it from your head and onto paper allows you to see your goals and makes it almost tangible rather than your goal simply being a thought in your head.
Writing your financial goals down and figuring out the steps on how to get there makes it more achievable because you are actively working on it.
Use this financial goals sheet as your first step to achieving your financial aims.
Don't wait when it comes to reaching your goals. Don't let your goals remain only as thoughts in your head.
Figure out your financial aims and do something about them!
The financial goals template is such a simple but powerful printable that can really help you start your journey towards reaching your financial goals.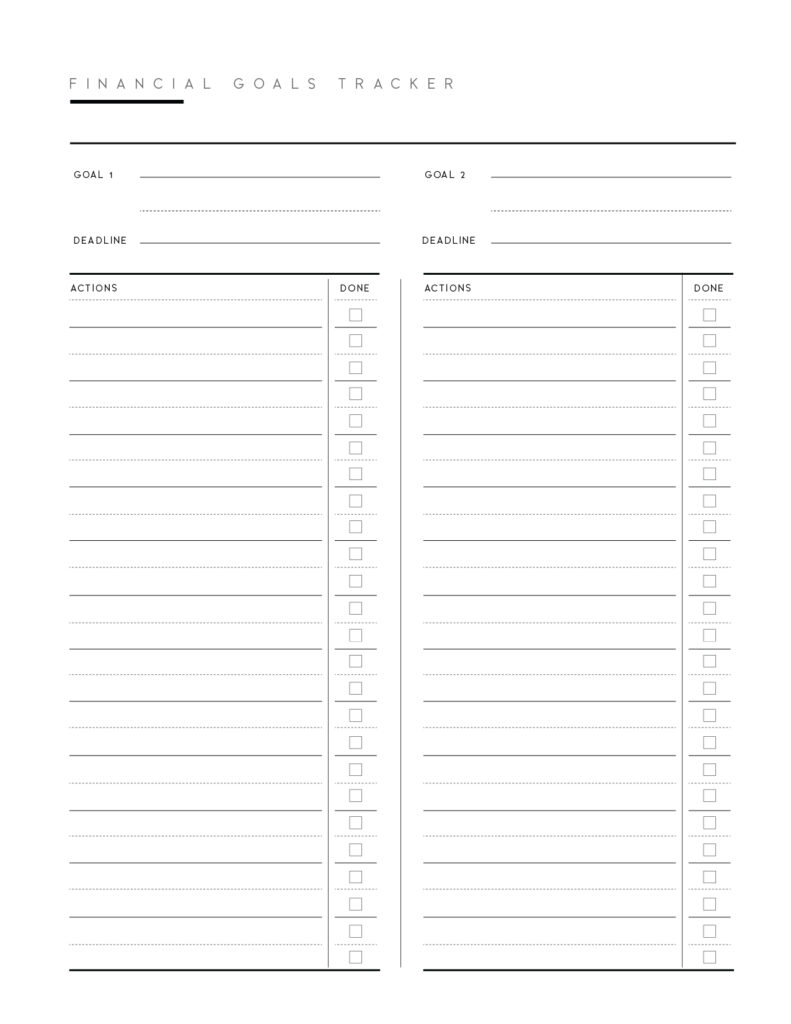 You can get the financial goals tracker right here.
If you feel like you need to take control of your finances and stay organized then we also have an amazing Financial Planner. Read more below.
Get the free printable debt tracker template
To get the printable financial goals template for free, open the template image above and save to your computer.
Alternatively, for the highest quality version which comes in four different themes, use the button below to visit our product page. Use the coupon code displayed to get it for free.
You can also find the financial goals printable included in our low-cost Financial Budgeting Planner that has been created to help you manage your money, from budgeting and saving money, to paying off debts and having better control over your finances.
Our low-cost bundles make it so easy and convenient for you to get lots of high-quality printable templates, perfect for planners, without having to find and print them separately.
How to make printables look awesome
Print it! – Our templates look so good when printed on this bright paper.
Resize it – These printable templates are designed as 8.5 x 11 pages. TIP: If you want to print using different size paper then insert this printable into Canva, set your dimensions to any size you want, then save and print, easy! Full steps in this guide.
Remember to look through the rest of our printables. If you are looking for more awesome free templates then check out our huge range of printable templates we've got printables for every aspect of your life!
More awesome printables and templates from World of Printables
We've created a huge amount of daily planner templates and weekly planner templates that will help you manage your days and weeks better than ever. Be sure to grab as many as you can along with our many other schedule templates while you're here.
Remember to look through the rest of our planner printables, we've got printables to help you manage every aspect of your and your life!
We think you'll find these very useful:
More schedule planner templates
Some of our recent schedule planner templates. These will help you organize your week ahead.
---
Find 100's more stylish planner templates that you'll love
Some of our recent planner templates. Find many more Printable Planner Templates that will help you get on top of your life with ease. You'll love them.
Follow World of Printables on Pinterest for more