If you love to plan your week in style then you will love this weekly work plan template. This weekly planner looks incredible and has different sections to help you organize your week.
The sections available in this weekly planner are:
Space to plan every day of the week
Priorities list
To-do list
Notes section
Project section
Goals plan
Ideas and Inspiration
I love this weekly work plan. It's so handy to have and has proven very useful to me.
I love being able to plan my week and my projects on the same page, along with seeing my goals at a glance.
Having an idea and inspiration section is also great motivation and encourages me to focus on the week and get things done.
If you're looking for a weekly planner that offers more than the usual then I would consider trying this out.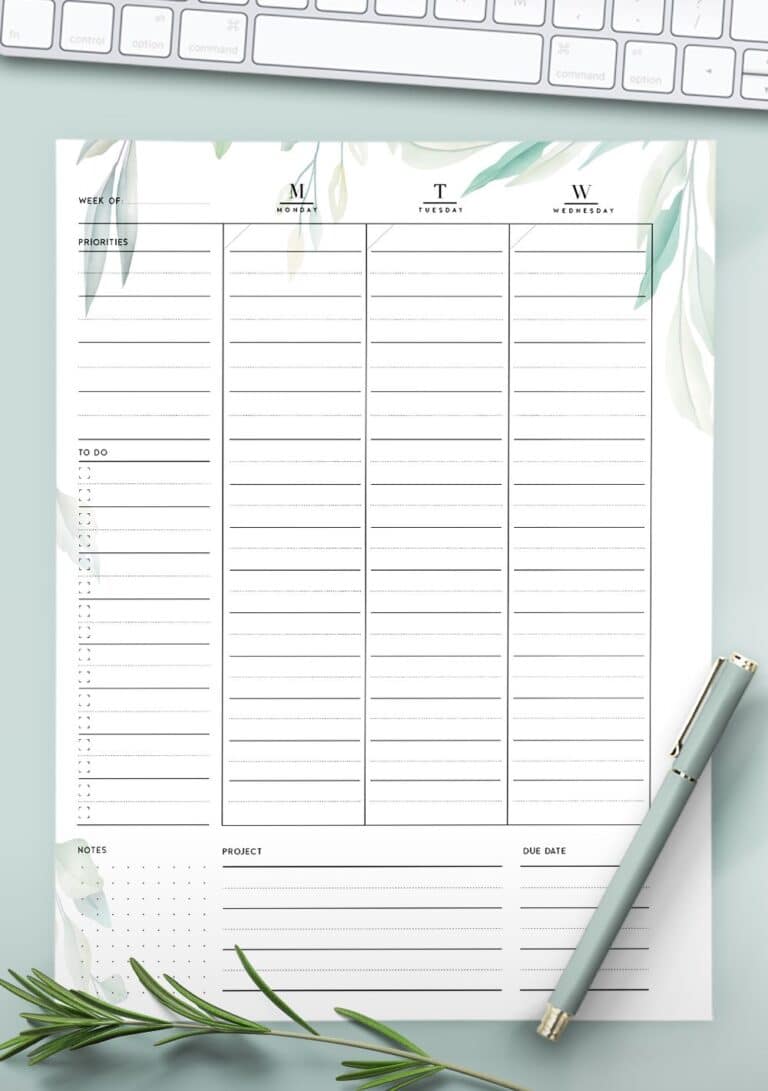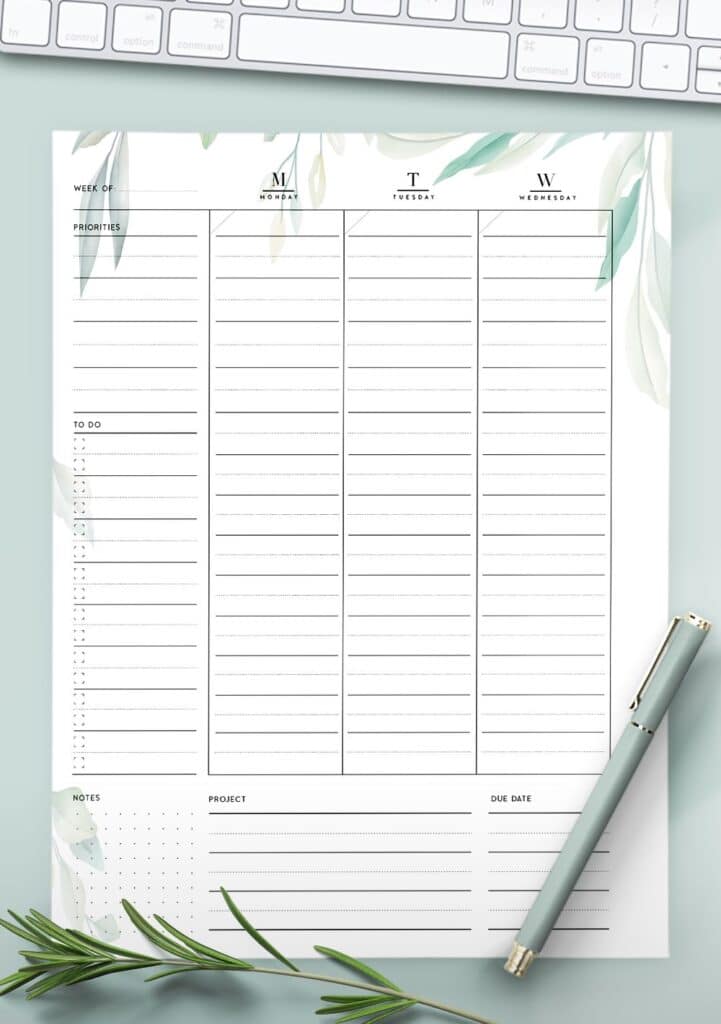 How do I write a weekly work plan
The hardest part about writing a weekly work plan is knowing where to start.
But by deciding on all of the things you need to do this week and prioritizing, you'll be much more likely to organize your weekly work plan more efficiently.
How to write a weekly work plan
Write down everything you need to do for the coming week
Use the to-do list to write down everything you know that needs to be done for the week.
This will help you organize your week better.

Decide on your priorities
Next, decide on what the priorities are out of everything that needs to be done.
This can be appointments, meetings, or important tasks.
Add these to your priorities list.

Assign due dates
Now that you know what your priorities are, you can decide on due dates for each priority.

Put it in your calendar
Now you can start planning your weekly schedule.
Start adding these priorities to your calendar.
Once you've added your priorities, you'll then see what space is available to do other tasks.

Talk about what you're doing
When you talk about the things your planning to do, this makes it become more real.
It helps to make you feel more accountable in completing the tasks.
So discuss with your partner, colleague, or anyone else you talk to regularly.
What is the best way to plan your week
The best way to plan your week is to start thinking about it at the weekends.
This helps you be prepared and ready to go at the start of the week and gives you time to focus without interuptions.
But if you don't want to, or you're unable to plan at the weekend, then try to plan your work week at the start of the week before you do anything else.
This way you can see what needs done and then you can quickly prioritize and schedule your tasks and activities.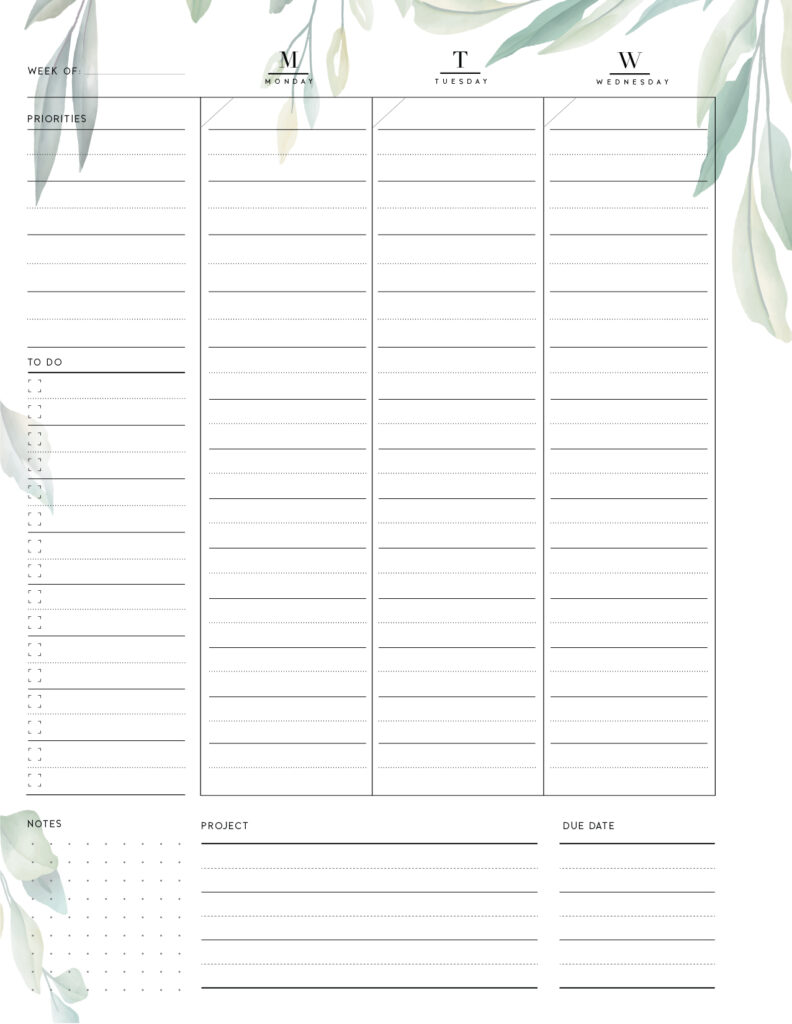 A weekly work planner that comes on two pages
This weekly work plan comes in a two page spread, which is perfect for planners.
You have plenty of space to cover the whole week ahead in detail.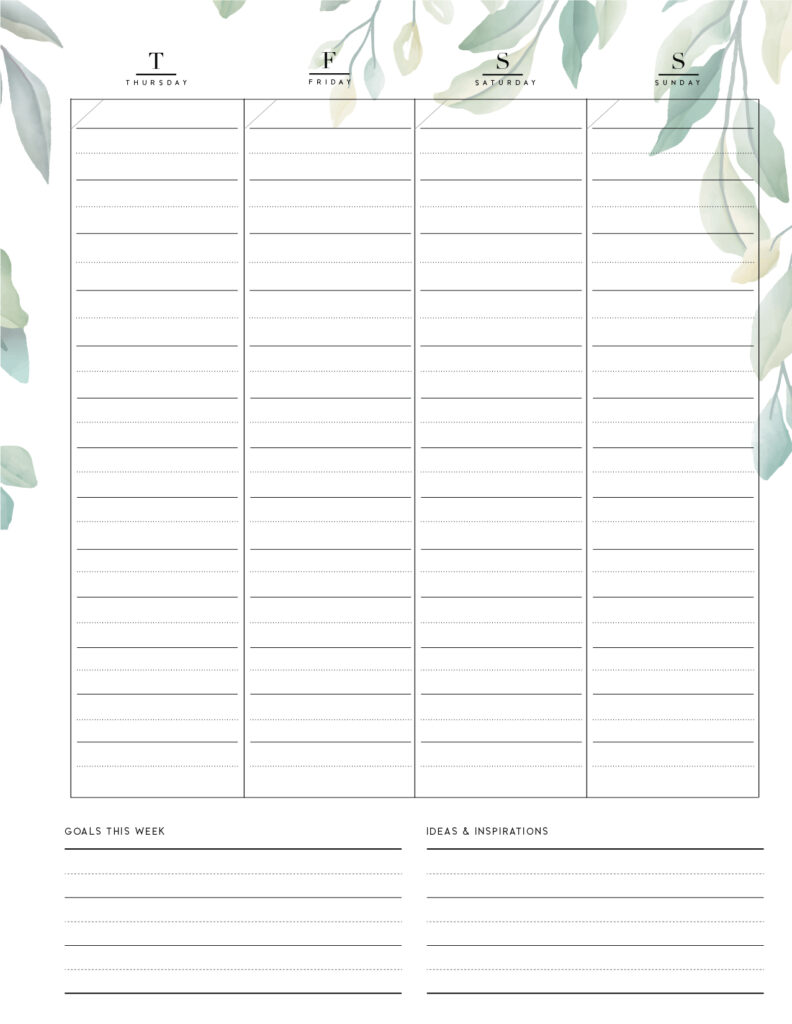 When you download this weekly planner you will receive it in four styles – Botanical, Soft, Classic and Cursive so you can choose the style that suits you best.
You can also find the weekly planner included in the amazing Personal Planner Bundle.
If you love printables like the weekly planner you will love what's included in the Personal Planner Bundle.
Download the free weekly work plan template
To get the printable weekly work plan for free, click the template images above and save to your computer.
Alternatively, for the highest-quality version which comes in four different themes, click the button below to visit our product page. Use the coupon code displayed to get it for free.
How to make printables look awesome
Print it! – Our templates look so good when printed on this bright paper.
Resize it – These printable templates are designed as 8.5 x 11 pages.
TIP: If you want to print using different size paper then simply insert this printable into Canva, set your dimensions to any size you want, then download and print, easy! Full steps in this guide.
If you are looking for more awesome free templates then check out our huge range of printable templates we've got printables for every aspect of your life!