Use these Cornell notes templates that are available in many styles and colors to choose from and are all free to print and use.
What is Cornell notes format?
The Cornell notes format is most commonly used during lectures or fast-paced lessons and allows you to make abbreviations and expressions that are recognizable to you. In turn, this allows you to keep to the pace of the lesson and then review and summarize at the right time.
Cornell note taking was actually invented by Cornell University education professor Walter Pauk in the 1950s and is a genius way of organizing and compacting your notes.
There is a method to using the Cornell note taking System and we've covered it below so you can learn to take notes effectively.
Cornell Notes Templates
We have various designs of Cornell note templates for you to choose from and they all follow the original page setup.
You can use these templates either by printing them or importing them into your digital planner.
To use any of these Cornell note templates, simply select the template and save it to your device.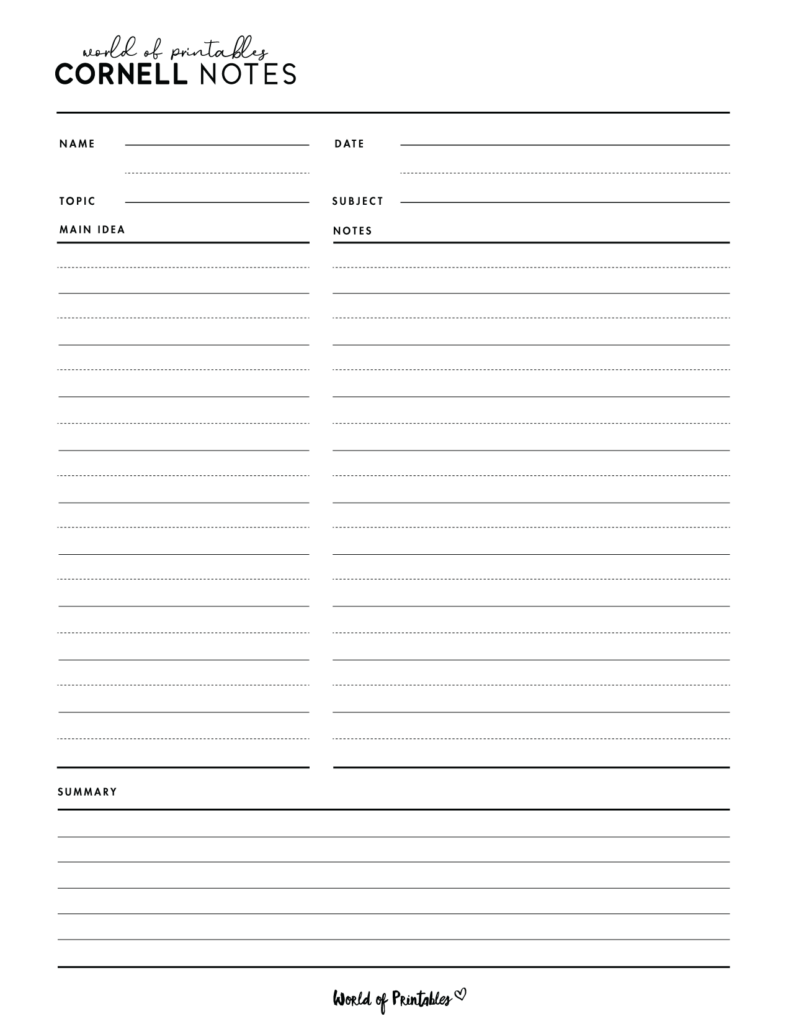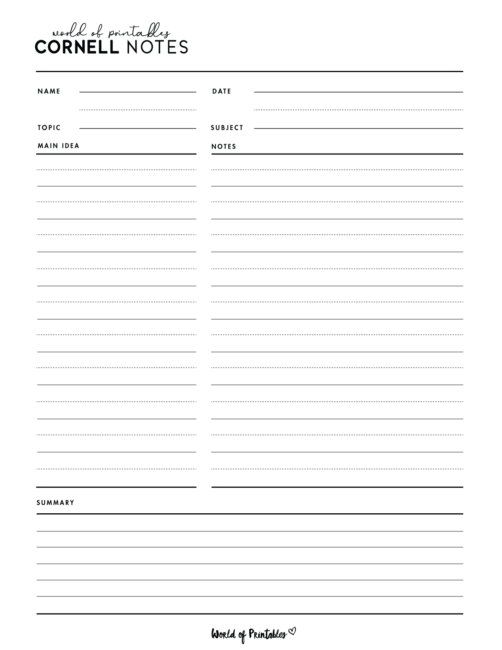 As well as these Cornell notes templates, we've also got a huge range of regular notes templates.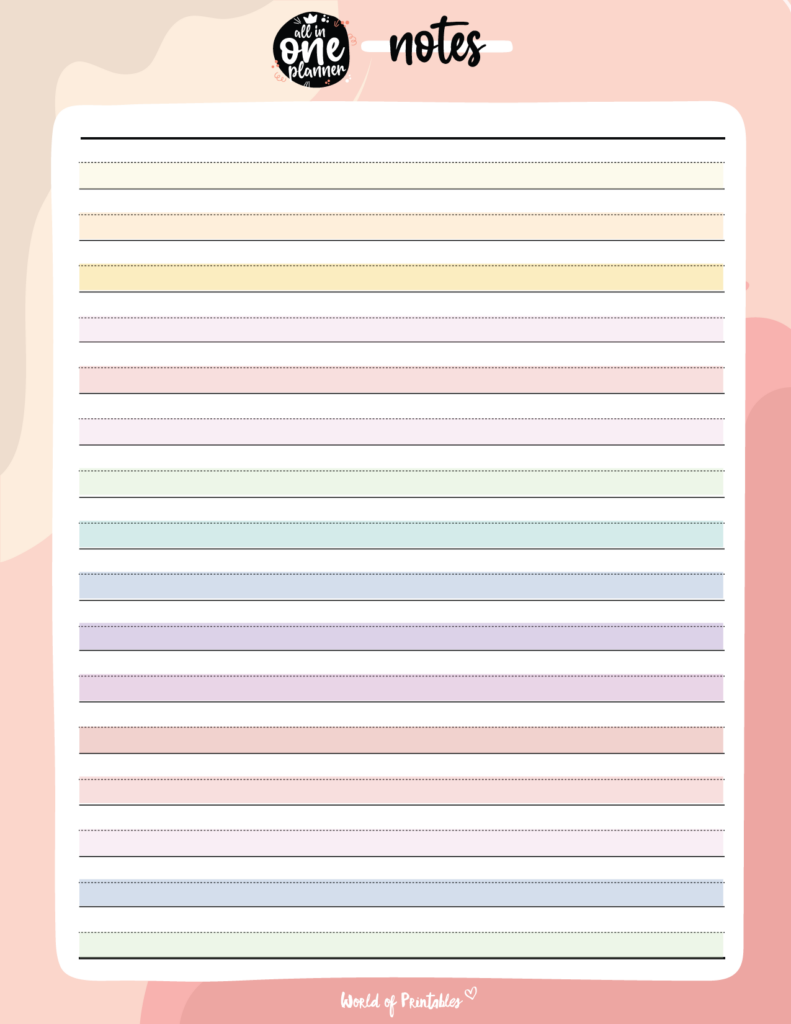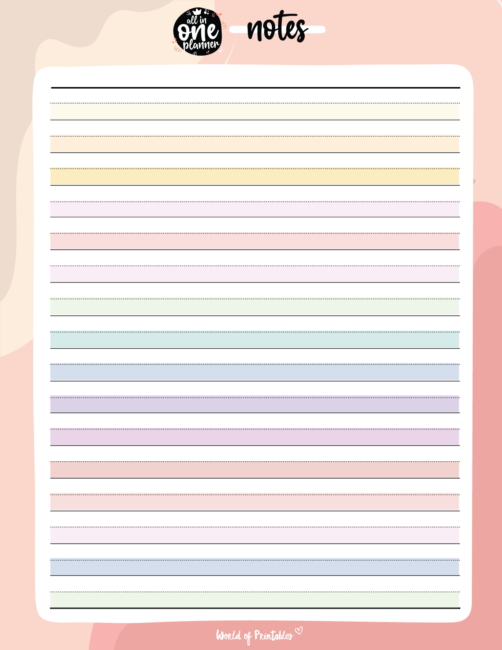 What are the 5 steps of Cornell notes?
A Cornell notes template will typically be divided into different sections. Sometimes three or four sections create the page setup.
The top of the page can be used as an optional title section
The main bulk of the page or the right side of the page is used for your main notes
The left-hand column of the page is for keywords, abbreviations, or questions
The bottom of the page is for your summary
Use the notes section of your page to write the general ideas of the topic. Aim to cover the bigger ideas or main points of the lecture so you can have a full understanding when you look back over your notes.
Don't be afraid to paraphrase, summarize and abbreviate information and remember to make a quick note of the things you don't understand so you can ask questions later.
The left column or cue column is where you will write down any questions you might have, along with any keywords or definitions.
When it comes to studying or exam preparation, cover the main notes on the right-hand side and try to remember key information based on the cues or keywords you have written in the left column. Quiz yourself often and also get your friends or family to quiz you too.
The summary section is where you summarize the lecture using your own words. Doing this will help you gain clarification and understanding of the topic and lecture. You can also use the summary area, to sum up any of the notes you have made in a few sentences or lines.
More awesome printables for you to enjoy
If you love our free Cornell notes templates and would like more awesome printables, then check out our latest creations that you can use for free.
Every week we create a cute set of printables, planners, and digital freebies to help you make the most of the things that matter. Our creations are loved by many and are free for you to enjoy.
We think you'll really love these:
More Free Templates
I hope you find these templates useful! I'm always looking to create free printables that you guys want and need so remember to reach out and share your thoughts!
What do other people print after viewing this?
Get notified of our upcoming free printables – you're gonna love them!
If you love this post then please share it with your friends and family, pin it to Pinterest, and show us your creations on Instagram.
Follow World of Printables on Pinterest
COPYRIGHT
The printables that you find here are the copyright of World of Printables – you cannot redistribute or sell any of these printables or templates, although you can link back to our website.