If you want to be successful in business, you have to plan and work towards your business goals. When you write things down and start planning using things like a business goal-setting worksheet you're much more likely to strive towards achieving them.
What's one of your favorite things about running a small business? Mine is planning my goals and the future of my business. It's by far one of the funnier things to do for sure!
It's important to always be thinking about the future and having goals and ambitions, but you need to take actionable steps to get there.
That's where this Business Goal Setting Worksheet comes into play. The business goals worksheet is designed for you to write your goals, note your deadline and then plan the steps you are going to take to reach your goal.
Business Goal Templates
Choose your favorite from these business goal templates. You'll find 10 stylish templates to choose from. Open your favorite to see the full-size version which is best for printing. You can also import these into your favorite digital planner.
It sounds straightforward and it is! The best way to get anywhere is by planning, so using this business goals worksheet is a great first step to achieving your goals.
You can try this business goal setting worksheet for yourself and when you download it you will receive four styles including this clean Classic look.
Want more for your small business? Why not check out our Small Business Planner? It's designed to help you plan the important things that matter to your business and help you organize your business more efficiently.
How to use our planners for the best finish
Resize it – Our printable planner inserts are made for US Letter sized paper. But you can easily resize our planners to fit any paper size and binder. It's so easy to make them bigger or smaller to fit into your choice of binder – find out how here.
Print it – We recommend using nice quality paper for printing our planners and planner pages. This paper is a good weight and works with inkjet and laser printers, the ink looks crisp and clear giving your printed planners that shop-bought look. The paper also holds up well as you use your planner throughout your daily life.
Style it – Style your planner! Put them in your favorite ring binder, notebook binder, or even bind your own with a paper punch binder. Accessorize your planner with stunning stickers, unique paper clips, and stylish dividers and tabs. Find out how to make printable planners match your style right here!
Snap it – Take a photo of your planners and tag us on Instagram! We love to see how you use our planner pages!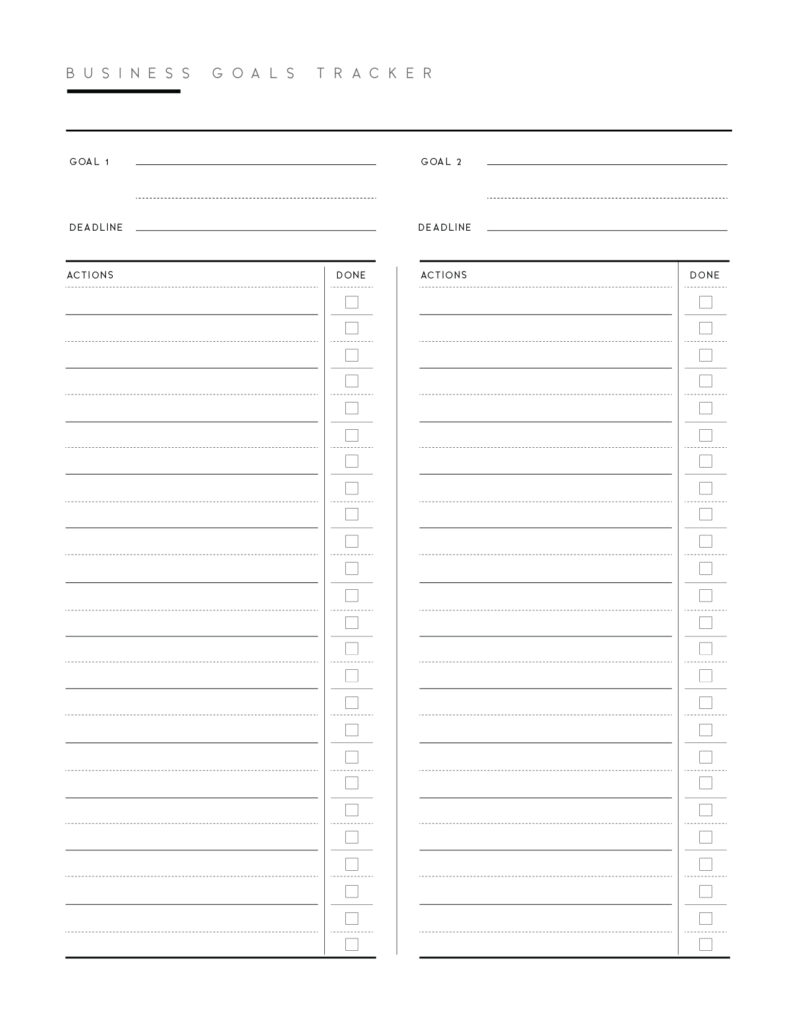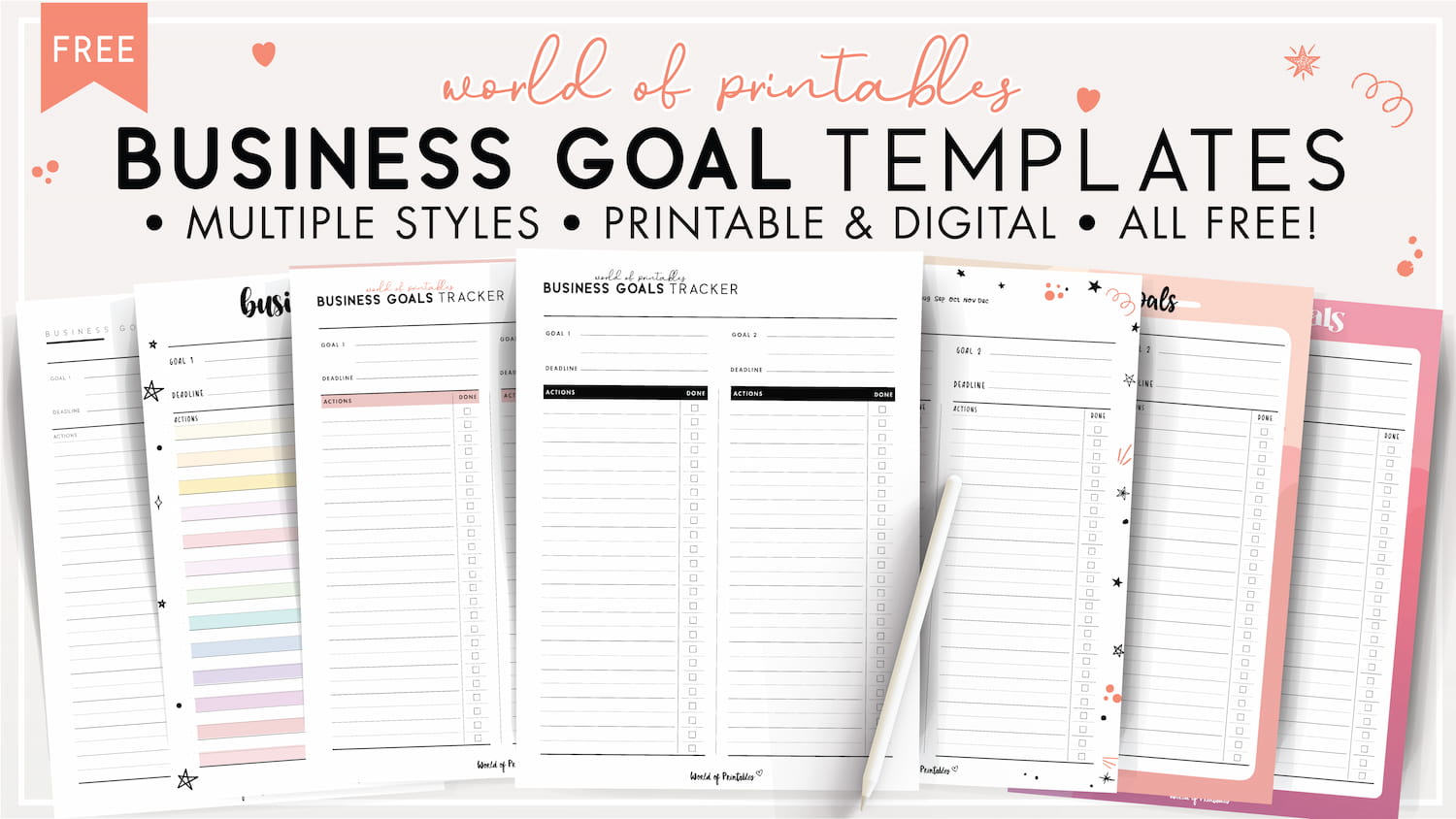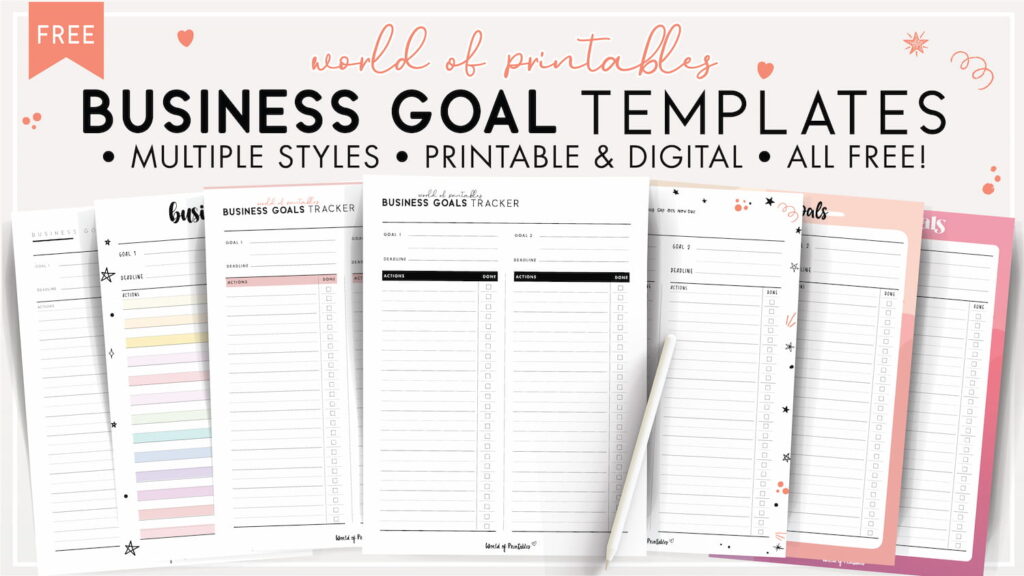 Get the free Business Goal Setting Worksheet
To get the high-quality printable Business Goal Setting Worksheet for free, save the version you like best from the selection above. We also have pdf versions available right here on our website. Remember to check out our other business planner templates, all designed to help your business succeed.
More awesome printables for you to enjoy
If you love these templates and would like more awesome printables, then check out our latest creations that you can use for free.
We think you'll really love these:
How to make printables look awesome
INSTRUCTIONS
Get the free mileage log template by opening the image above. Or get the bundle of templates in high-quality using the button below. If you are looking for more awesome free templates then check out our huge range of printable templates.
Print it! – Our templates look so good when printed on this bright paper.
These printable templates are designed as 8.5 x 11 pages. TIP: If you want to print using different size paper then simply insert this printable into Canva, set your dimensions to any size you want, then save and print, easy! Full steps in this guide.
Find 100's more stylish planner templates that you'll love
Some of our recent planner templates. Find many more Printable Planner Templates that will help you get on top of your life with ease. You'll love them.
Follow World of Printables on Pinterest for more