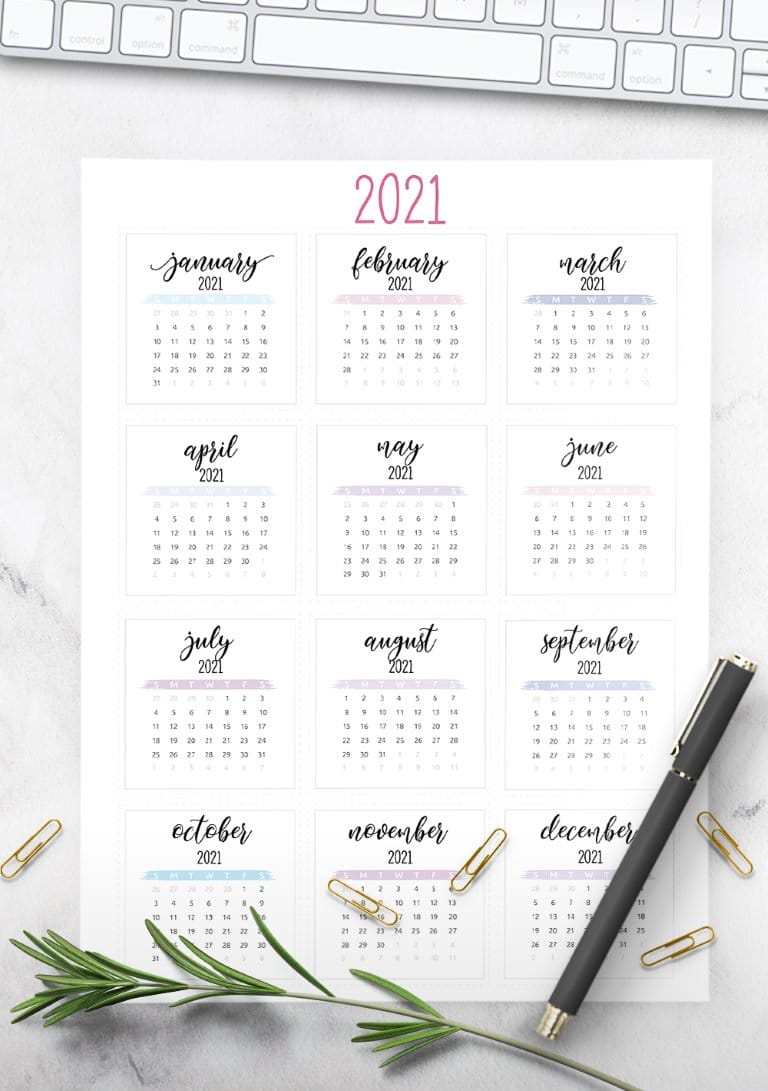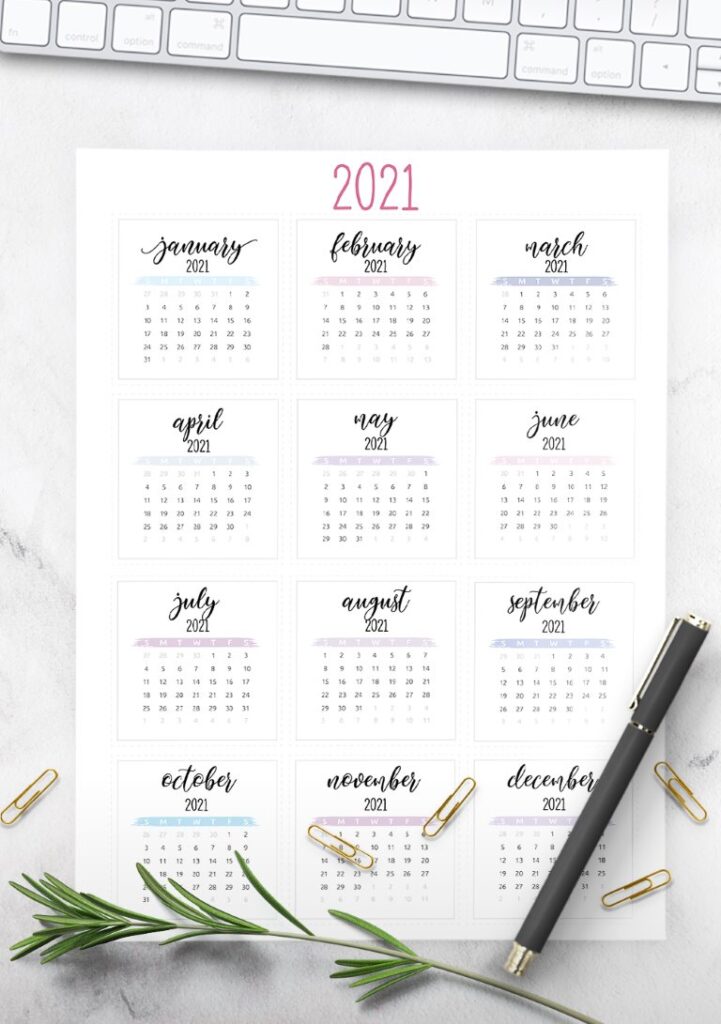 This beautiful Watercolor Full Year 2021 Calendar Printable is so simple but effective and the brush strokes give it a touch of color with an added feminine vibe.
You might have noticed, we have a thing for brush strokes and soft colors. They always work so well together and keep things simple but beautiful.
This printable watercolor 2021 Calendar features the full year on one page with each month organized into individual squares. This design allows you to be flexible with your calendar.
Will you keep it as a single print or will you scale it down to a miniature monthly calendar by cutting around the squares of each month and binding together?
Many of our readers love this style of calendar because they love to cut them out to fit into their planners or bullet journals.
Other readers love to cut them out and use them as a miniature desk calendar and many love to just use them as they are or even scale them up and frame them for the year.
Learn how to resize our calendars here.
There are so many creative ways to use our calendars and that's why people love them so much.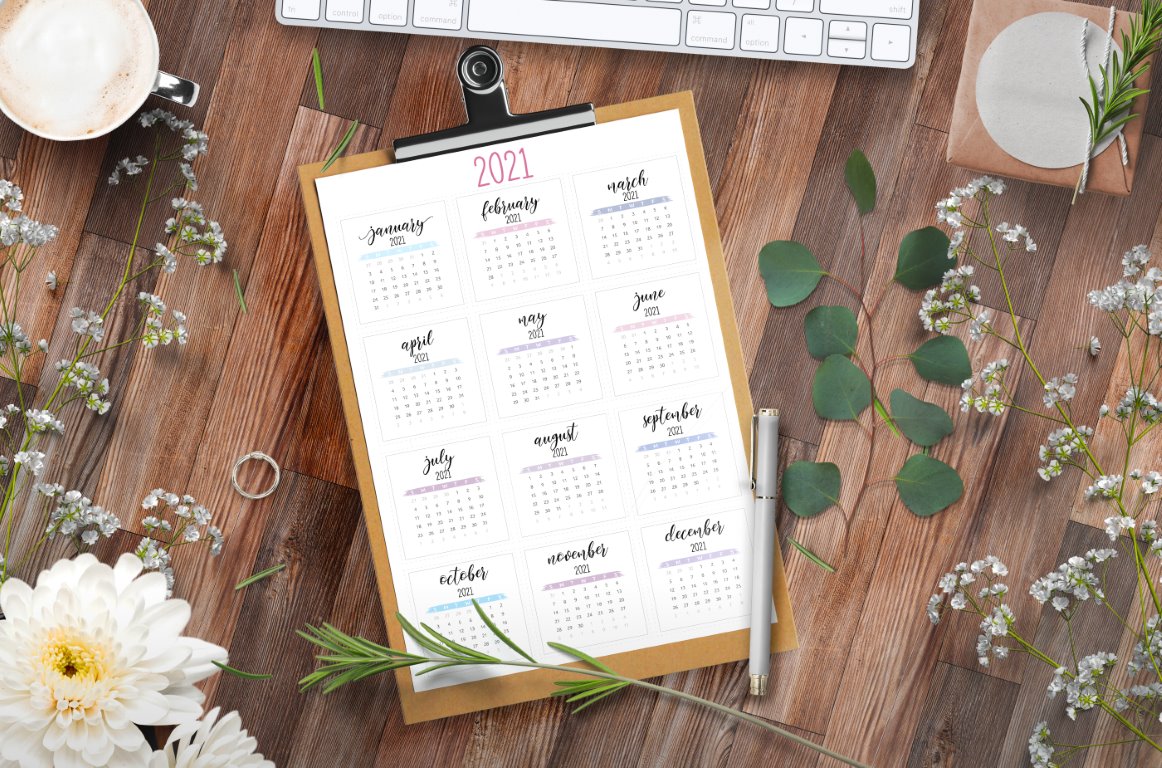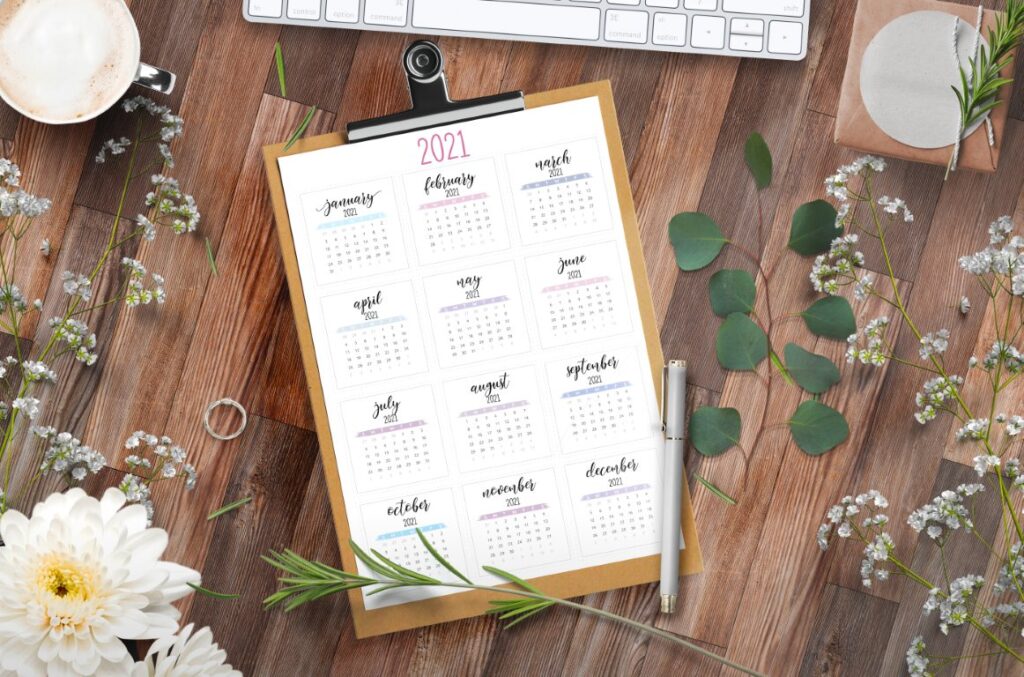 Just download your printable calendar below, print out and you're done!
Save this watercolor 2021 Calendar Printable by clicking the image below and saving it to your device.
The great thing about our free printable calendars is that you can mix and match! You don't need the same style for all year round, you can simply come back and download a different calendar each month.


How to make printable calendars look stunning
Print it! – Our calendars look so good when printed on this bright paper.
The paper is a good weight and works great with inkjet and laser printers, making the ink look crisp and clear. If you want something a little more heavy duty for a shop bought look then this card stock is a great option that's used a lot in the printable community.
Add some style!
Resize it – Resize our calendars easily, make them bigger or smaller to fit into your planner, frame or hanger – find out how here.
Style it – Style your calendar! Add them to showcase frames for a stunning display, poster hangers for a boho look, or even bind up your own for a shop bought look! See more ideas on how to style printable calendar templates to match your home decor!
Snap it – Take a photo of your calendar and tag us on Instagram! We love to see how you use our calendars and may even feature your photo on our blog!
INSTRUCTIONS
Download the Watercolor 2021 Calendar Printable
Print the calendar. These images are designed as 8.5 x 11 printables. TIP: If you want to print at a different size then simply insert this printable into Canva, set your dimensions to any size you want, then download it to your computer, easy! Full steps in this guide.


More Free Printable Calendars from World of Printables
Thank you so much for visiting!
If you liked this post and Watercolor Full Year 2021 Calendar Printable, go ahead and hit the Pin button below, as it really does help us in so many different ways and is a great way to save for later.
If you are new here please subscribe as we make new printables often and we'll keep you notified from time to time with our best new free printables.