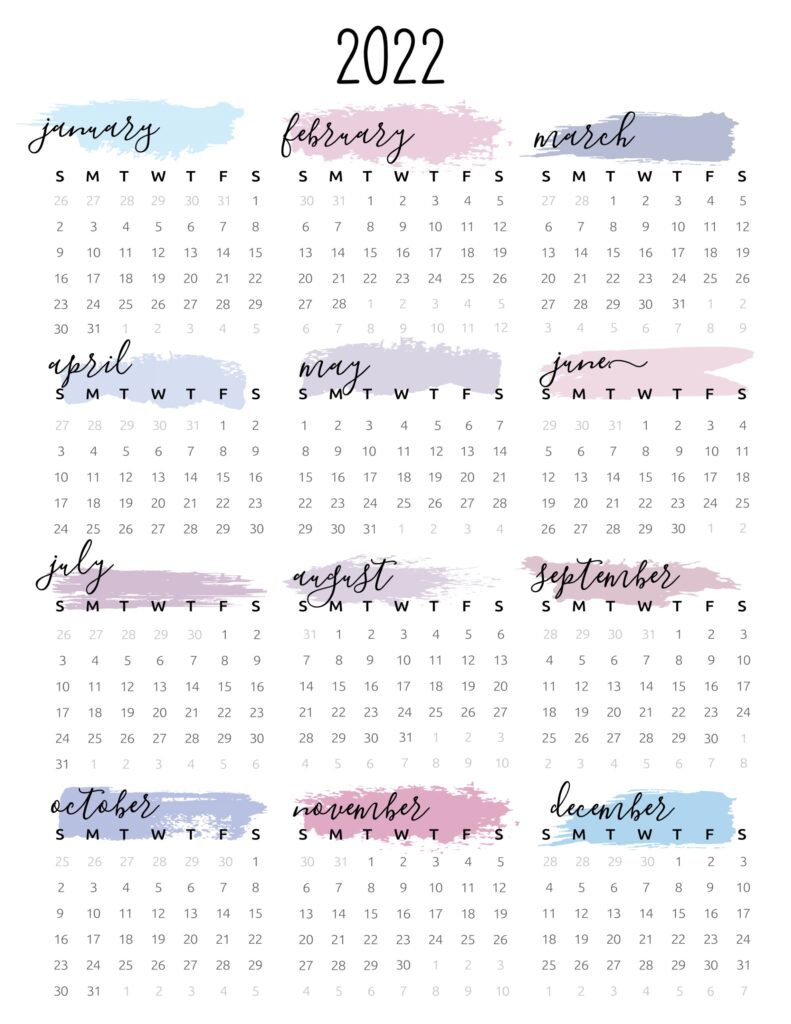 2022 one page calendar printable watercolor
For our latest calendars, check out our collection of the best 2023 calendars, where you'll find updated versions of these calendars and many more.
Say hello to 2022 with this beautiful free calendar!
This gorgeous Watercolor One Page 2022 Calendar features colorful brush strokes and pretty typography to make a perfect yearly calendar for 2022.
I love the style of this calendar and its simple design makes it so easy to see the dates at a glance. You can easily make this calendar larger and use it as a statement piece in your home or office or even make it smaller and use it in your planner.
This watercolor 2022 calendar is my personal favorite and is the one that I use at home. I have this framed in my studio and it always gets comments when people visit. Of course, I do tell them where they can get it from, which is right here!
The worlds most popular calendar
We've seen this calendar of ours mentioned many times on YouTube, TikTok, and Instagram. If you use any of those then be sure to tag us too when you post it.
This calendar was hugely popular in 2021, so we've updated it for 2022 and we've also made an alternative color scheme so that you have two choices of colors. You can even get and print both so that you can place them in different areas in your home to set a theme.
We've got many more watercolor printables too, so if you like this style then be sure to check out the rest of our printables to get the collection.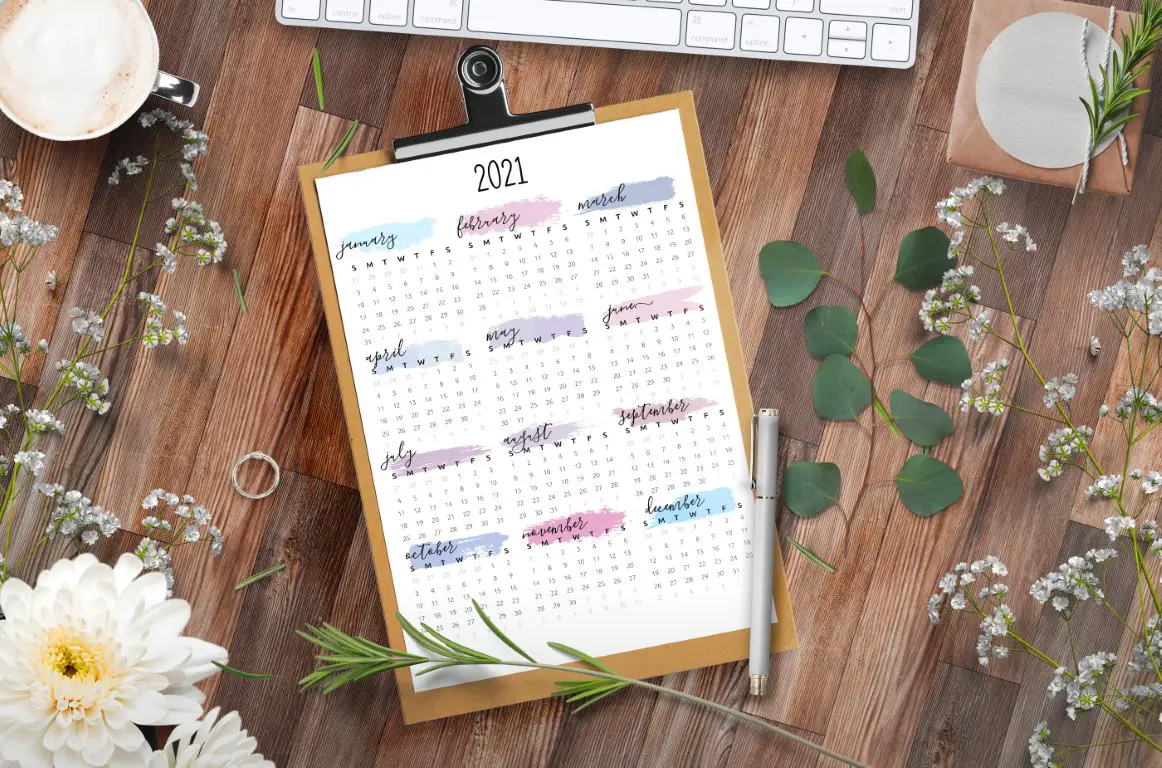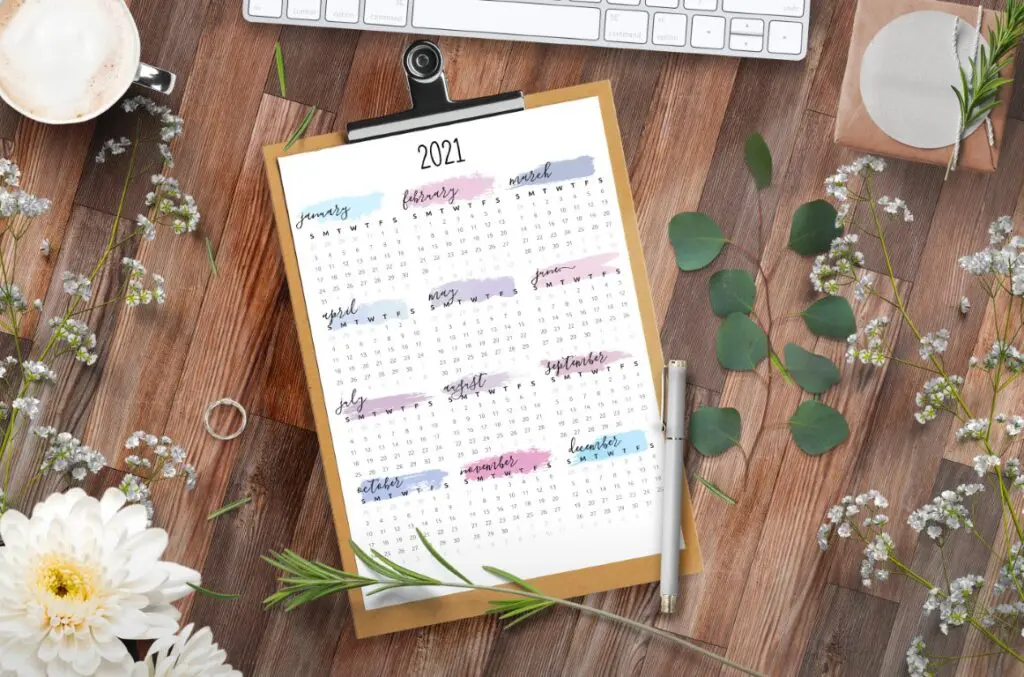 Watercolor art is so pretty and is such a nice way to add an aesthetic touch to something simple like a calendar. We've given the months of the year a touch of color which makes it so attractive to look at while still being very functional.
So to get your free printable Watercolor One Page 2021 Calendar, just click the one you like, or get both and save it to your computer then print as many as you need.
See below for instructions and paper recommendations as our calendars look even more amazing when printed on good paper. Also, see more of our stunning range of free calendar designs below.
The great thing about our free printable calendars is that you can mix and match! You don't need the same style all year round, you can simply come back and get a different calendar each month.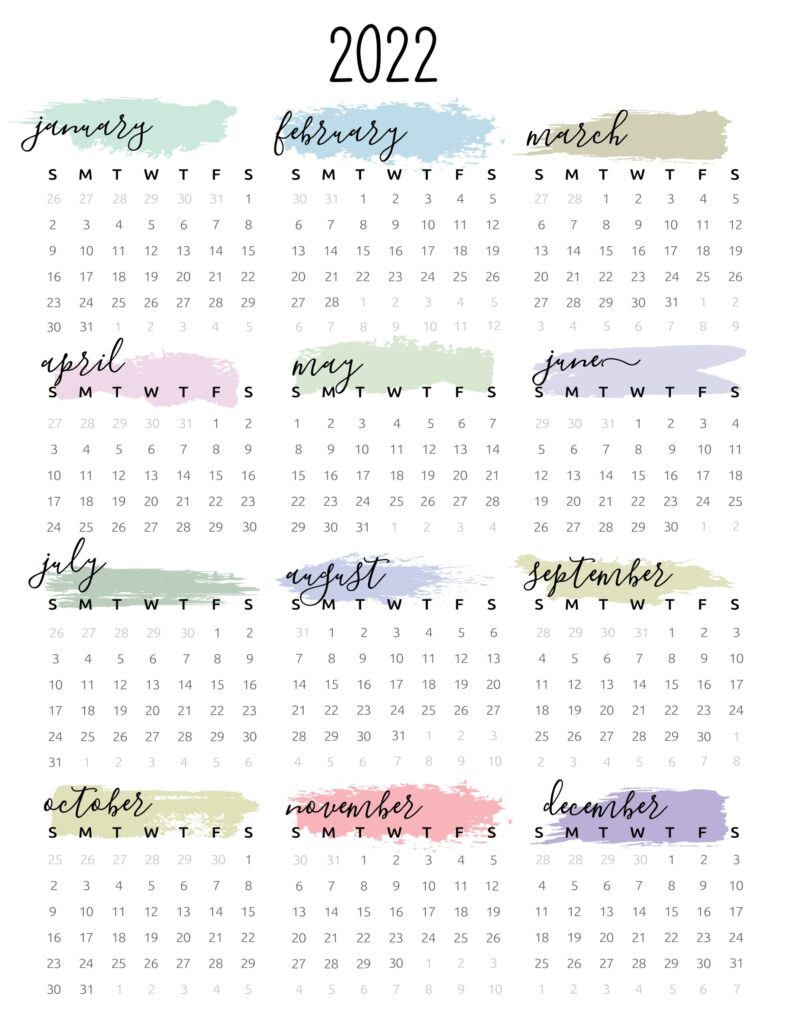 Watercolor One Page 2022 Calendar
Once you have printed the calendar, remember to come back whenever you need an updated calendar or want to change things up for freshness. We've got hundreds of awesome calendars for you to print that are all totally free.
There are so many lovely ways to use this calendar from resizing it to fit your paper size or planner or even styling it to create a wall piece.
Print it! – For a great finish, our calendars and printables look so good when printed on this bright paper.
More Free Printable Calendars from World of Printables
For our latest calendars, check out our collection of the best 2023 calendars, where you'll find updated versions of these calendars and many more.
If you liked this post and this Watercolor One Page 2022 Calendar, go ahead and hit the Pin button below, as it really does help us in so many different ways and is a great way to save for later.
Remember to follow us on Pinterest or Instagram to see our latest free printables that you're gonna love.
We love seeing our printables tagged on social media and what you've all done with them!
Also, remember to check out our huge range of printable calendars and if you like to plan your days, weeks and months, then be sure to grab some of our free printable planners – we've got more than anyone else and they're totally awesome too!
Thank you so much for visiting!
If you are new here please subscribe as we make new printables often and we'll keep you notified from time to time with our best new free printables.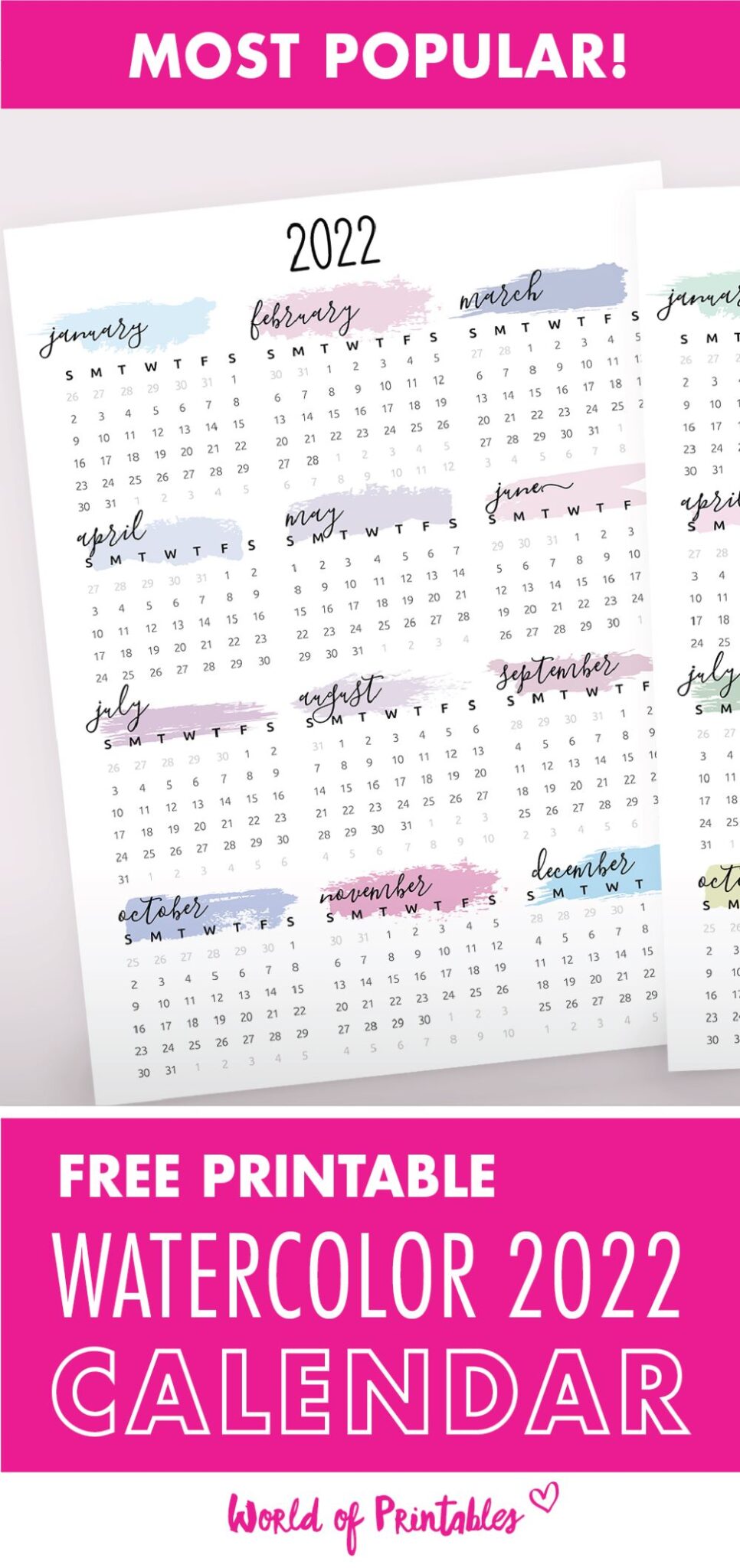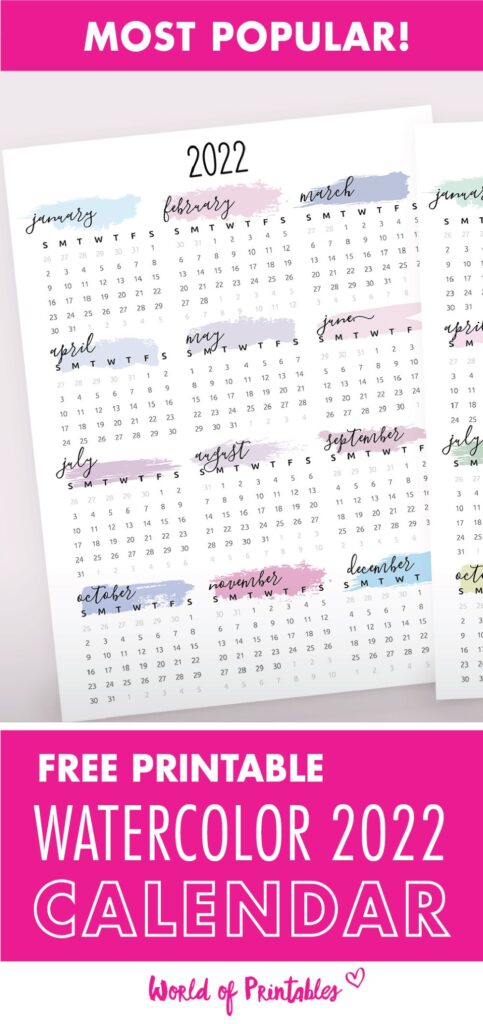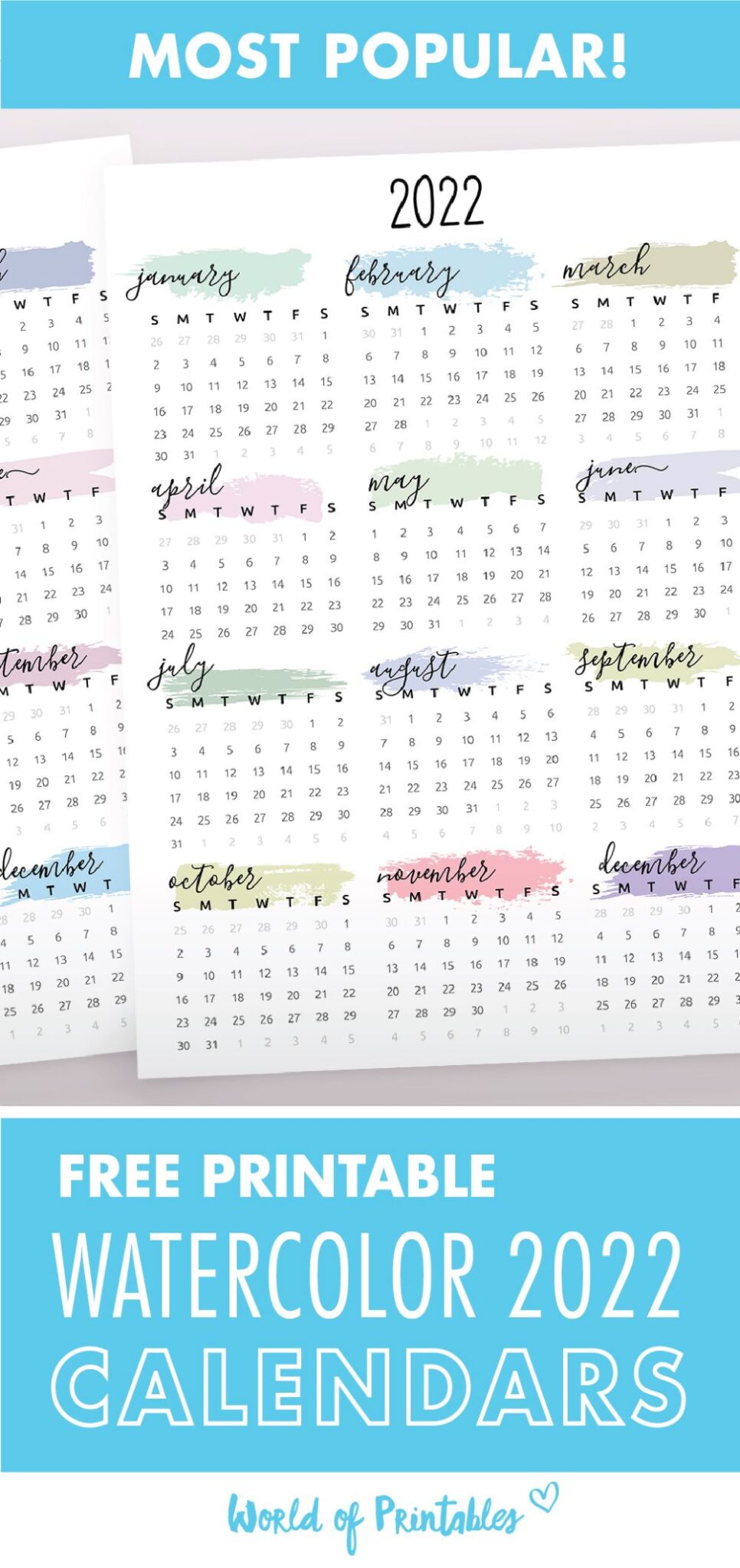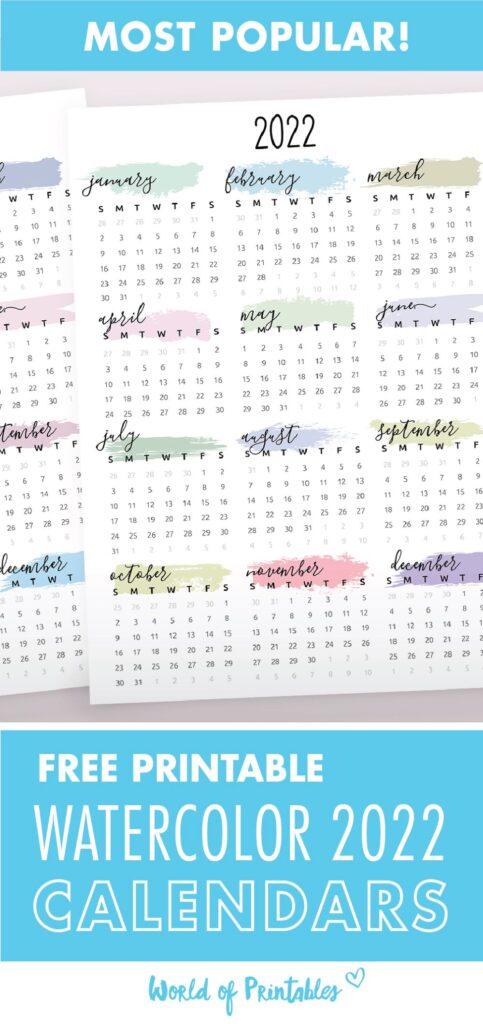 Follow World of Printables on Pinterest