These advertising tracker templates are perfect for keeping a log of all of your advertising campaigns and advertising costs for your business. It's an easy and effective way of keeping an eye on what advertising and marketing campaigns are working and which ones need some extra attention.
If you run a small business or you're an entrepreneur or solopreneur looking to run advertising campaigns to promote yourself then I highly recommend using an advertising tracker to keep a log of your campaigns.
If you plan to run ad or marketing campaigns on social media such as Facebook, Instagram, or Pinterest amongst many others, you will find that you need the dedicated space to log each campaign for each platform. Having all of this information collated and in one space is a great way to keep everything where you need it and reduce any confusion! 
A marketing campaign template can help you keep track of all of your campaigns in one easy-to-reach place, while keeping it simple for you to keep on top of everything you have running.
Printable Advertising Tracker Templates
Choose your favorite from these campaign templates below, then open to see the full-size version which you can save and print.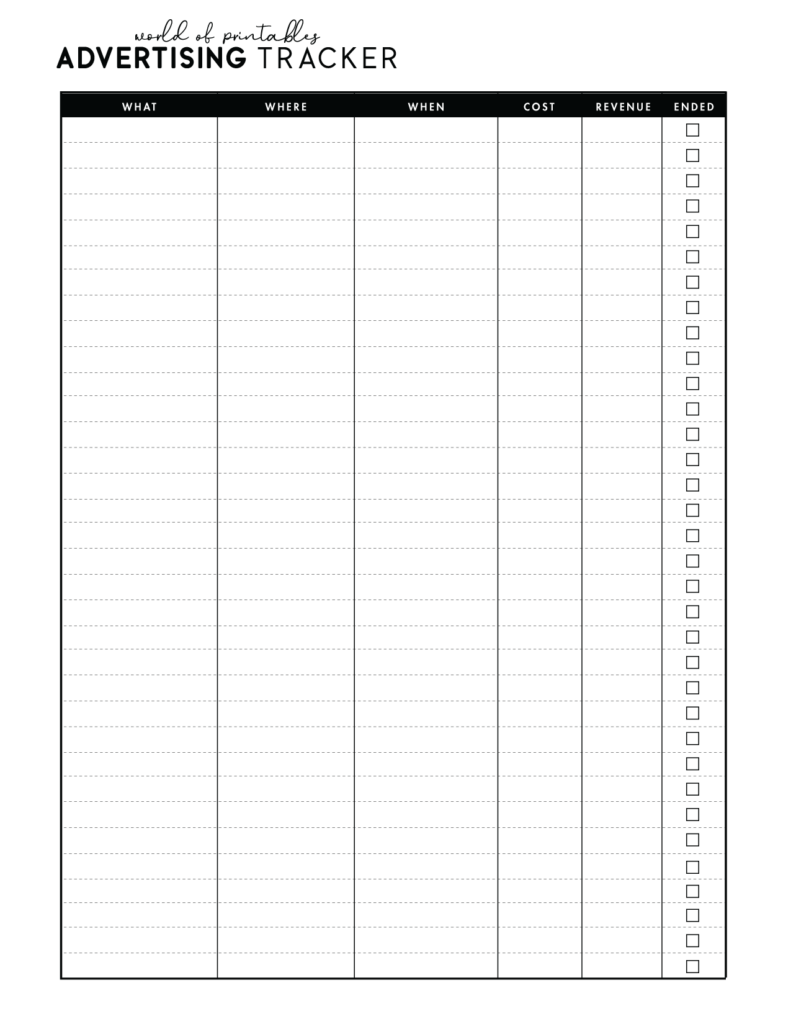 How to Use An Advertising Tracker Template
This advertising tracker has been designed to be simple and straightforward to use with any marketing campaign and has different areas for you to fill in –
What
What is the ad campaign? It shouldn't be a description, just a title that sums it up like 'Advertising Tracker Printable 2023'

Where
Where are you launching this ad? Is it through social media? And if so, what platform?

When
What date are you launching this? Are you launching it right now, today? Or are you planning ahead and launching on a specific date in the future?

Cost
How much is it going to cost you to run this ad? What is your budget for running the ad for the length of time?

Revenue
How much did you make from running this ad? How many sales did you convert? Did you profit after costs? Did it work for you?

Ended
Mark the checkbox when the ad is finished.
Simply looking at your advertising tracker can give you useful information to deem whether your advertising or marketing campaign was a success or not. If you run this ad campaign on different platforms at the same time you can easily see which platform worked best for the type of product or content you are promoting.
I definitely recommend using an advertising tracker for simplicity and ease of mind. It's also a great way to collect all of your data in one place and see it at a glance.
You can also find the advertising tracker template included in our Small Business Planner, a great free planner binder that's perfect for keeping track of everything that makes your business work.
More awesome printables for you to enjoy
If you love these templates and would like more awesome printables, then check out our latest creations that you can use for free.
We think you'll really love these:
How to make printables look awesome
INSTRUCTIONS
Get the free mileage log template by opening the image above. Or get the bundle of templates in high-quality using the button below. If you are looking for more awesome free templates then check out our huge range of printable templates.
Print it! – Our templates look so good when printed on this bright paper.
These printable templates are designed as 8.5 x 11 pages. TIP: If you want to print using different size paper then simply insert this printable into Canva, set your dimensions to any size you want, then save and print, easy! Full steps in this guide.
Find 100's more stylish planner templates that you'll love
Some of our recent planner templates. Find many more Printable Planner Templates that will help you get on top of your life with ease. You'll love them.
Follow World of Printables on Pinterest for more