Get creative with our free coloring pages for kids and adults.
Welcome to our vibrant world of coloring pages, where imagination knows no bounds! Our carefully curated selection of the best coloring pages for kids and adults is sure to captivate your artistic spirit. Prepare to embark on an enchanting journey through a kaleidoscope of coloring page themes, from adorable animals to mesmerizing mandalas, and from whimsical fantasy to heartwarming seasonal delights.
You'll find the perfect printable pages to color from our huge collection that will keep you entertained for hours of coloring fun.
Unleash Your Creativity with Our Extraordinary Coloring Pages Collection!
On this page, you will find the biggest collection of the most popular coloring pages for kids and adults including animals, mandalas, fantasy, landscapes, inspirational quotes, and superheroes. Plus you'll also find an amazing collection of the best seasonal coloring pages including Halloween, Christmas, valentines Day, Thanksgiving, spring, and summer.
An Abundance of Coloring Pages for Kids & Adults Awaits!
Prepare to be amazed, and delve into our treasure trove of coloring page themes. Delight in the company of adorable animals, befriend majestic wildlife and unleash your inner Picasso while coloring intricate mandalas that mesmerize the eyes. Enter the realm of fantasy and mythology, where dragons soar, fairies flutter, and the extraordinary becomes the norm. Our coloring pages cater to diverse tastes, inviting each and every one of you to find your perfect match.
Celebrate the Seasons in Color!
Are you ready to embrace the spirit of the seasons? Get into the Halloween mood with spooky pumpkins and friendly ghosts. As the holiday season approaches, immerse yourself in the magic of Christmas with joyful Santa Claus and adorable reindeer. When spring blooms, surround yourself with Easter eggs, bunnies, and the beauty of new beginnings. Throughout the year, we celebrate all that nature has to offer, from vibrant flowers to the golden hues of autumn.
We're constantly adding more amazing free coloring pages to our collection, so remember to check back soon.
Let's Rediscover the Joy of Coloring!
In this fast-paced world, we believe that there's something magical about taking a moment to pause, pick up your favorite coloring tools, and let the colors flow across the paper. Our printable pages to color are not just for kids; they are for everyone who seeks a delightful escape, a mindful activity that sparks joy and encourages relaxation. Whether you're a stressed-out adult in need of a creative outlet or a young artist eager to explore new worlds, our pages offer the perfect canvas for self-expression.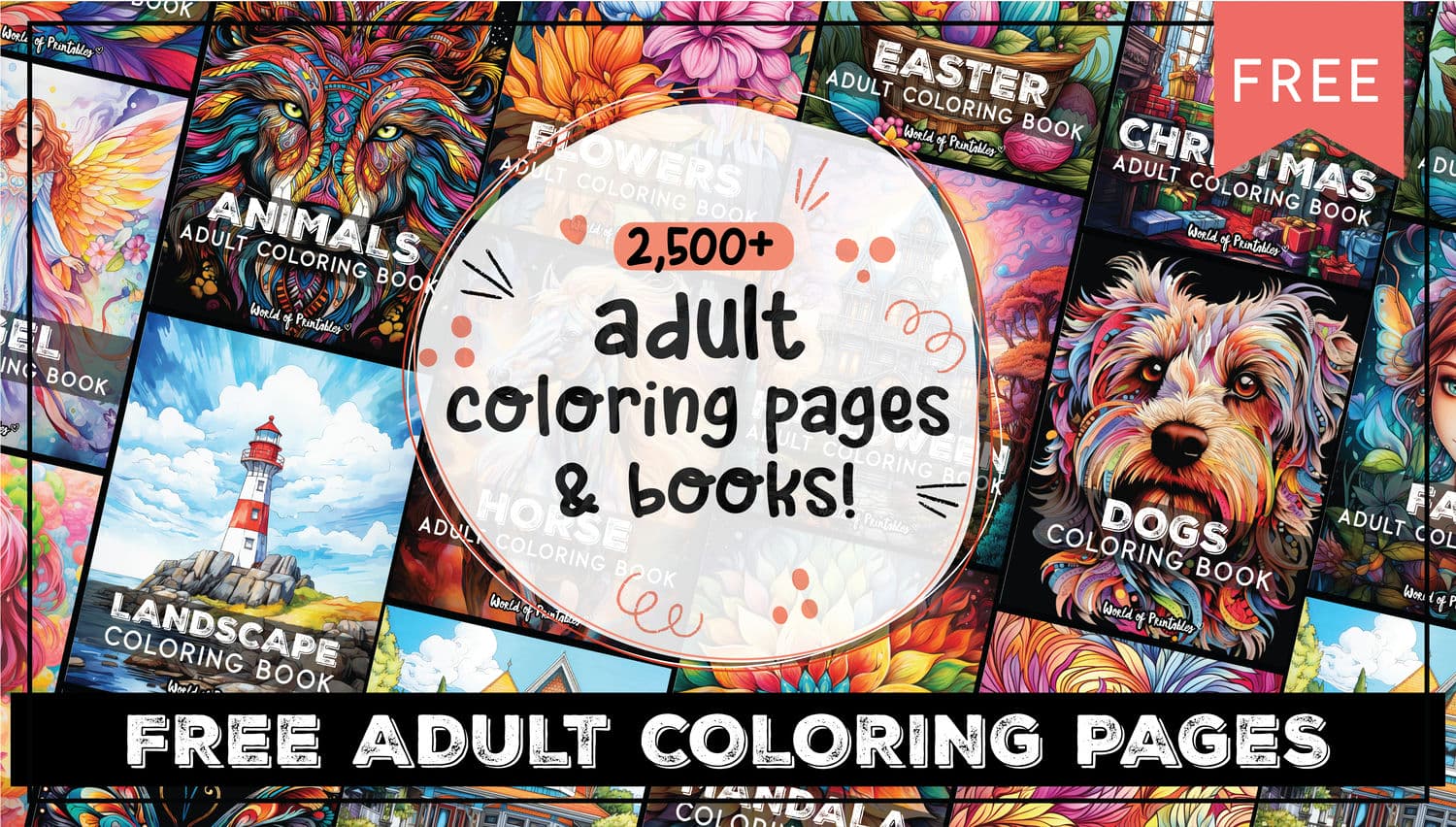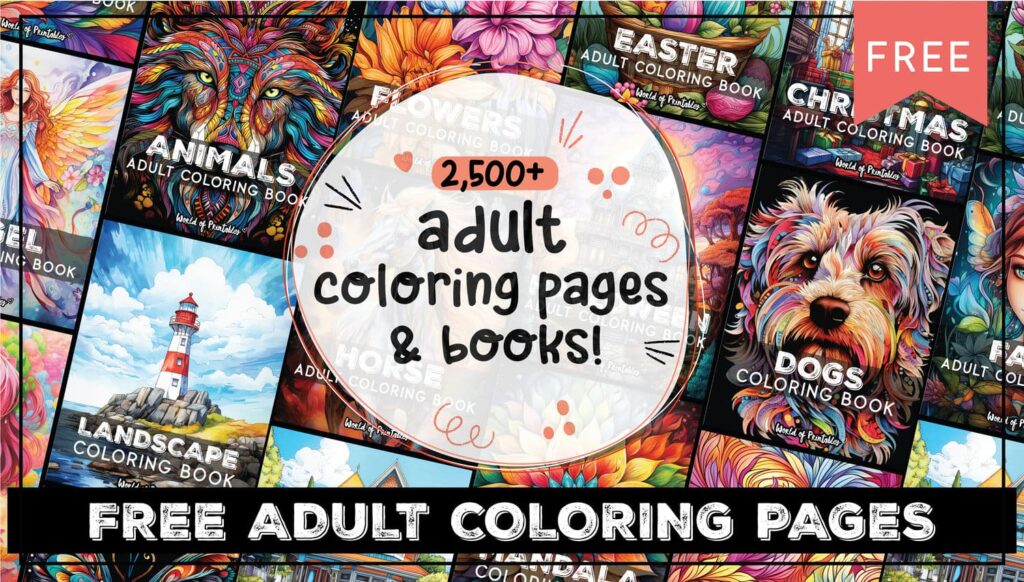 We feature a variety of adult coloring pages in various themes, including mandalas, animals, landscapes, patterns, and more.
Why Choose Our Coloring Pages?
Our commitment to delivering the best coloring experience is unwavering. We've created each page, ensuring an engaging mix of creativity and inspiration. But that's not all! When you use our coloring pages, you'll also enjoy:
Endless Fun: With an ever-expanding collection, there's always something new to discover, ensuring countless hours of joyful coloring.
Mindful Relaxation: Engage in a therapeutic activity that allows you to unwind, destress, and find peace in the present moment.
Accessibility: Access our pages from anywhere, anytime, on your favorite devices, making coloring on the go an absolute breeze.
Unleash Your Inner Picasso: Whether you're a coloring enthusiast or a novice artist, our pages inspire creativity and help you improve your skills.
Affordability: Our coloring pages are completely free for personal use, so you won't have to spend a penny to enjoy the best coloring pages available.
So, what are you waiting for? Unleash the artist within, bring colors to life, and let the magic unfold with our captivating collection of coloring pages for kids and adults. Dive into the world of boundless creativity, and let the joy of coloring brighten your day!
Thank you for Embarking on This Colorful Journey with Us!
We hope you've thoroughly enjoyed exploring our extraordinary collection of coloring pages for kids and adults. Your creativity and imagination will breathe life into these captivating designs, transforming them into true works of art. But our colorful adventure doesn't end here!
Discover Our World of Diverse Printables!
As you've experienced the joy of coloring, we invite you to explore our broader range of printables in a delightful array of themes. Dive into a world of educational fun with engaging worksheets and activities that make learning a breeze for young learners. Spark excitement with captivating puzzles and brain teasers that challenge and entertain all ages.
Discover our amazing World of Printables
Journey Beyond Coloring!
Seeking more adventures? Embark on epic quests with our thrilling adventure printables, where heroic tales and daring challenges await. Indulge your love for stories with enchanting storytelling resources that captivate hearts and minds alike. Whether you prefer the wonders of science, the beauty of nature, or the enchantment of folklore, our extensive collection has something to enthrall everyone.
The Fun Never Ends!
We're thrilled to be your partners in creativity and learning. Our commitment to providing top-notch content extends beyond coloring pages, as we continue to create an ever-growing selection of printables that bring joy and excitement to your lives. With each visit, you'll uncover new surprises and endless opportunities by exploring, learning, and having fun!
Stay Connected!
We'd love to stay in touch with you on your colorful journey. Don't miss out on our latest updates, new printable releases, and exclusive free products available only for our newsletter subscribers. Join our vibrant community by subscribing to our newsletter, and follow us on social media to connect with fellow enthusiasts and share your artistic masterpieces.
Follow World of Printables on Pinterest
If you loved this post then please share it and pin it for later. Also, follow and tag us on Instagram so we can see your awesome finished coloring pages!
Get notified of our upcoming free printables – you're gonna love them!
Embrace the Magic of Creativity!
Once again, thank you for being a part of our creative family. From coloring pages that awaken your inner artist to a diverse range of printables that inspire and entertain, we're here to make your world more colorful and exciting. So, let your creativity soar, your imagination run wild, and together, let's paint a vivid canvas of joy and wonder!
Keep Coloring, Keep Creating!
COPYRIGHT
Our creations are for personal, non-commercial use only and are owned by World of Printables, and cannot be redistributed, reproduced, or resold.