When you think of baking, you think of eggs. Eggs are one of the main ingredients in most baked goods but there are other options if you don't want to use egg.
Eggs serve various purposes in baking recipes, including structure, leavening, moisture, and richness. However, if you lack eggs or have an egg allergy, there are various substitutes available. Here are a few options:
Applesauce: Unsweetened applesauce can replace eggs in recipes that require a small amount. Use 1/4 cup of applesauce to replace 1 egg.
Mashed bananas: Mashed ripe bananas can replace eggs in recipes that require a small amount. Use 1/4 to 1/2 cup of mashed bananas to replace 1 egg.
Yogurt: Plain yogurt can replace eggs in recipes that require a small amount. Use 1/4 cup of yogurt to replace 1 egg.
Silken tofu: Silken tofu can replace eggs in recipes that require a large amount. Blend 1/4 cup of silken tofu until smooth instead of 1 egg.
Vinegar and baking powder: Combine 1 tbsp vinegar and 1 tsp baking powder as a substitute for 1 egg. This works as a leavening agent in recipes.
Commercial egg replacers: Commercial egg replacers are available to replace eggs. Follow the manufacturer's instructions for the amount needed.
Get your Egg Substitutes printable below and add it to your recipe binder.
Egg Replacement
If you have an egg allergy or are following a vegan diet then you will need to use an egg replacement when cooking or baking. There are many options available for making different recipes.
Eggs add moisture, richness, bind, and leaven recipes. For vegan/eggless or non-availability, substitute options include:
Applesauce: Applesauce substitutes eggs in moisture-requiring recipes like cakes/muffins. Use ¼ cup for one egg.
Mashed banana: Mashed banana replaces eggs as a binding agent in recipes like pancakes/cookies. Use ¼ cup for one egg.
Yogurt: Yogurt replaces eggs for moisture and acidity in recipes like cakes/quick breads. Use ¼ cup for one egg.
Silken tofu: Silken tofu blends as a binding agent and moisture substitute for eggs in recipes like pies/quiches. Use ¼ cup for one egg.
Aquafaba: Aquafaba, chickpea/legume cooking liquid, replaces eggs as a foaming agent in recipes like meringues/macarons. Use 3 tablespoons for one egg.
See many more recipe substitutes and get your free recipe substitute binder.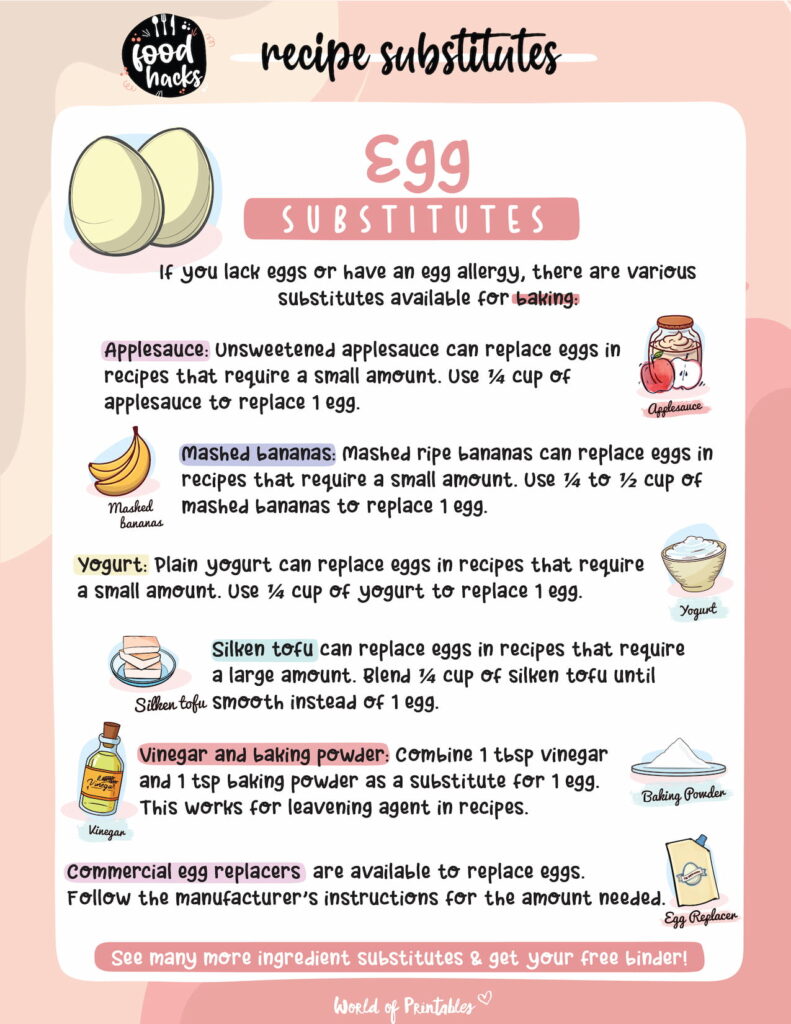 If you have allergies, always make sure you're substituting replacements safely.
You can print this Egg substitute and store it in your recipe binder for quick reference.
Discover our recipe binder!
Our recipe binder features dozens of useful pages that are perfect for anyone looking to create, store and organize their favorite recipes.
Available in different styles, and includes pages such as recipe pages, meal planners, grocery lists, kitchen conversion charts, inventories, and much more.
Best of all, it's totally free! Get your free copy of our printable recipe binder today.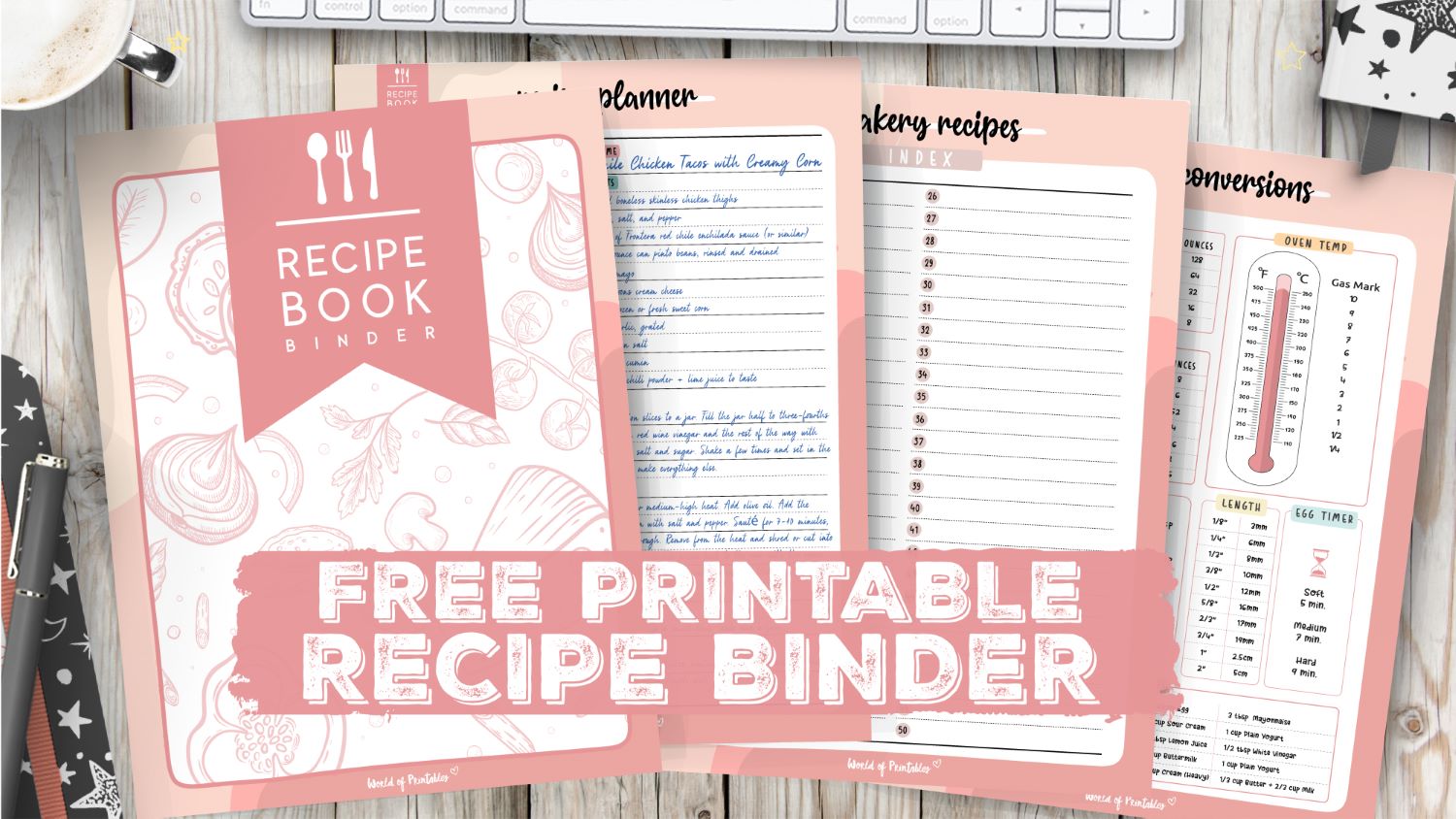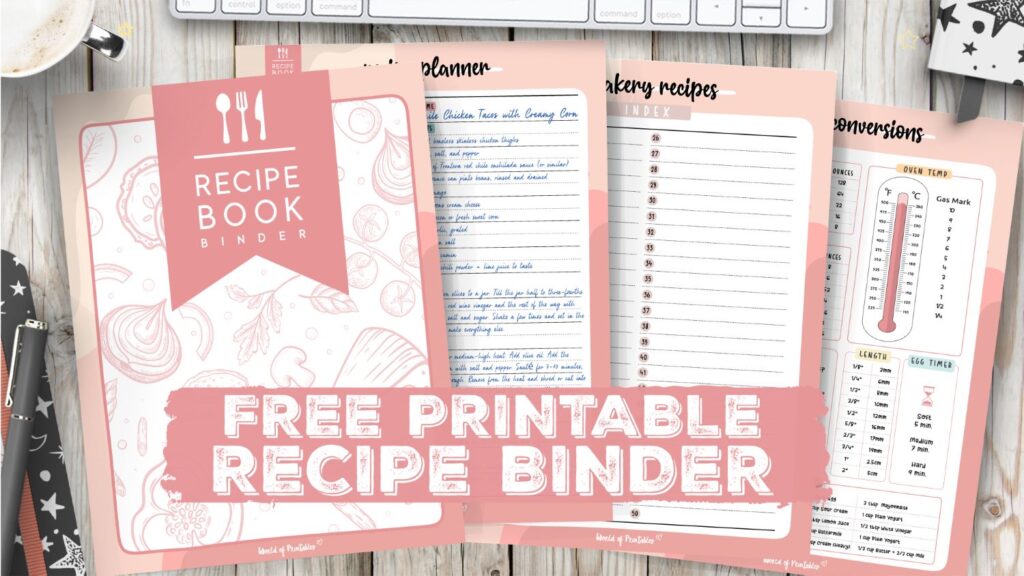 Digital Recipe Book
If you like using your iPad or tablet in the kitchen, then check out our Digital Recipe Book. Store your favorite family recipes in one convenient place and always be a winner in the kitchen!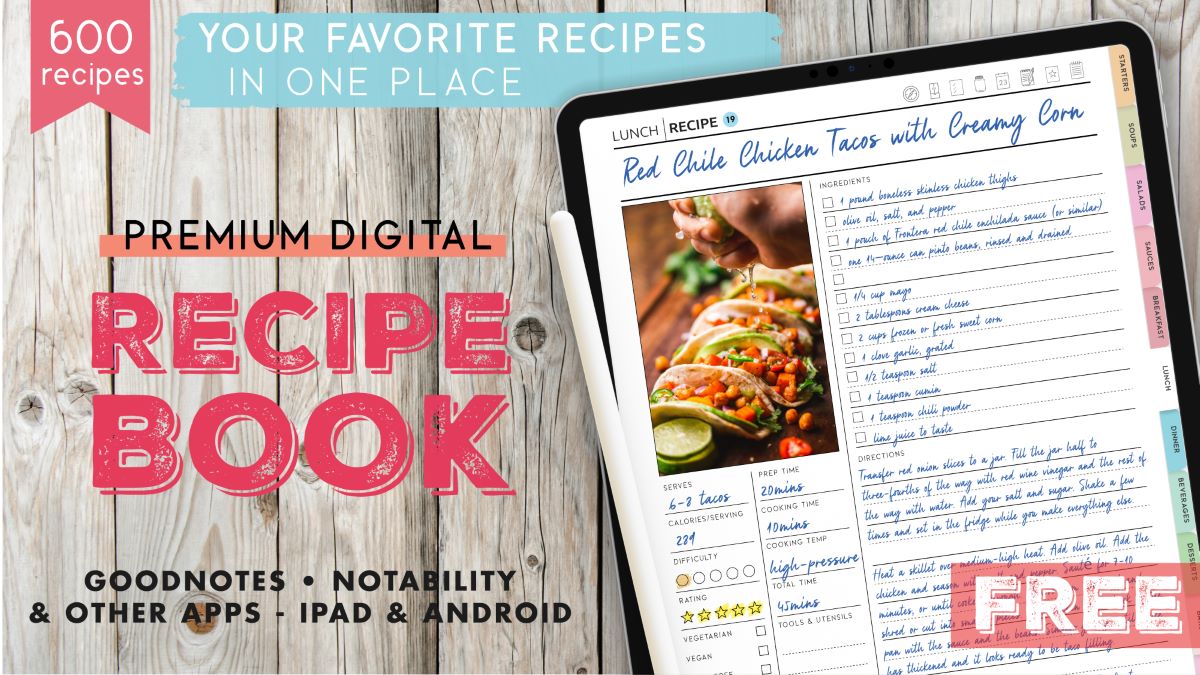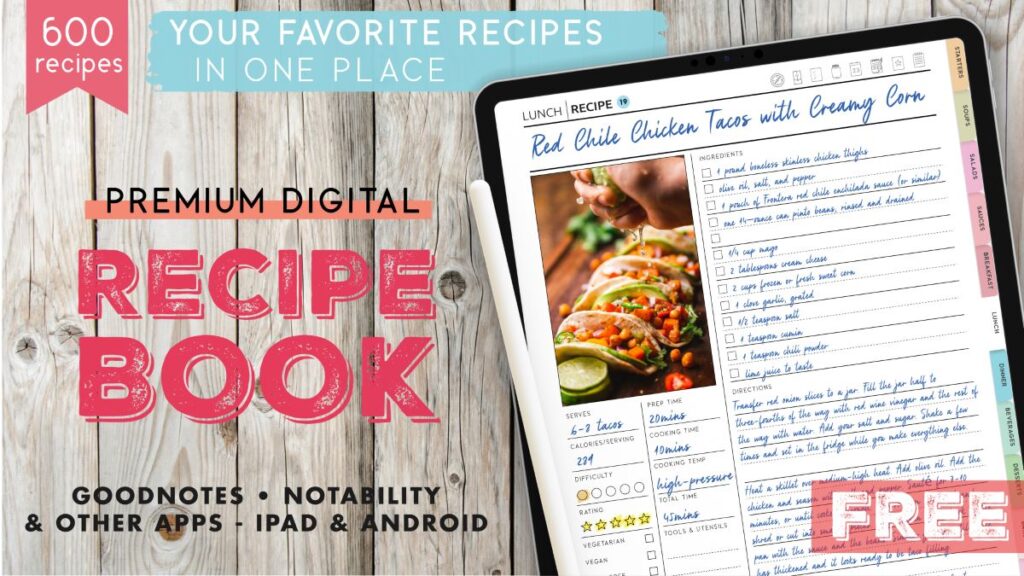 More awesome printables for you to enjoy
If you love our recipe substitute printables and would like more awesome free printables, then check out our latest creations that you can use for free.
Every week we create a cute set of printables, planners, and digital freebies to help you make the most of the things that matter. Our creations are loved by many and are free for you to enjoy.
We think you'll really love these:
Follow World of Printables on Pinterest
COPYRIGHT
Our creations are for personal use only and are the copyright of World of Printables. You cannot redistribute, reproduce, or resell, although you can link back to our website.