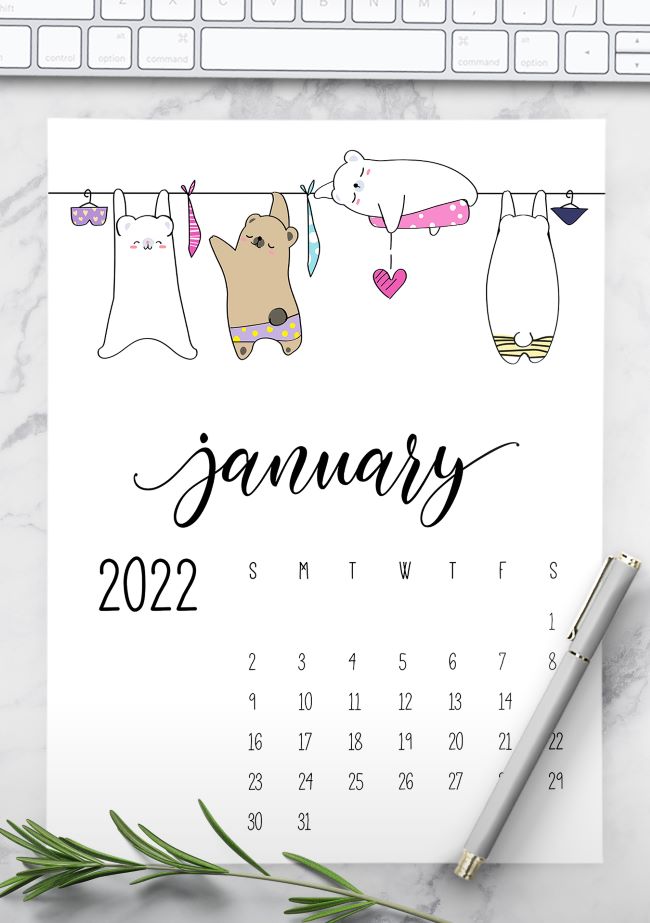 Get this free laundry Room 2022 Calendar featuring cute animals hanging on a washing line. A fun printable calendar to decorate your home.
Calendars aren't just for hallways or offices, you can actually have a calendar anywhere you desire.
This calendar is a great option for a laundry room or wherever you do your washing. It's fun, cute, and fits the theme. If you want to add a touch of humor to your decor then this is a nice option.
A great way of using this calendar is by marking the type of wash you are going to do on certain days. Circle with a dark pen for dark loads, a colored pen for colors, etc. This way you know exactly what color of laundry you will be washing and when.
It's great for the kids too. Rather than gathering the correct washing up from their bedroom floor, tell them to check the calendar and stick the correct colors in the laundry room.
I love these cheeky bears and love how their shorts are falling down past their tails, it's so cute!
This free printable 2022 calendar is sure to bring a smile to any face and it also makes the perfect gift. You can print the full 2022 calendar for free and bind it to make a special gift for someone you love.
To get the calendar, simply open the images below and save them to your computer for printing.
For our latest calendars, check out our collection of the best printable 2023 calendars, where you'll find updated versions of these calendars and many more.
Open the following image link to print the Laundry Room 2022 Calendar.
Just find your printable calendars here, print them out and you're done!
See below for instructions and paper recommendations.
Also, see more of our stunning range of free calendar designs below.
The great thing about our free printable calendars is that you can mix and match! You don't need the same style all year round, just come back and get a different calendar each month.
How to print these laundry room 2022 calendars printable calendars for the best finish
INSTRUCTIONS
Get the Laundry Room 2022 Calendar by opening the calendar month images above and saving them to your computer before printing. This will give you the best results and the highest quality prints.
Print the calendar. These calendars are designed as 8.5 x 11 US Letter size printables but will also print well on A4 paper.
Our calendars look so good when printed on this bright paper which is one of the best deals I've found and makes the print look crisp and clear. This card stock is also a great option that's used a lot in the printable community and even cheaper than I've found in stores.
TIP: It's easy to resize our calendars to fit any paper size. Simply insert this printable into Canva, set your dimensions to any size you want, then save it to your computer, easy! Full steps in this guide.
See more ideas on how to style printable calendar templates to match your home decor!
More Free Printable Calendars from World of Printables
We've created a huge amount of calendars from blank calendars to stylish calendars.
Our recent 2022 calendars. Many more printable calendars are available to print for free.
Free printable planner templates
You'll also find a huge amount of our free printable planners and templates to help you plan and organize all aspects of your life.
Be sure to grab as many freebies as you can while you're here.
We think you'll find these very useful:
Some of our recent printable planner templates. Many more planner templates are available to save and print for free.
Thank you so much for visiting!
If you liked this post and printable laundry room calendar, go ahead and hit the Pin button below, as it really does help us in so many different ways and is a great way to save for later.
If you are new here please subscribe below as we make new printables often and we'll keep you notified from time to time with our best new free printables.
Like these freebies?
Get notified of our upcoming free printables – you're gonna love them!
Follow World of Printables on Pinterest