Everybody's favorite family organiser
This Family Organiser Calendar 2022 template is great for planning and organizing your month ahead.
I love this minimalist calendar and it is definitely one of the favorites of ours. This template was very popular the previous year, so it has been updated for 2022.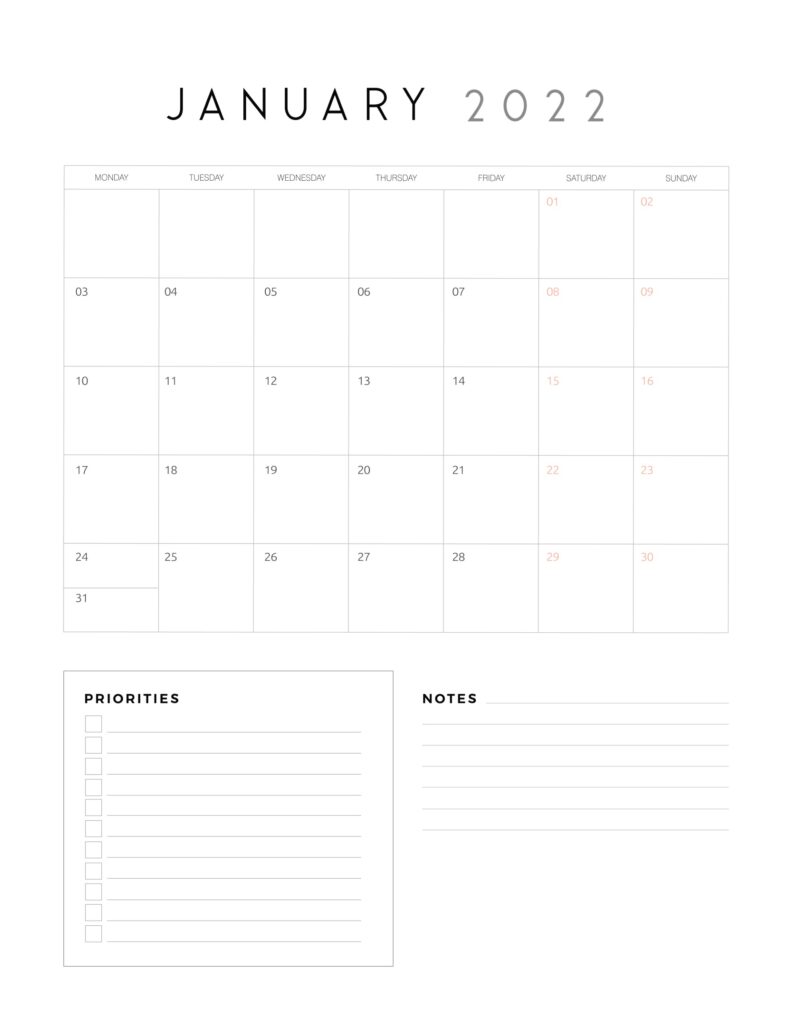 A calendar that lets you really plan your month ahead
This beautiful calendar has been designed with love, as all of our calendar templates are, and this one specifically features a stylish layout with plenty of space to plan your month. There is space to write under the dates along with a priorities section and a note section.
It's like a calendar and monthly planner scheduler all in one.
It's great for planning your month ahead. If you're somone who really likes to be organized, you can download the whole year and really start planning your months and year ahead. There's so many things happening in 2022 and being organized is a good thing!
Use this calendar in your home or office but better yet, resize it to fit your planner or binder! It will work a treat in your planner!
The great thing about our free printable calendars is that you can mix and match! You don't need the same style for all year round, you can simply come back and download a different calendar each month.
On the other hand, many people love to stick with the same theme. If that's you, then be sure to get our planner pages that are in the same minimalist style – they'll look amazing in your planner or binder.
How to use a family organiser calendar
It's easy to use this calendar organiser. Start by writing in the empty date boxes any events, appointments, meetings, or important dates that are coming up this month.
Use it for anything family related, which can include your work days, especially if you work part time.
Use the priorities section to write anything that needs done over the month that needs to stand out whenever you check the calendar.
You might not have a specific date chosen for writing priorities, sop you can simply list them here in the priorities section and then write them in a blank date box whenver you decide to schedule them.
The notes section comes in handy too. This can be for follow ups, or things that you didn't manage to do this month, which can be rolled over to the following month.
But realistically, you can use these organizing sections for anything, it's completely up to you and I'm sure you'll find a use for them.
Of course, you don't need to use this 2022 calendar for organizing family activities, you can use these calendars for work too. These calendar pages really can be used by anyone for any purpose.
Download, print and start planning
To download the calendar, simply click the images below and save them to your device.
See below for instructions and paper recommendations. Also, see more of our stunning range of free calendar designs below.
If you want to style up your printable calendar to look really stunning, then check out our calendar style guide below for a perfect finish!
Click the following image links to print the Family Organiser Calendar 2022 pages individually.
How to make printable calendars look stunning
INSTRUCTIONS
Download the family organiser calendar 2022 template by clicking the image above. If you are looking for a calendar for 2022 then see our huge range of free printable 2022 calendar templates.
Print it! – Our calendars look so good when printed on this bright paper.
There are so many lovely ways to use this calendar from resizing it to fit your paper size or planner or even styling it to create a wall piece.
More Free Printable Calendars from World of Printables
If you liked this post and family organiser calendar 2022 template, go ahead and hit the Pin button below, as it really does help us in so many different ways and is a great way to save for later.
Remember to check out our huge range of printable calendars and if you like to plan your days, weeks and months, then be sure to grab some of our free printable planners – we've got more than anyone else and they're totally awesome too!