If you want to be more organized than ever then get this Free Printable 2022 Monthly Calendar with priorities and notes and start planning your month ahead in style.
Are you a working professional? Maybe you're someone who likes to stay on top of things, someone who likes to plan and organize your days, or weeks ahead? Then this monthly calendar is just what you need.
This lovely landscape calendar focuses on logging what's important whether that's with writing down tasks, priorities, or notes. It's a really good calendar for work and schedule so would be an amazing option for a workspace or office.
The clean and simple style of this calendar allows you to focus on what is important and offers little distraction. It's the perfect working calendar for any workspace or home office with plenty of space to write down everything and anything important to you.
If you're someone who likes simplicity and doesn't use a planner, but just wants something to help them plan their month and organize their to-do's then these monthly 2022 calendars are perfect for you and will help you do just that.
To get these monthly calendars, simply save the images below to your computer.
For our latest calendars, check out our collection of the best 2023 calendars, where you'll find updated versions of these calendars and many more.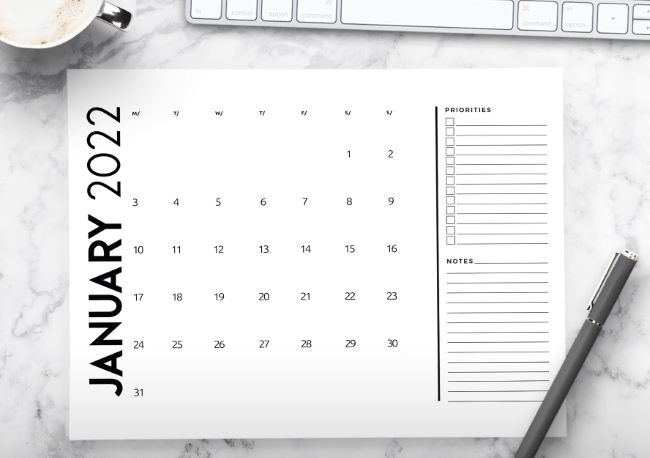 Organize the months of 2022 in style
These monthly calendars will help you organize the things that you need to do. You can use each calendar to write down important dates, your work schedule, birthdays, appointments, and any other activities coming up.
You can also use the notes section to write notes over the course of the month, or notes that relate to the calendar entries that you write.
You can use the priorities section to write down anything you need to do, including tasks for the month ahead, using it as a to-do list.
Just get your printable calendars below, print them out and start planning!
See below for instructions and paper recommendations. Also, see more of our stunning range of free calendar designs below.
The great thing about our free 2022 monthly calendars is that you can mix and match! You don't need the same style all year round, you can simply come back and get a different calendar each month.
Open the following images to print the Printable 2022 Monthly Calendar.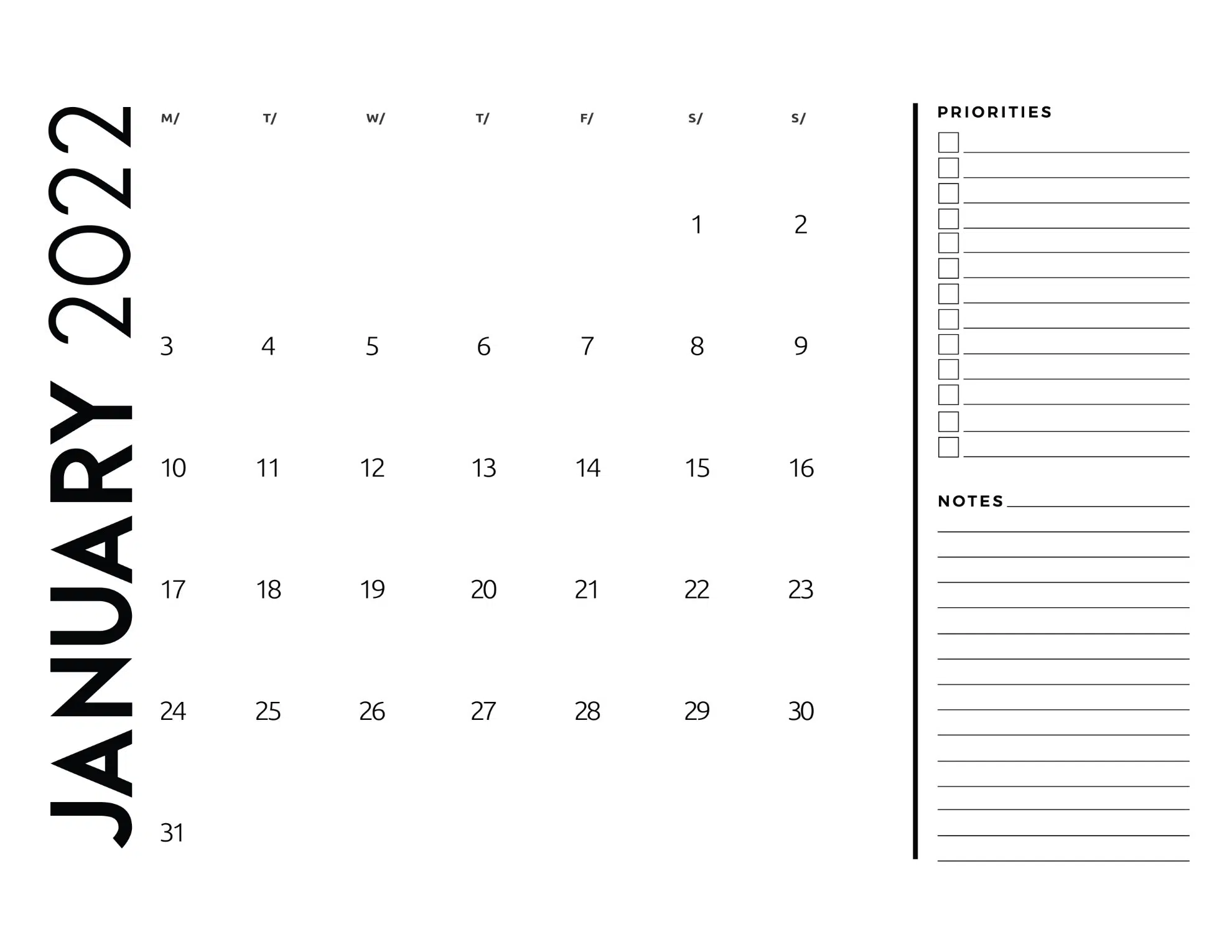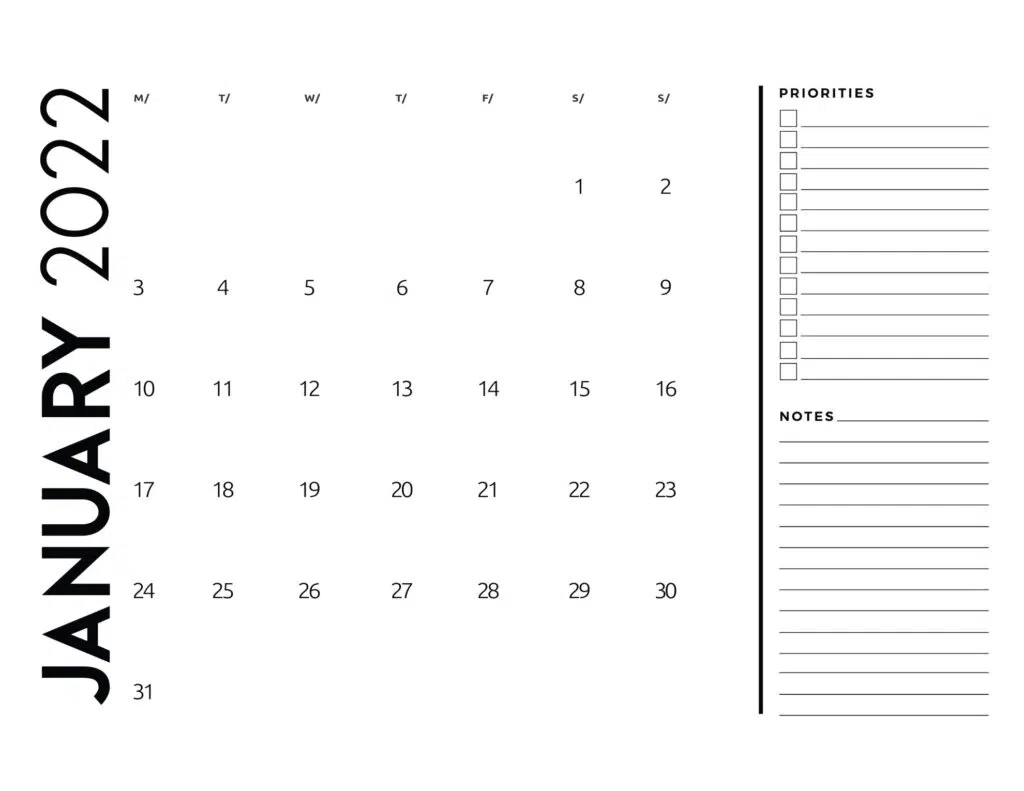 Printable January 2022 monthly calendar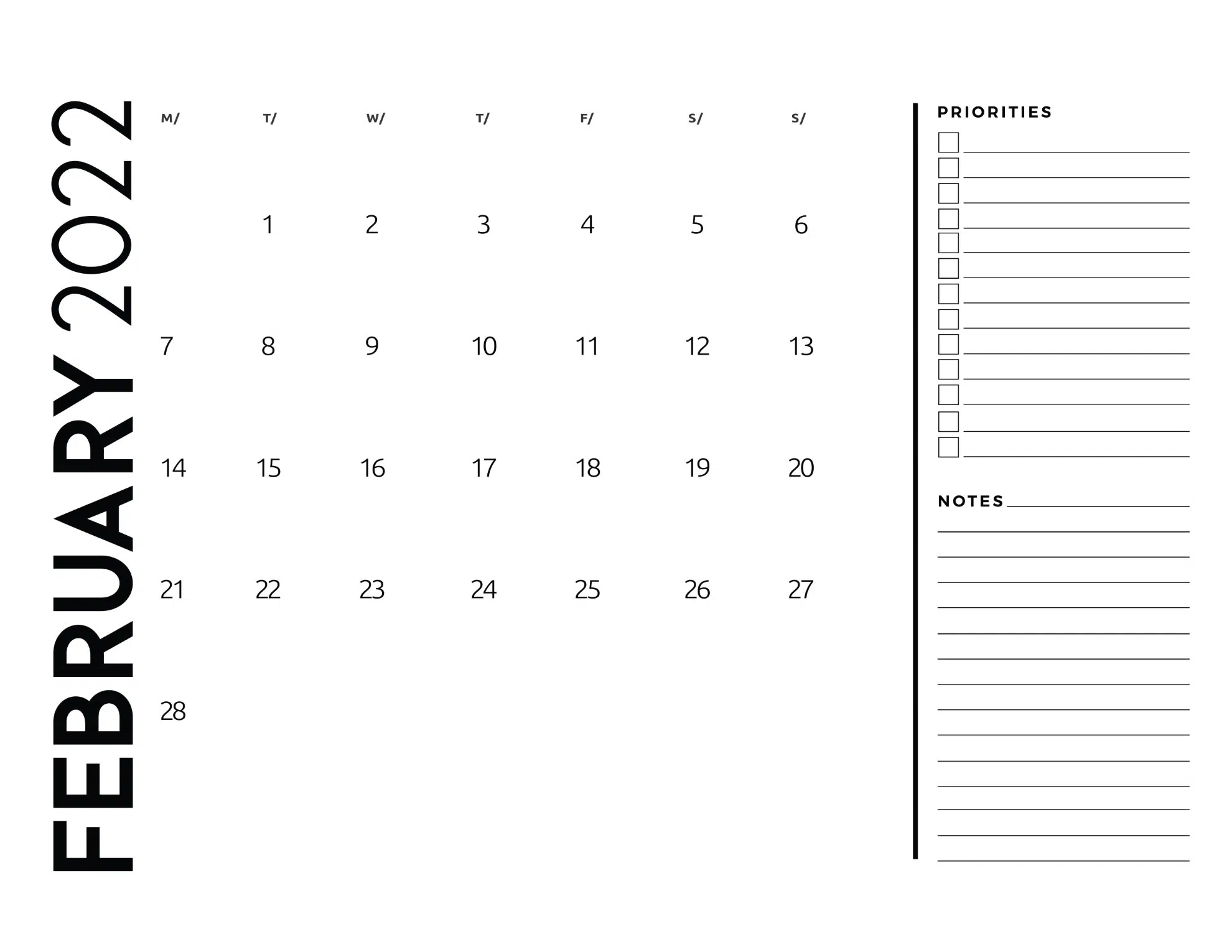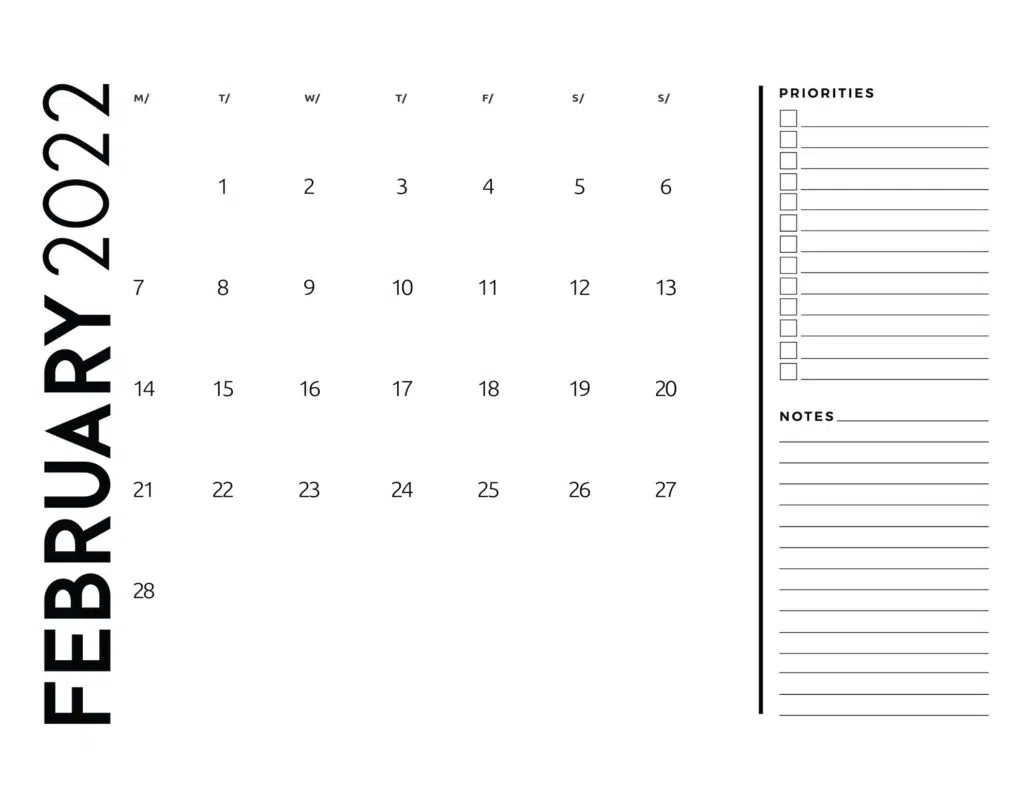 Printable February 2022 monthly calendar
---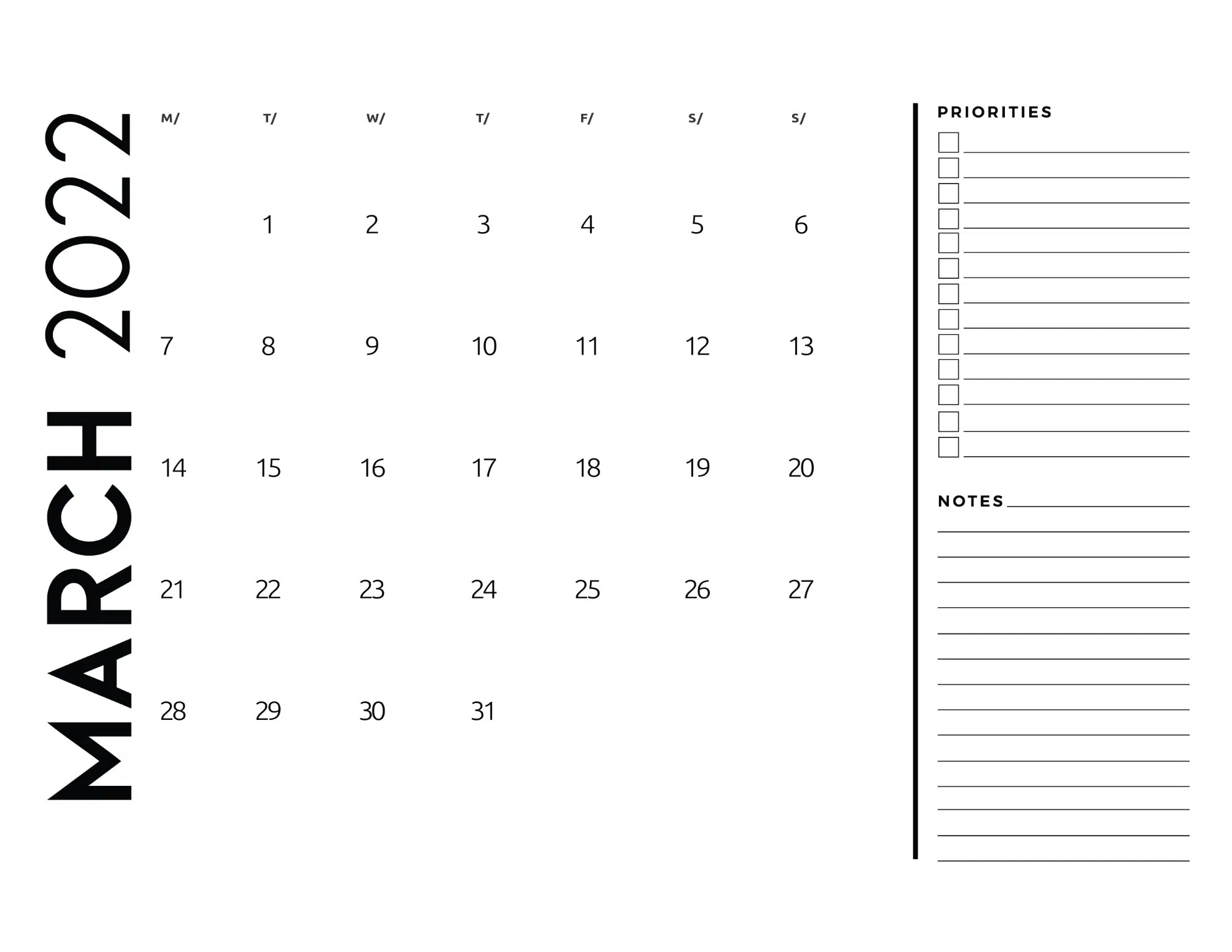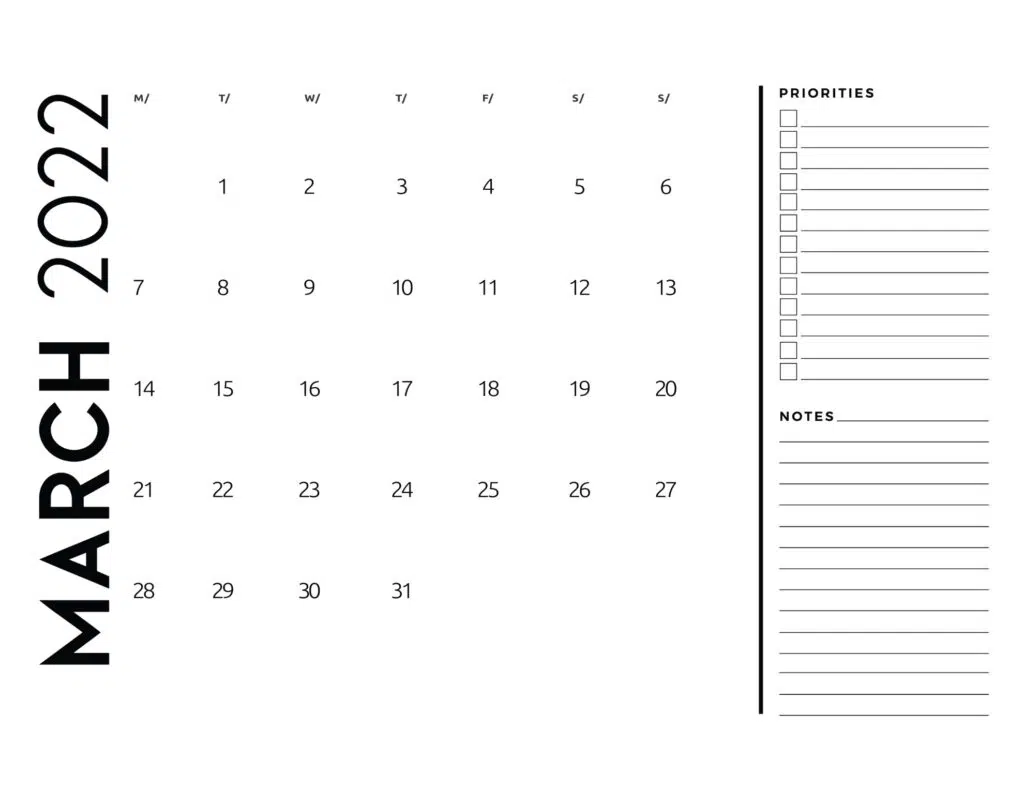 Printable March 2022 monthly calendar
---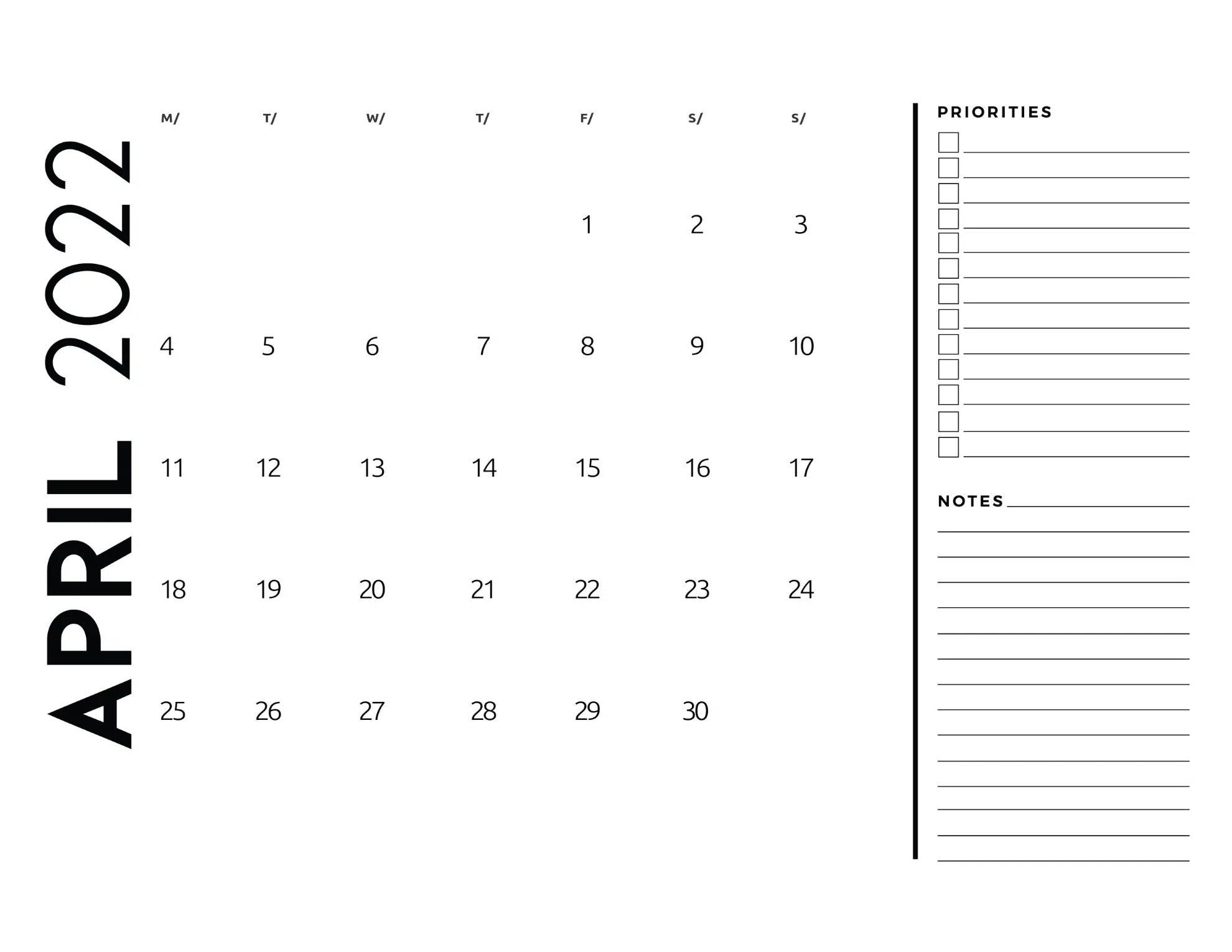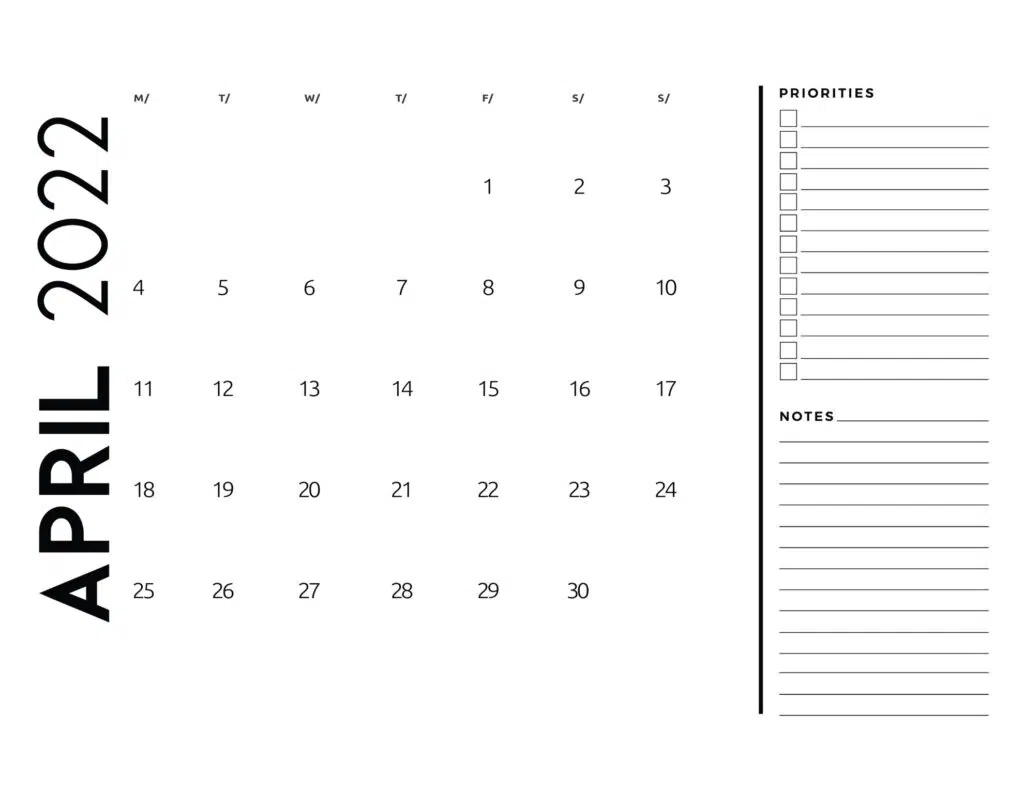 Printable April 2022 monthly calendar
---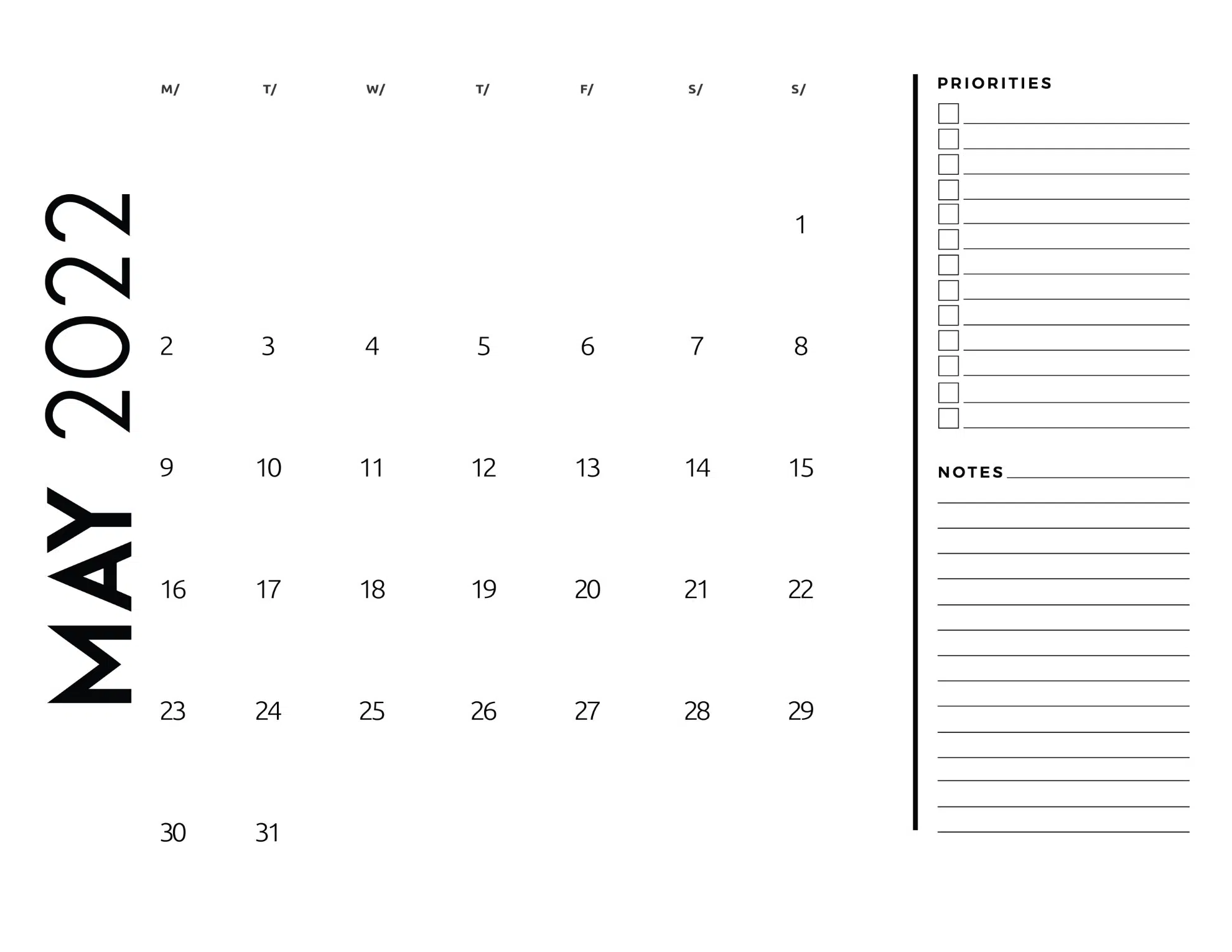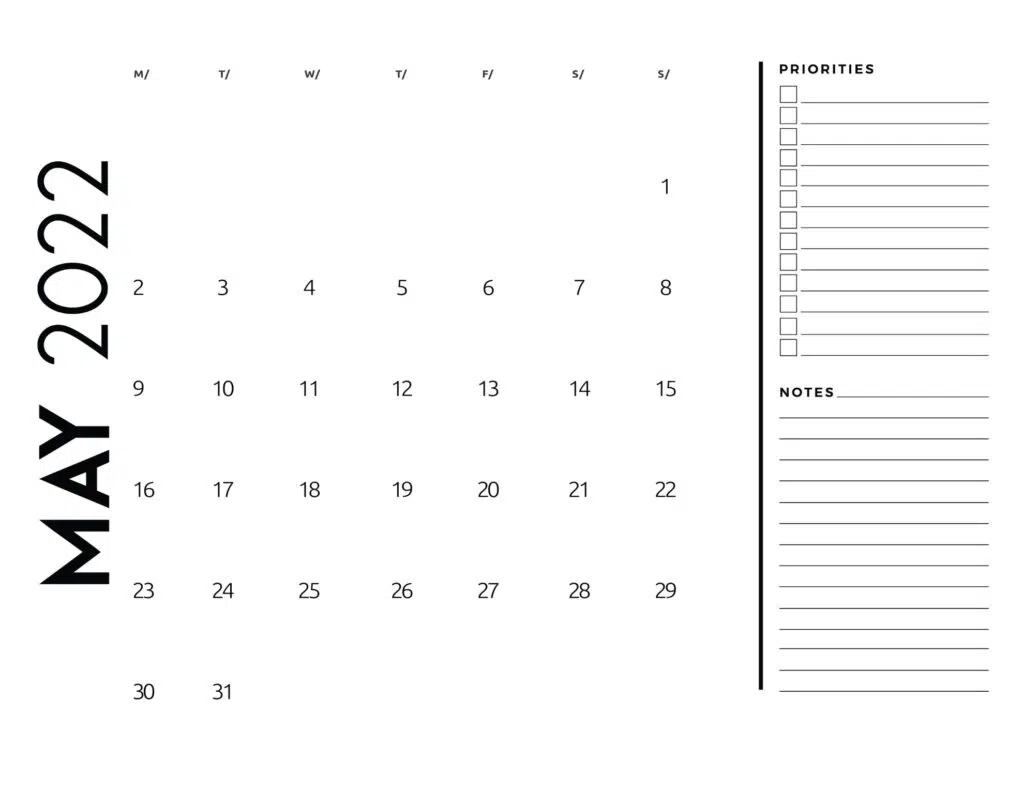 Printable May 2022 monthly calendar
---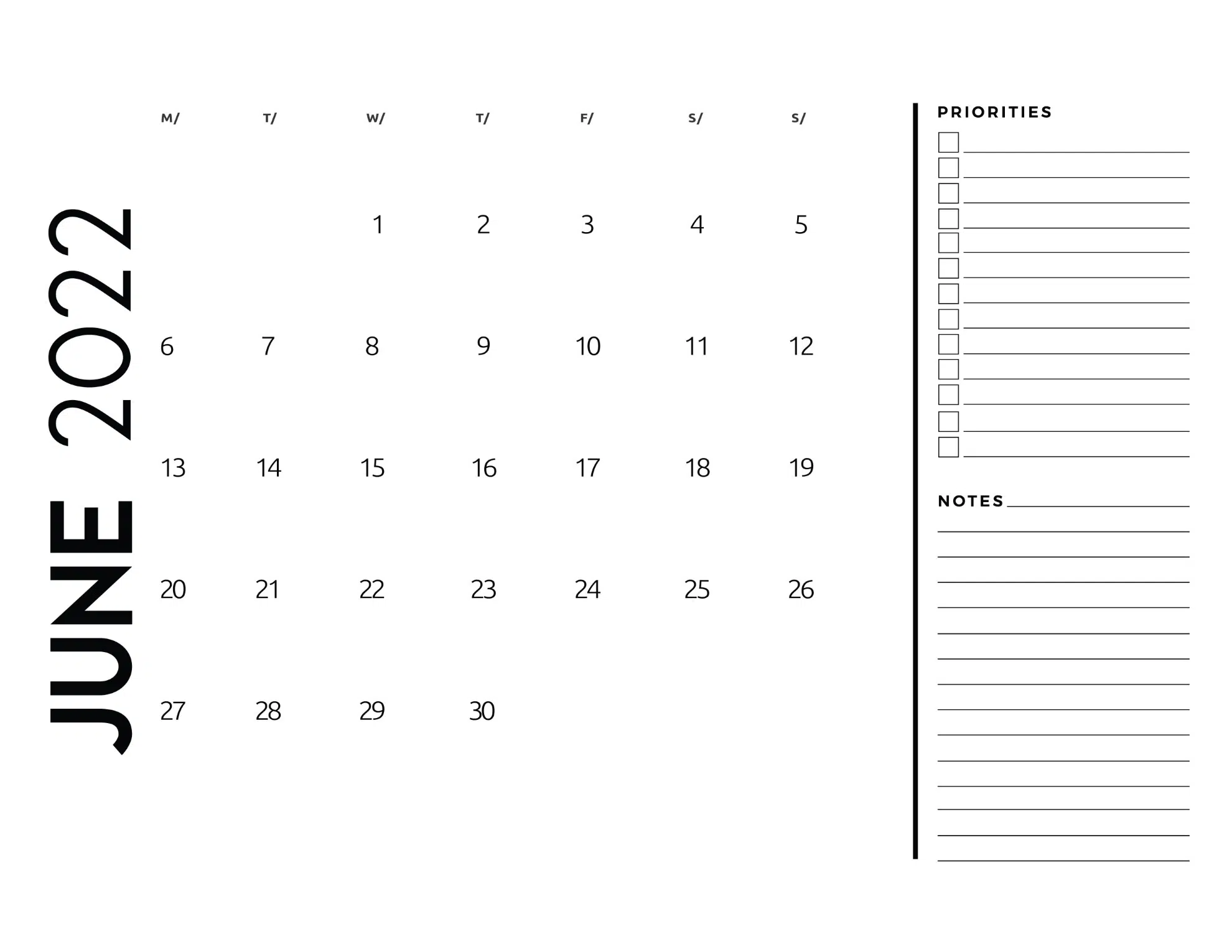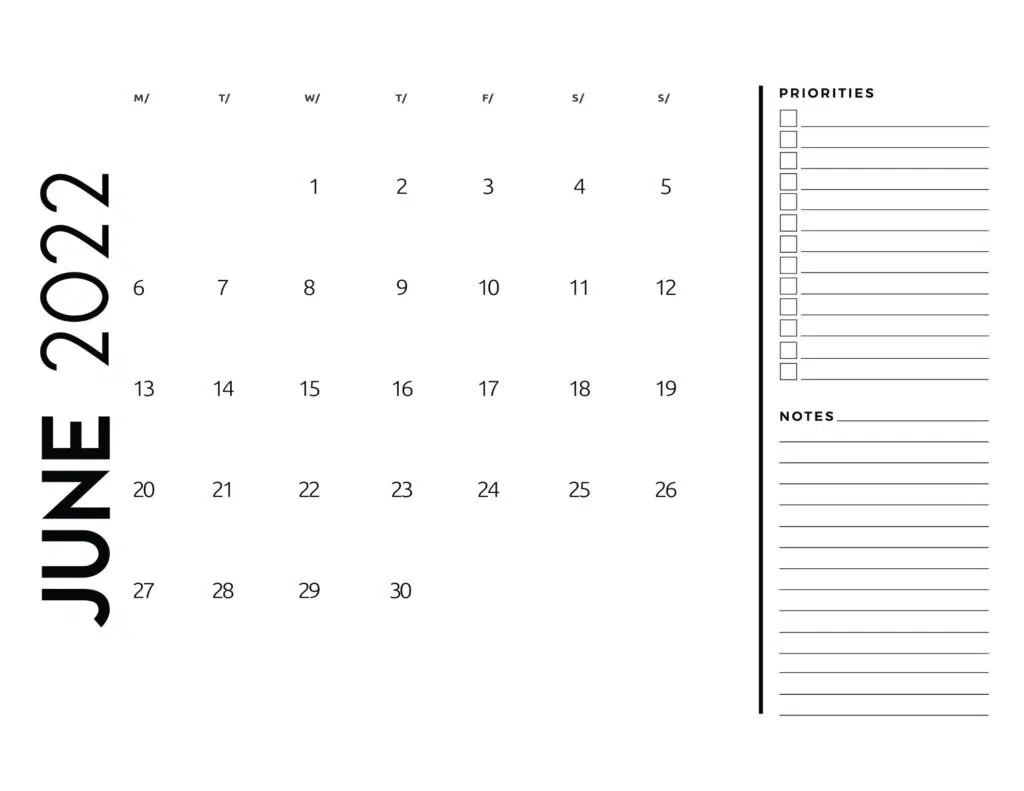 Printable June 2022 monthly calendar
---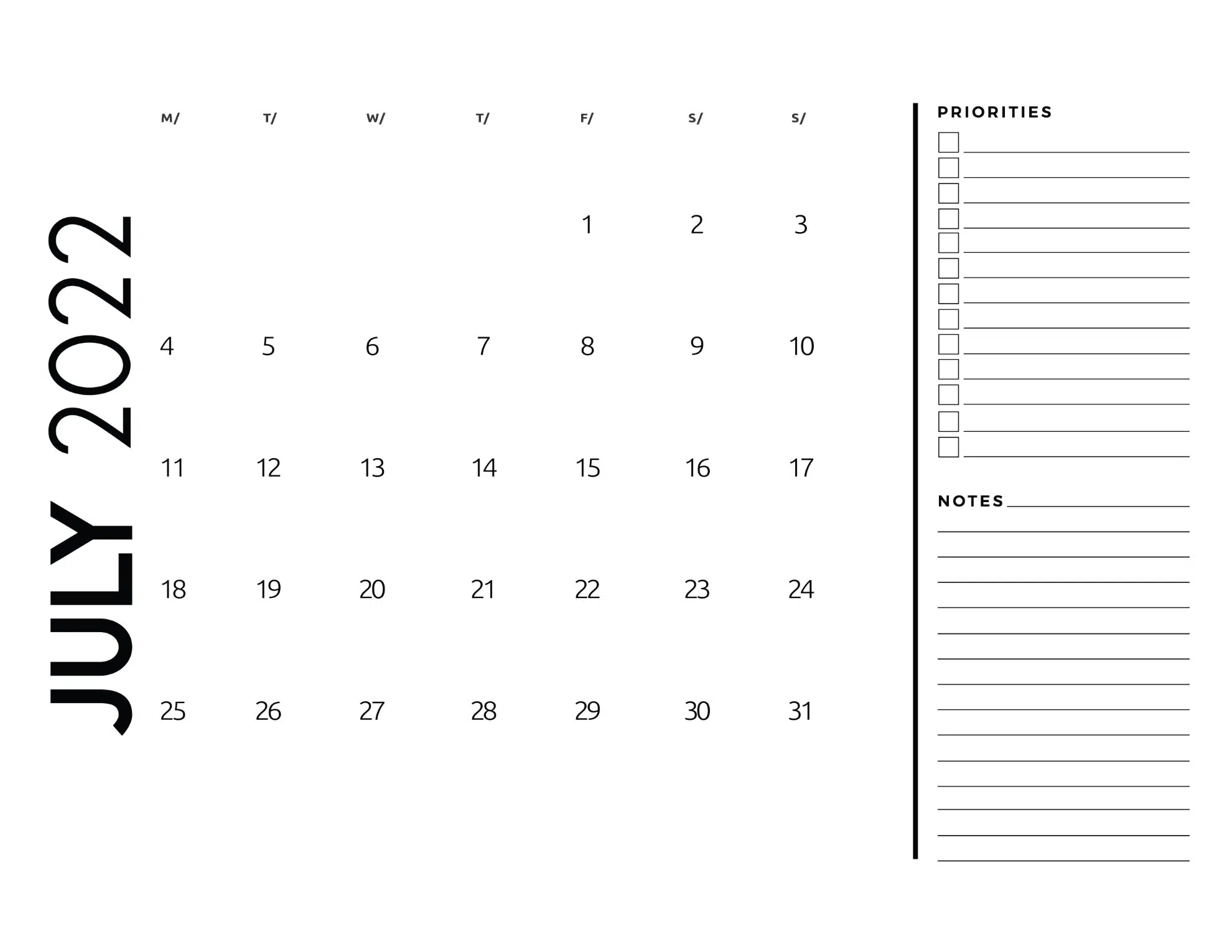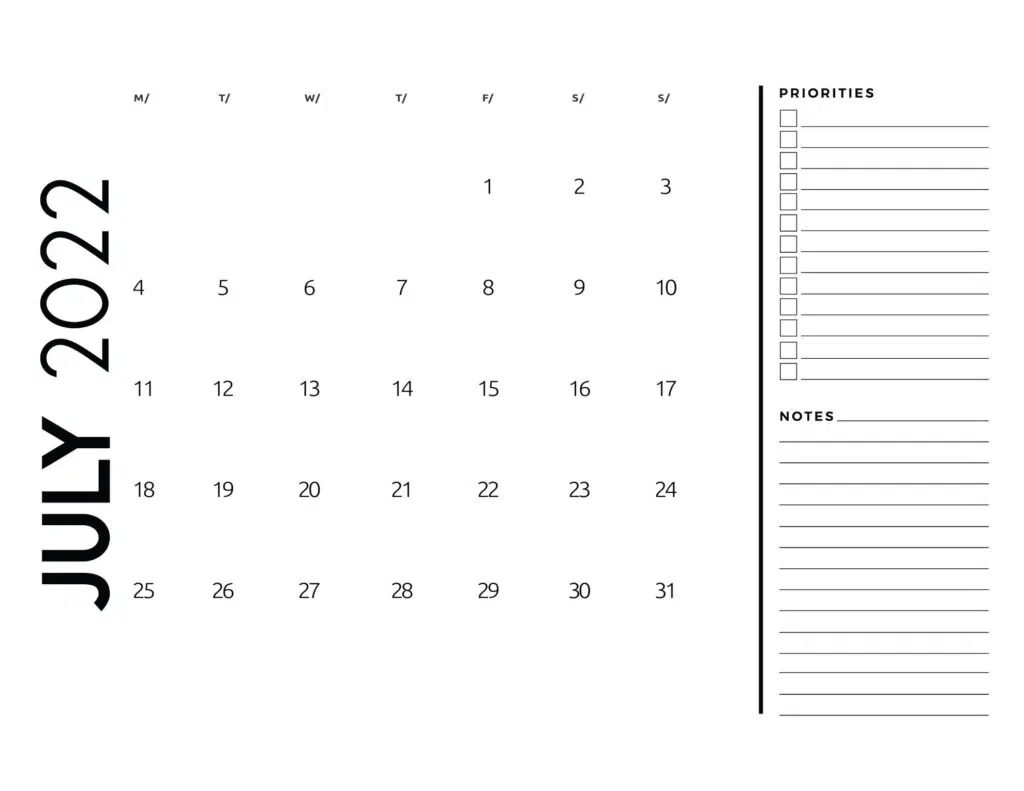 Printable July 2022 monthly calendar
---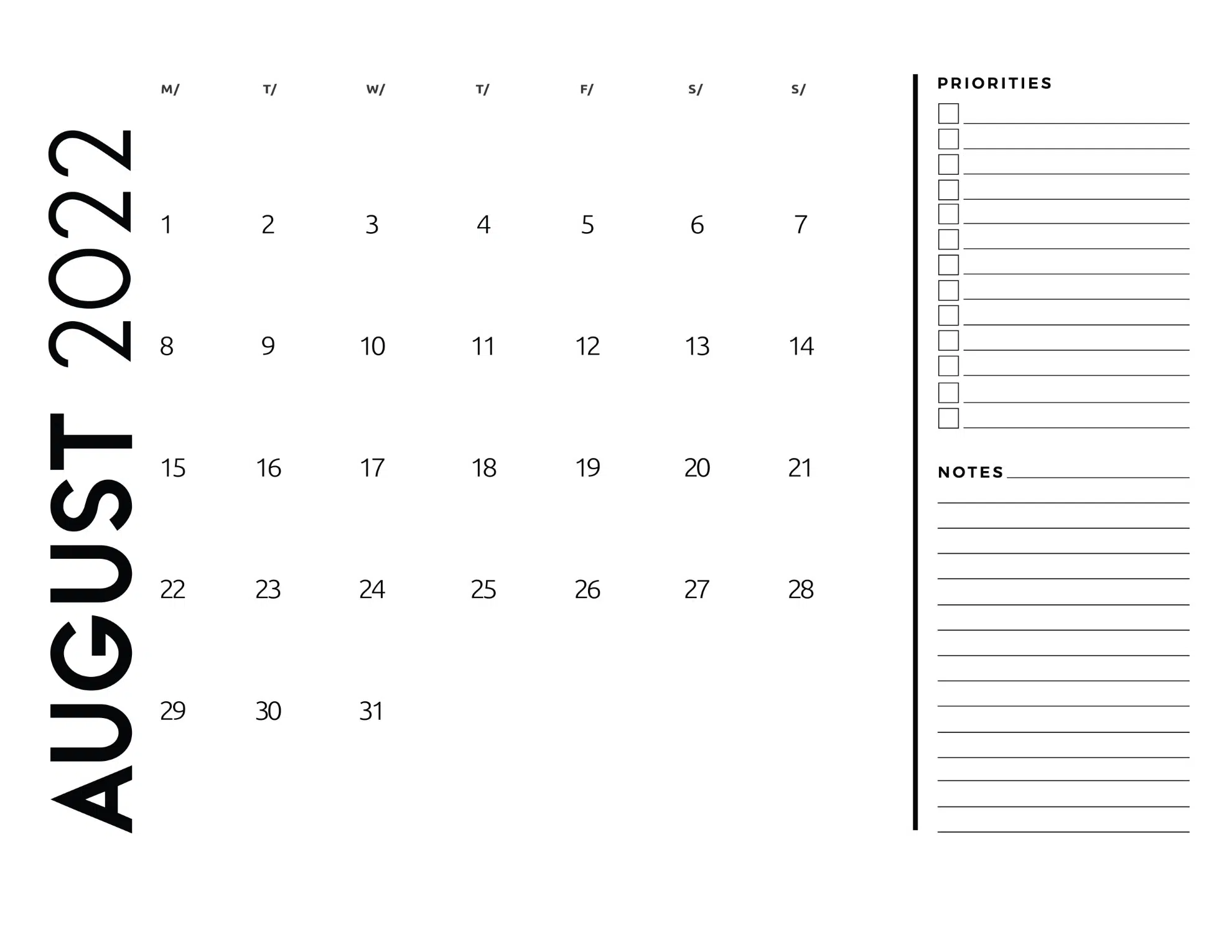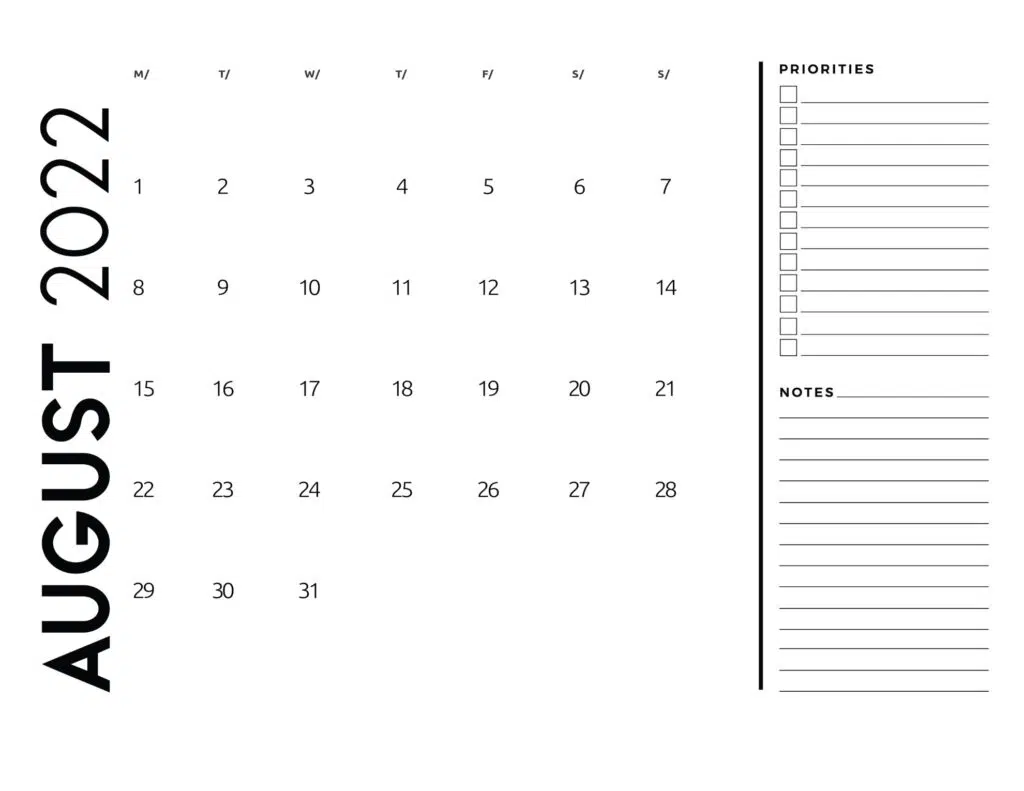 Printable August 2022 monthly calendar
---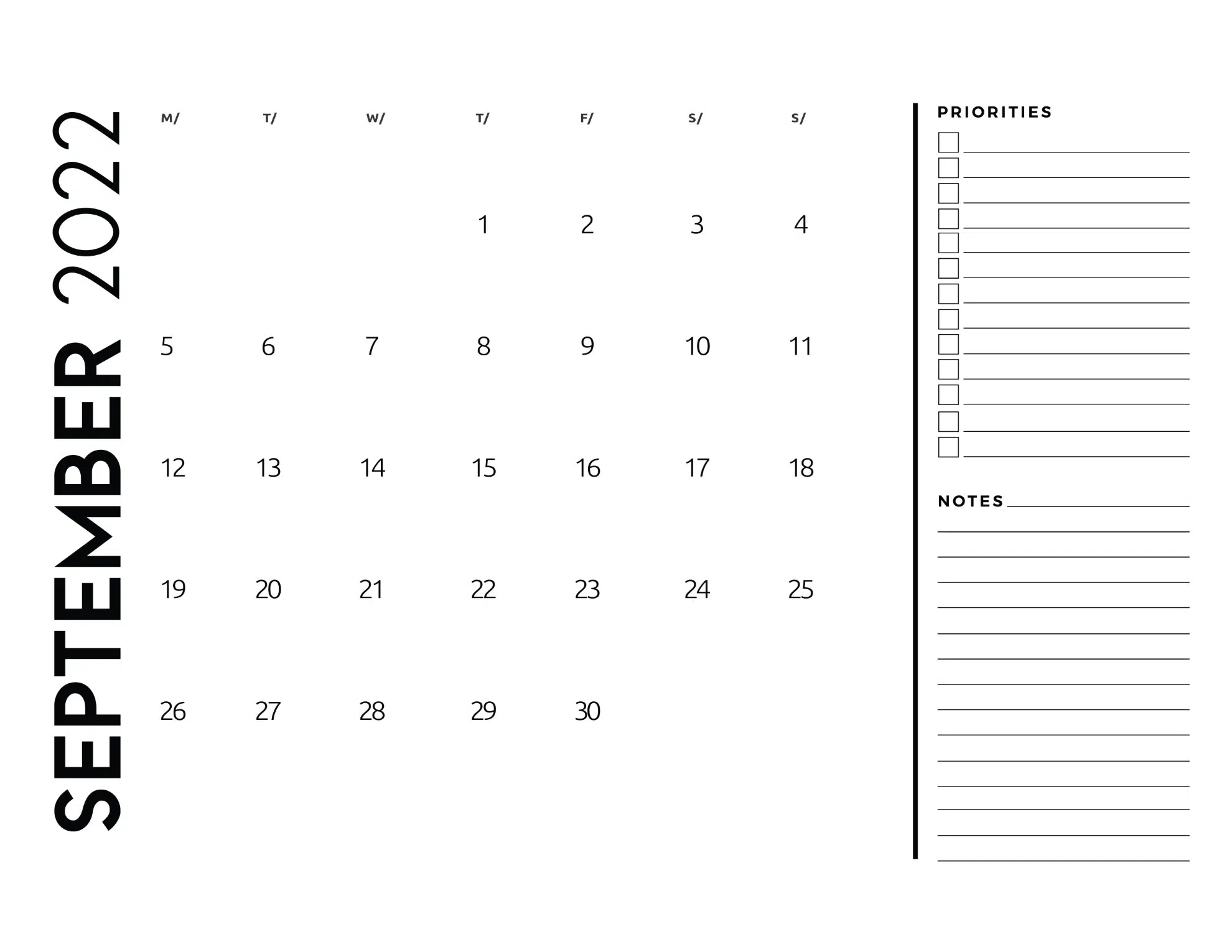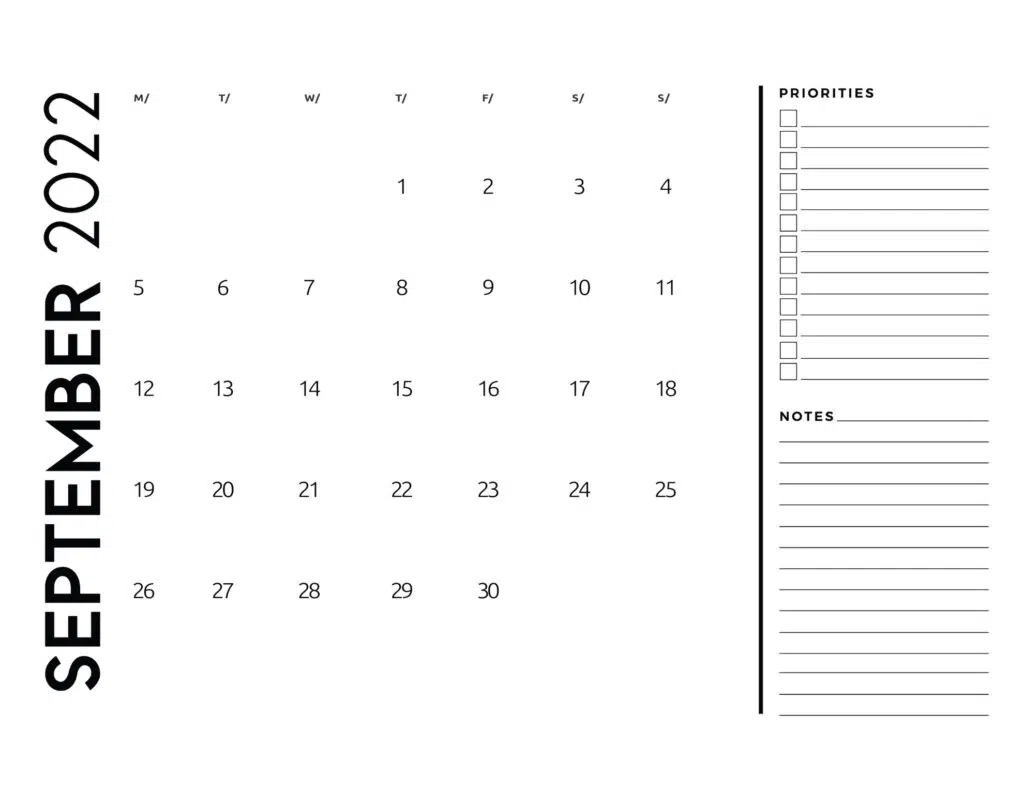 Printable September 2022 monthly calendar
---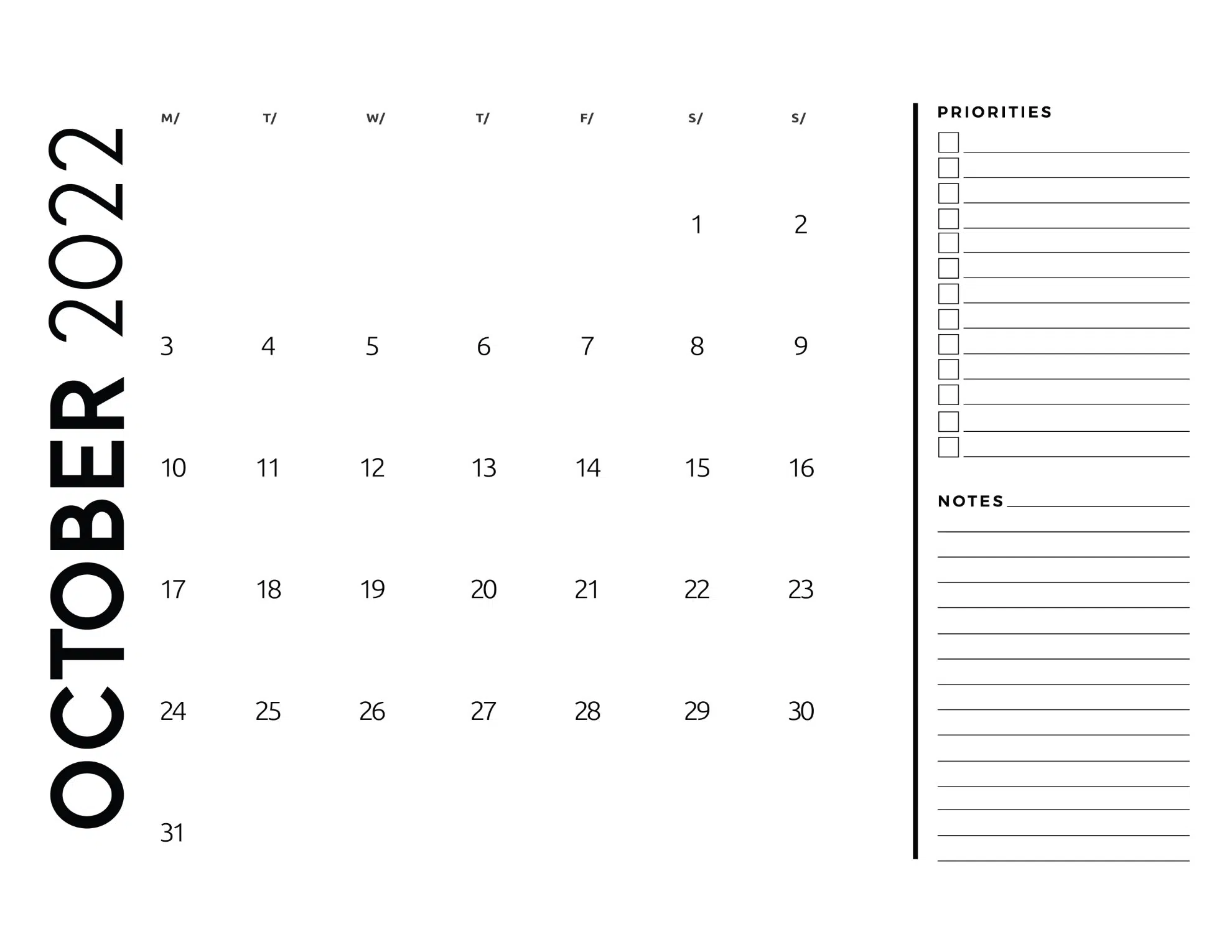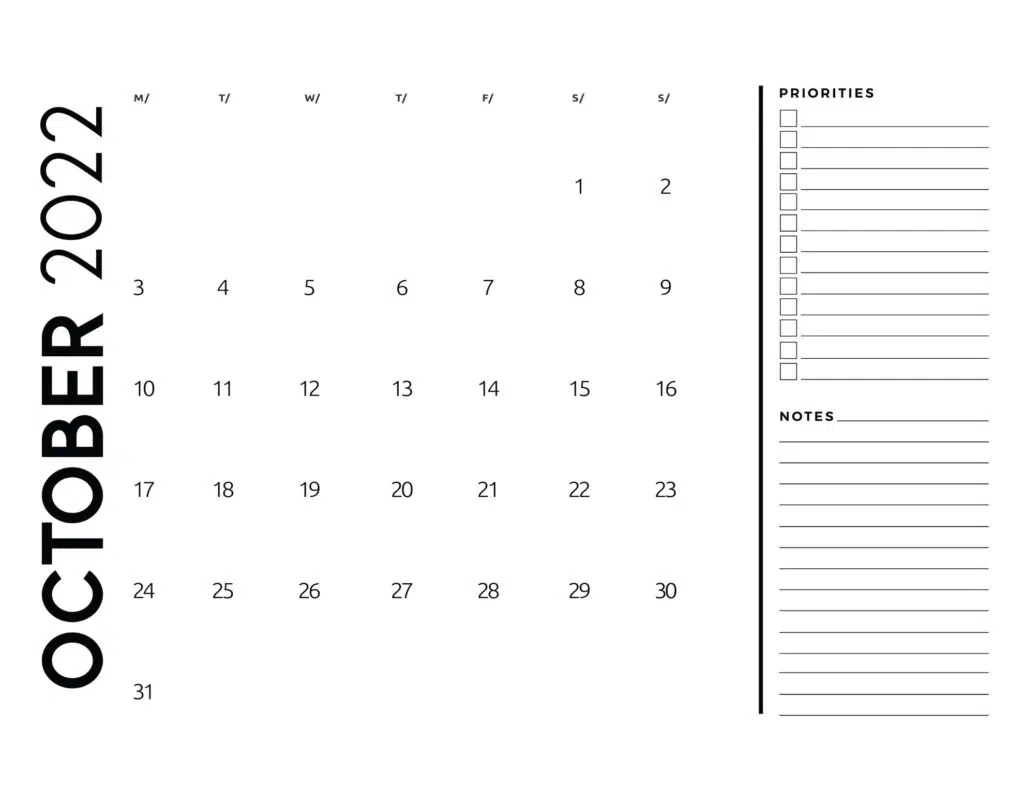 Printable October 2022 monthly calendar
---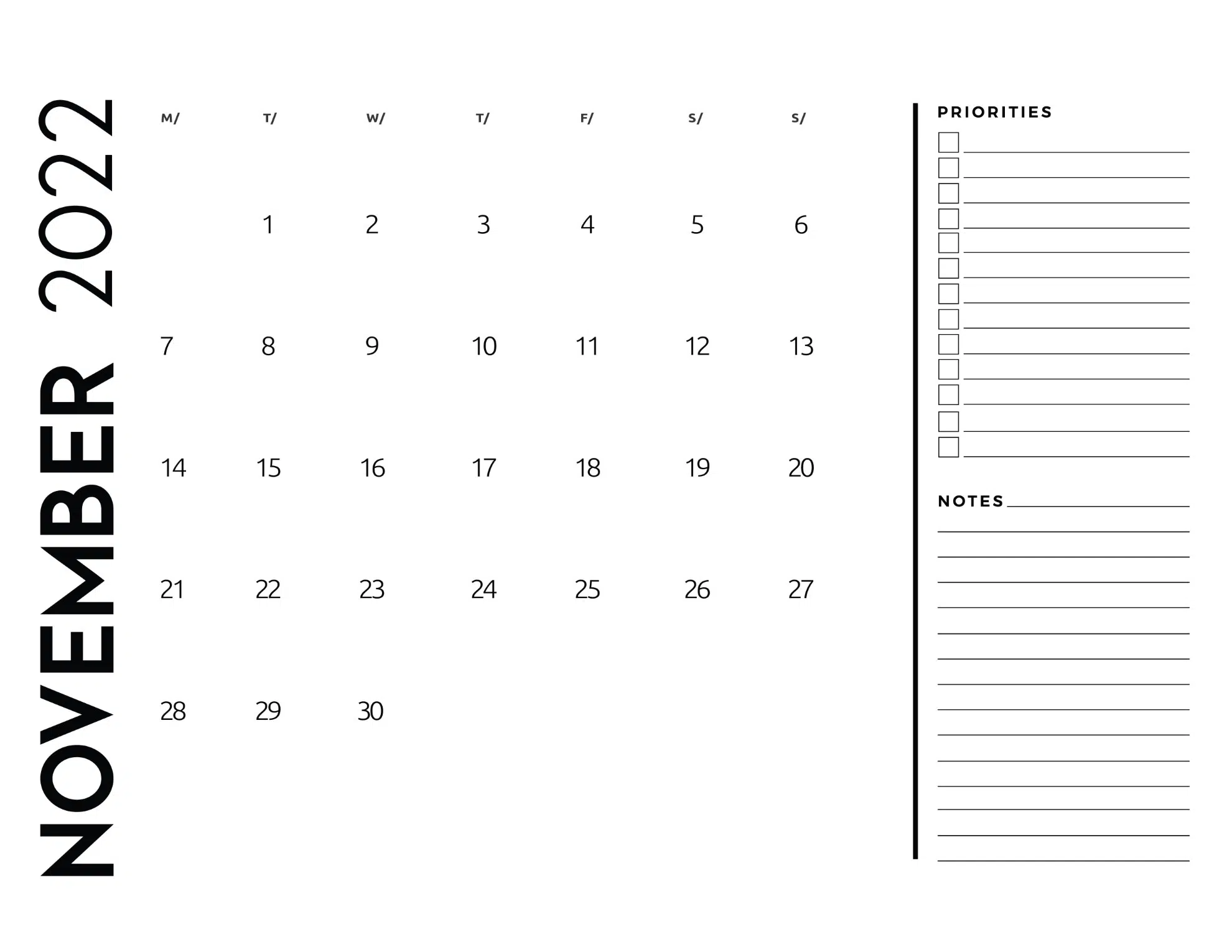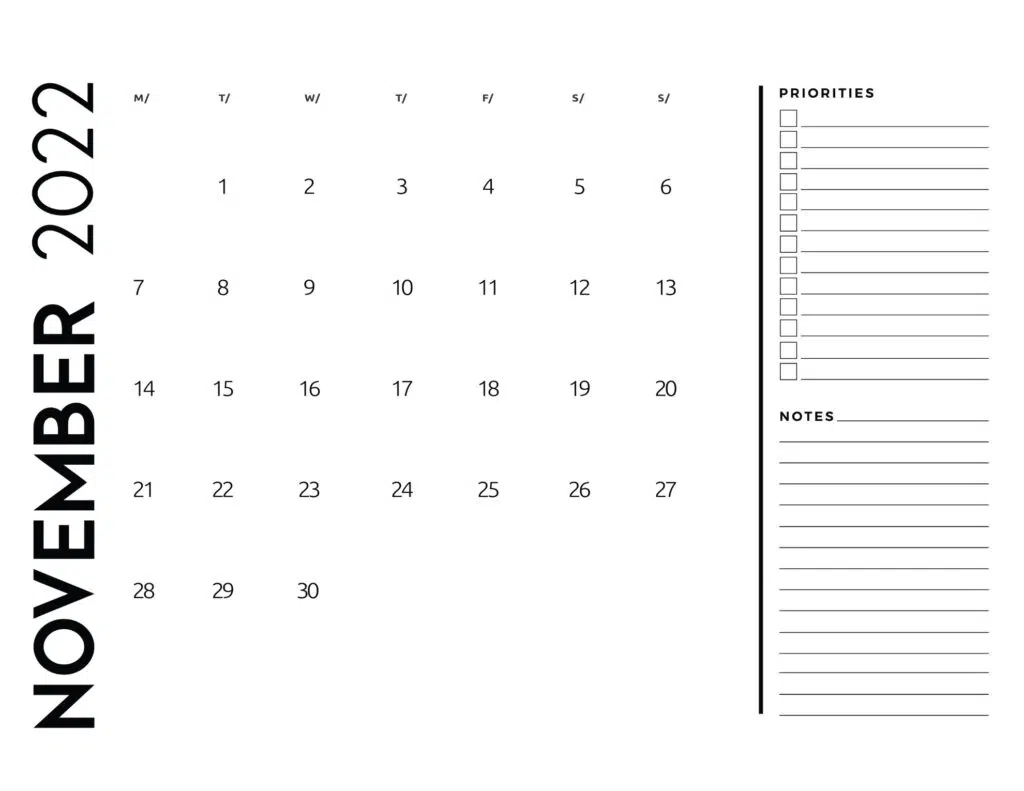 Printable November 2022 monthly calendar
---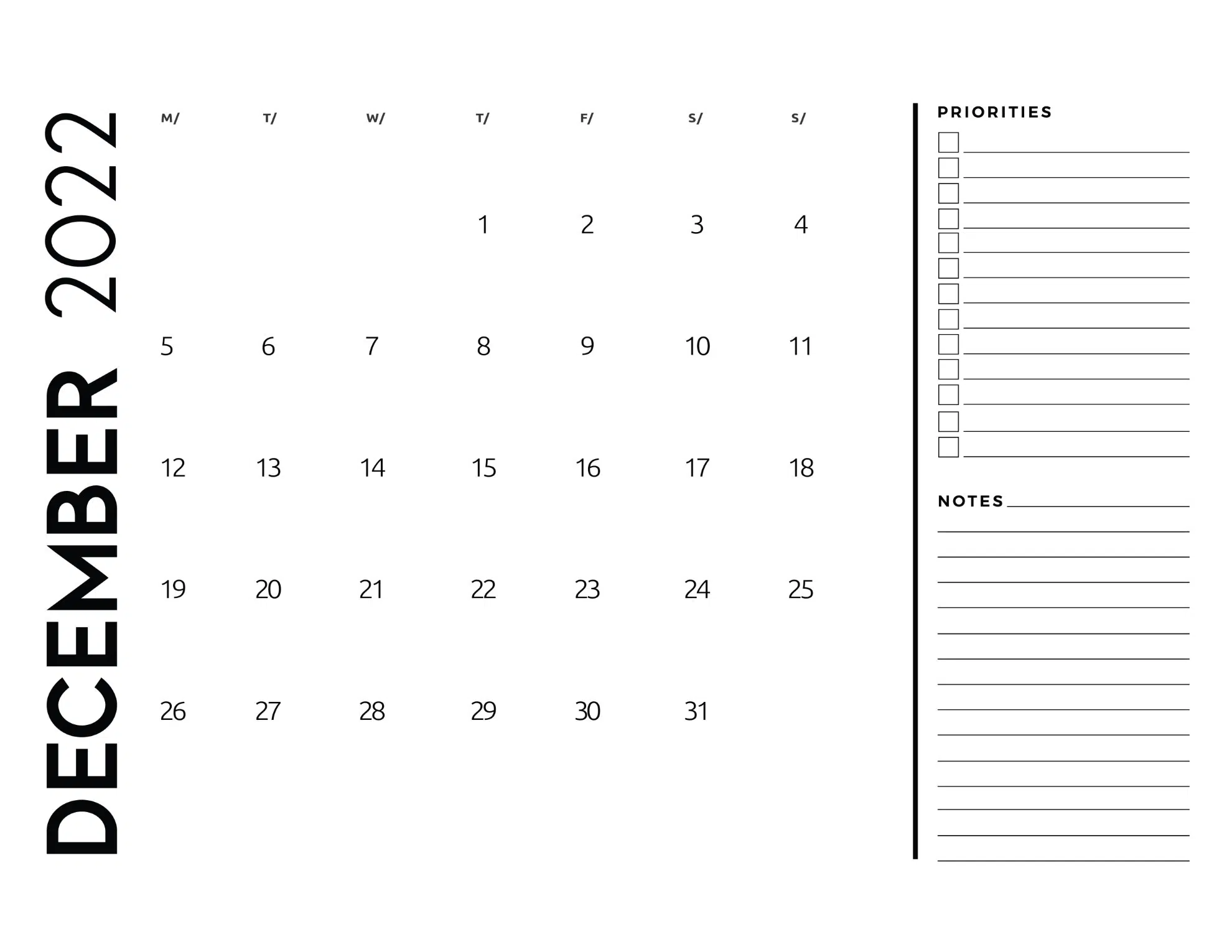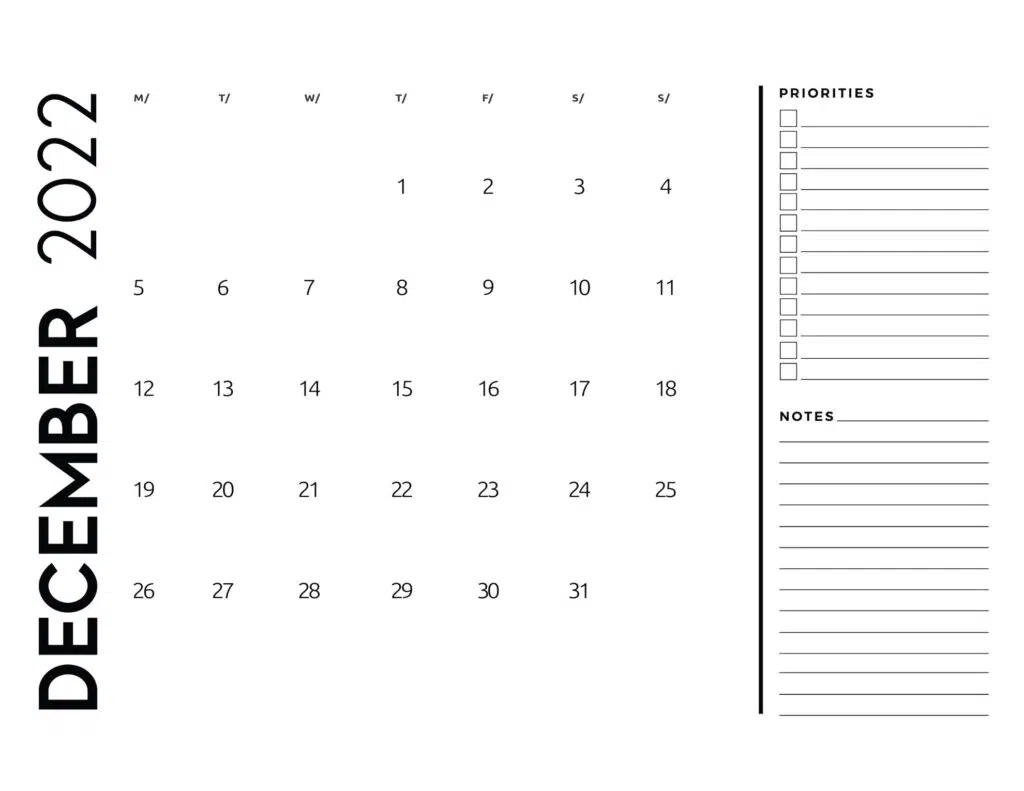 Printable December 2022 monthly calendar
---
Use this monthly calendar to note your priorities and goals for the month and then tackle them all!
Use this calendar for your small business and combine it with our Personal Planner bundle for maximum productivity.
How to make printable calendars look stunning
PRINTING NSTRUCTIONS
Get the 2022 Monthly Calendar with priorities and notes by choosing the months that you need above.
Print the calendar. These calendars are designed as 8.5 x 11 printables, this means they can be printed on US Letter size paper, A4 paper, or A5 paper.
TIP: It's easy to resize our calendars to fit any paper size. Simply insert this printable into Canva, set your dimensions to any size you want, then save it to your computer, easy! Full steps in this guide.
Our calendars look so good when printed on this bright paper which is one of the best deals I've found and makes the print look crisp and clear. This card stock is also a great option that's used a lot in the printable community and even cheaper than I've found in stores.
See more ideas on how to style printable calendar templates to match your home decor!
Create your own printables
Would you like to learn how to create printables? We show you how easy it is to create hundreds of different things that you'll love to use and that others will love to use too.
More Free Printable Monthly Calendars from World of Printables
We've created a huge amount of calendars from blank calendars to stylish calendars.
Our recent 2022 calendars. Many more printable calendars are available to print for free.
Free printable planner templates
You'll also find a huge amount of our free printable planners and templates to help you plan and organize all aspects of your life.
Be sure to grab as many freebies as you can while you're here.
We think you'll find these very useful:
Some of our recent printable planner templates. Many more planner templates are available for you to print for free.
Thank you so much for visiting!
If you liked this post and Printable 2022 Monthly Calendar, go ahead and hit the Pin button below, as it really does help us in so many different ways and is a great way to save for later.
If you are new here please subscribe below as we make new printables often and we'll keep you notified from time to time with our best new free printables.
Like these freebies?
Get notified of our upcoming free printables – you're gonna love them!
Follow World of Printables on Pinterest